Aggressive Growth Portfolios - - 5-Year Performance - - May 5th. - Update
My logo for over 50 Years is: "Investing Wisely."

There is always a group of Companies that are "In-Favor" that have "PAZZAZ" to be Bought or Short-Sold.
Not every day or even every week but certainly at both Bullish and Bearish Inflection Points. If you are Following you know my Forecasting and Accuracy of Identifying Inflection Points is very, very good.
I hope you are following my General Market Forecasts that spell out those Inflection Points as they occur - - delayed a bit in my articles with respect to my Clients who come first.
My Performance over these many years has been good to me and my Clients with few set-backs. The table below listing of ten (10) specific Companies is clearly strong performance but also prudently attained. My performance goes back to the late 1950s! Click here for that very long-term record and narrative. You will quickly note that my focus is on Bear Markets. Simple stated, most anyone can profit in a Bull Market, but it takes someone special to do so in Bearish or Neutral Markets.
Asset Allocation Model Performance
You will want to review all four of my Asset Allocation Model Performance for a perspective of my focus on "results" for my Clients. Here are my four URLs / Links for recently published performance:
Income: https://seekingalpha.com/instablog/121308-steven-bauer/2760733-income-investors-only-5-year-performance-march17th-update
Income & Growth: https://seekingalpha.com/instablog/121308-steven-bauer/2780143-income-and-growth-portfolios-5-year-performance-record-march-24th-update
Growth: https://seekingalpha.com/instablog/121308-steven-bauer/2799313-growth-5-year-performance-record-march-31st-update
Aggressive Growth: ( You are reading my most current Performance Record )
My Aggressive Growth Companies will always greatly outperform in Bull Markets and often hang in there in Bear Markets. I sell them just like the more sanguine Companies when my Forecast for that Company suggests that is more prudent to Hold-Cash. Cash is often a "Wise" choice seldom used by most Investors.
Pazzaz Companies are always the most fun when I do my Work / Analytics that is why I use the term "Pazzaz."
They are easy to identify and I make it a policy of always have at least a twenty or thirty in my "Pazzaz List" as possible Buys. Oh, yes they can turn Bearish and when they do, much like Apple, Inc. over the past number of months they can hurt you Big-Time. So, for my Aggressive Growth Clients I will advise taking Bearish positions, when appropriate in these highly select "Pazazz" Companies.
Aggressive Growth Investors
My Mission is to provide guidance and direction for conservatively providing consistent annual and superior profitable results for each Formal Recommendation I make to my Clients. My on going objective is to identify changing trends from my Forecasting Analytics. For me this is my job that my Clients retain me to do and do well.
Table of Performance
The below Table is for your review, questions and perhaps thoughts. If you are seeking, what I call "Pazzaz Performance" - - please Email me to open a dialog - there is no obligation. I do not manage accounts with less than $100,000 in the Clients Portfolio. There are exceptions. . .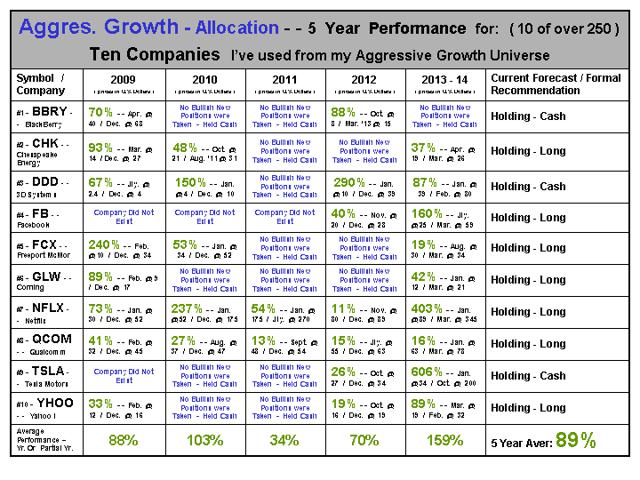 Notes for Table:
* You will note in most of my Articles I use the words "Favorable" and "Un-Favorable - - I maintain just these two Asset Management Lists. ( please see the below "Report Card." ) Yes, I frequently talk about "Also Rans" but they are never recommended for investment to my Clients.
* Bullish ("Alerts" and Bearish "Warnings" are each subdivided into either - Initial - or - Strong. The time-frame from my "Initial" to my "Strong" ("Alert" / "Warning") provides me sufficient lead time for selecting the currently most ("Favorable" & " Un-Favorable") e.g. PROFITABLE ( Bullish & Bearish ) Investment Choices. That time frame may be weeks or even months!
* Fundamental Valuation and Technical Analytics calculations are (quantitatively computed) and then translated by formula into a Rating (ranging from: ( 0 to 100 ). Just like in school: A's are 90 - 100 and F's are 59 - 0 and thus the Letter Grade. This is my internal "Report Card" which is prepared for each security under consideration for Buying or Shorting.
* Opinion is my on going strategy of Analytics to - Hold - an investment for as long as possible. Those - Holding Periods - prior to Selling or Covering are very strategic and effective. Alternatively, - Hold-Cash - is my investment strategy that demands that - - until I have both a General Market Bullish or Bearish Inflection Points coincident with the Industry Group and its component Company - I Hold CASH ! Yes, I " Cherry Pick " very carefully! Bullish (Buying / Selling) - or - Bearish (Shorting / Covering) - - Formal Recommendations or Positions Being Held are never provided Publicly, they are exclusively for my Clientele.
* As an Ex-Professor of Finance & Economics I refer to my Securities Rating Procedures as a "Report Card" - - ( A's are for Buying and F's are for Shorting ) and anything in between is MUTE. My Report Cards for each Index / Company / ETF, etc. permits me to remain Focused on the Companies / ETFs with the highest probability for Profit!
Kind-of Fun - - Don't You Think ?
I am seeking new Asset Management Clients and Consulting relationships. Please feel free to open an Email dialog. I do not sell I just present and support the facts. I hope you are interested.
Note: Should you have interest in my professional guidance and direction for your Portfolios, please Email Me with your questions or thoughts: senorstevedrmx@yahoo.com.
For Daily Updates and a Deeper View into my work / Analytics, you might want to Click and Scroll Down to my "Thumb-Nail" Articles within my personal blog.
Please spend some time reading my articles for a perspective of their and also viewing my Bio before making inquiries. Sharing a bit about yourself and your financial and needs, goals and objectives would be appreciated.
A relationship between You and Your Asset Manager must be a "Win / Win" affair. You get the Performance and the Education and I get paid for my Analytics / Work and Experience.
Smile, Have Fun, "Investing Wisely,"
Dr. Steve
Companies: BBRY, CHK, DDD, FB, FCX, GLW, NFLX, QCOM, TSLA, YHOO.