Wednesday: Investing Wisely -- Market Update & Commentary - - June 13, 2012
To support my flow of articles that are published by SeekingAlpha.com, I write two weekly Instablog postings that you may wish to follow.
This Wednesday edition is simple, it provides more in-depth information and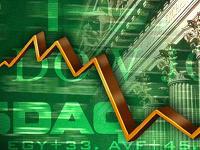 data than can be put in each article. It is titled: Wednesday: Investing Wisely -- Market Update and Commentary.
On Friday night or Saturday morning, I publish my Saturday format entitled: Saturday Update: Investing Wisely - Forecasts / Confirmations = Results ! You will have no trouble finding it when you enter my Instablog postings.
- - -
Note: This General Market Update & Commentary is a bit limited. It is completely focused on the Standard & Poors 500 Index. My reason is simple; this Index is the most followed by all investors and professional advisors. The many other Indice Indexes are also important in my analytics. You can be assured that if I make securities recommendations to my Clients, those Indexes are carefully researched.
My Current General Market Opinion
In my articles, I clearly have been bearish for well over a month. Calling this bearish Inflection Point on the button was important. Investors are prone to hold too long when valuations, and the technicals are screaming sell. That is because they get very bad advice.
So, Bears are now in control of the marketplace. The rally is losing steam but has not come back high enough to recommend taking further bearish positions. It's the old "wait and see game."
Two Weeks Ago I Said: Last week I said: I do see another near-term rally in the making that will likely fail. - - - It is failing, but I am not yet convinced that a resumption of the bearish cycle is back in stride.
This Week: Is telling me nothing but to be patient.
For me to take further bearish positions, a mini over-bought condition must form with more conviction than I have seen in the last several sessions.
As for the general market, my fundamentals are over- valued. My technicals are over-bought. My consensus opinions are much too bullish. The economy is in much more peril than is being reported by the media..
Therefore, I am bearish on the general market for the foreseeable future.
You might want to visit my blog today. I also publish a Wednesday edition with some special Country Industry forecasts and on alternated Wednesday's on Commodities, Treasuries and the U. S. Dollar. Try It . . .
My next posting will be in my blog - Sunday Update and Commentary. Try It . . .
Understand from the above General Market opinion that my Guidance for most all securities is also bearish. In my articles I include the following statement: "My analytic focus is investing wisely, e.g. taking advantage of the bull / bear cycles as they occur within the overall marketplace. Integrating conservative fundamental analytics within these technical cycles means maintaining a process of the thorough and on-going analytics of many companies, sectors and industry groups."
The Bigger Picture with Supporting Charts with Comments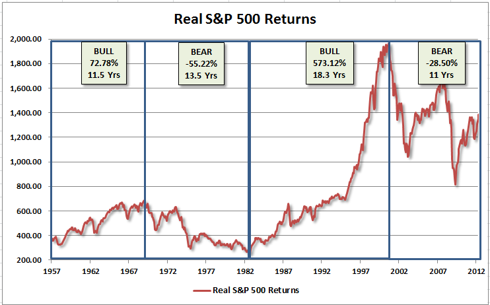 The above chart provides an excellent long-term perspective of the S&P 500. I earned my first research dollar in 1957. I did very well through the late 1960s, just like the herd; it was a long-term bull market, and I didn't know it. I was just completing my doctorate and feeling very smart. I then did very poorly in the 1970s, staying even, just like the herd; it was a long-term bear market, and I didn't know it. Guess what, with all that education, reading over 400 books in the market that 13.5 year bear market still did a job on me. During that time, I wrote my Methodology and have had excellent performance since. I simple stopped listening to the herd of people and their advice and focused on doing it my way.
I lived those days with manual charting and a very slow feed of data. I believe those days taught me more than the last ten years of being immersed in the "information age."
The marketplace will soon break down again with another declining top bearish cycle. That should be clear to everyone.
Corporate Profits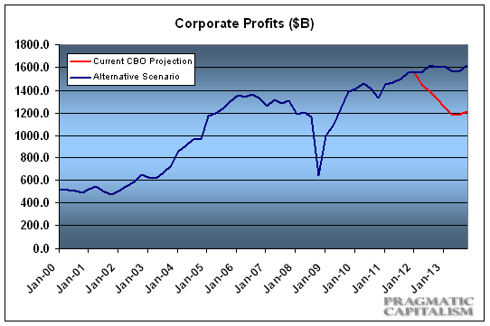 The above chart is correct, with the red line addition. I never put objective prices or time frames in on my forecasts, do not believe exactly what you see. PC apparently agrees with my analytics, that Corporate Profits and hence earnings will be on the decline for some time to come.
I would like to thank PC - Pragmatic Capitalism for their fine work and supporting charts and data.
On the Short-Term Horizon
Since early May, the S&P 500 has retraced over two months of upside progress. I called this pull back on the button. I had expected a greater initial drop before the mini-up turn two weeks ago.
This coming few days and into next week should produce more upside and a possible termination, but I am not all that confident.
The internals (Breadth) of the marketplace is in severe peril, and therefore, clearly a resumption of the downside is forth coming. I have been bearish based on the (Breadth) since early this year. Perhaps you have breadth Indicators to confirm this fact.
My S&P 500 Valuations are clearly in the minus 20+ percent ( - 20+% ) range for the foreseeable future. I believe putting target figures and dates in play for you to consider -- is just plain "foolish." Many do, many try and many are nearly always wrong!
- - -
You may want to read my bi-weekly blog - Update and Commentary in my Wednesday and Sunday blog. It is followed by Investors in over 54 countries around the world. Try it:
My Blog: http://twitter.com/InvestRotation
Communications
I do not communicate with readers or followers using SA's Comments or Message Center. Obviously then, I do not read or respond to any "Comments" made by the readers of my articles. In the past, doing so has presented problems that I now simple feel I must avoid.
I would be pleased if you would like to have an Email dialog with me, I will provide a prompt reply / response via Email.
My Email Address is: senorstevedrmx@yahoo.com
Thanks for permitting me to share my "stuff."
I would of course appreciate your - Telling a Friend or Two about my Work / Analytics.
. . .
If you would like further information about me, my objectives for writing SA articles, and my professional services and fees.
( click here for my objectives and professional services and fees )
A few companies that I have recently written articles about:
AAPL, CSCO, BAC, C, GE, GLD, MSFT, JNJ, ABT, PFE,
If you would like to ask questions or share thoughts - Just Send Me An Email. No Cost, No Obligation / No Fool-in !
Smile, have Fun - "Investing Wisely",
Steven H. Bauer, Ph.D.