Thursday: Investing Wisely -- Market Update & Commentary - - August 9, 2012
To support my archive of articles that are published by SeekingAlpha.com, as well as the flow of articles published in SafeHaven.com., I write two or three weekly Instablog postings that you may wish to follow.
This Thursday edition is simple, it provides more in-depth information and data than can be put in each of my articles on the General Market. It is titled: Thursday: Investing Wisely -- Market Update and Commentary.
Just Scroll Down for my Market Update and Commentary.
On Friday night or Saturday morning, I publish my Saturday format entitled: Saturday Update: Investing Wisely - Forecasts / Confirmations = Results ! This posting review a number of bellwether companies and gives my current opinion, Buy - Sell or Hold.
You will have no trouble finding these postings when you enter my Instablog postings.
Please Scroll Down for My Current General Market Opinion
- - -
General Statement about My Professional Services:
I am fielding interest in my $120.00 per year - Weekly - Newsletter. Let me know if my articles / bio / and forecasts have provided stimulus to learn more about my professional services.
Just So You Know . . .
If you or a client takes a position (long or short) that I recommend (via a specific Email) , you should know that I am there to fully support your questions and investment commitment.
From Your Prospective - That Means:
I'm in, when do I get out? Do I hold? Do I sell? When do I move back to cash? Do I make a partial sell and hold the balance? I'm concerned, what do I do? What other investment strategies can I employ? Etc.
These questions are comprehensive of Investing Wisely and I fully support you 24/7.
I look forward in receiving your Email questions and our doing business.
Please see below for a hyperlinks to my Communications and Professional Services and Fees.
- - -
Note: This General Market Update & Commentary is a bit limited. It is completely focused on the Standard & Poors 500 Index. My reason is simple; this Index is the most followed by all investors and professional advisors. The many other Indice Indexes are also important in my analytics. You can be assured that if I make securities recommendations to my Clients, those Indexes are carefully researched.
My Current General Market Opinion
In my articles, now exclusively in SafeHaven.com., I clearly have been bearish since early April. Calling this Bearish Cycle Inflection Point on the button was important and profitable to my Clients.
So, Bears are now in control of the marketplace for the foreseeable future.
As of this posting it does not look that way but I insist that we are in a Bearish Cycle. The summer and leading into the November elections will confirm my position.
Of the many proprietary indicators that have been so accurate over the years, not one is showing any indication that a meaningful bullish cycle is coming. That means the marketplace will continue to erode moving from one sector / industry group venue to another. This rotation will, or should continue until all have been sufficiently hurt. Some will begin to rebuild earlier than others. I have a close eye on that event when it begins to take place. However, that guidance is reserved for my Clients.
On the economic front, there is mounting evidence that the U.S. will join Great Britain in being in a full recession. I suggest that the U.S. is currently in a recession and it will be some time before it is announced by Washington. Remember there is an election coming. Washington and the media, as usual will purposefully be slow to acknowledge this fact.
As for the general market, my fundamentals are over-valued. My technicals are over-bought. My consensus opinions are much too bullish. The economy is in much more peril than is being reported by the media.
All the stimulus that Washington can muster will likely, and as usual be politically driven in the coming few months. The pass on QE3 is purely political. Obama will use it or something else just prior to November elections. If that is not clear manipulation, what is? With the elections coming, I suggest that the marketplace will be suffering and in need of another false promise / hope by the President.
At this time, I am bearish on the general market and the economy for the foreseeable future.
If you are in mutual funds or holding long securities positions, you are going to have a very hurtful summer and perhaps beyond.
Understand from the above General Market opinion that my Guidance for most all securities is also bearish. In my articles I include the following statement: "My analytic focus is investing wisely, e.g. taking advantage of the bull / bear cycles as they occur within the overall marketplace. Integrating conservative fundamental analytics within these technical cycles means maintaining a process of the thorough and on-going analytics of many companies, sectors and industry groups."
The Bigger Picture with Supporting Charts with Comments
Most Current Real S&P 500 Returns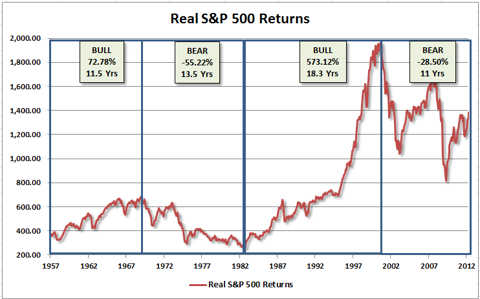 The above chart provides an excellent long-term perspective of the S&P 500. I earned my first research dollar in 1957. I did very well through the late 1960s, just like the herd; it was a long-term bull market, and I didn't know it. I was just completing my doctorate and feeling very smart. I then did very poorly in the 1970s, staying even, just like the herd; it was a long-term bear market, and I didn't know it. Guess what, with all that education, reading over 400 books in the market that 13.5 year bear market still did a job on me. During that time, I wrote my Methodology and have had excellent performance since. I simple stopped listening to the herd of people and their advice and focused on doing it my way.
I lived those days with manual charting and a very slow feed of data. I believe those days taught me more than the last ten years of being immersed in the "information age."
The marketplace will soon break down again with another declining top bearish cycle. That should be clear to everyone.
Corporate Profits Chart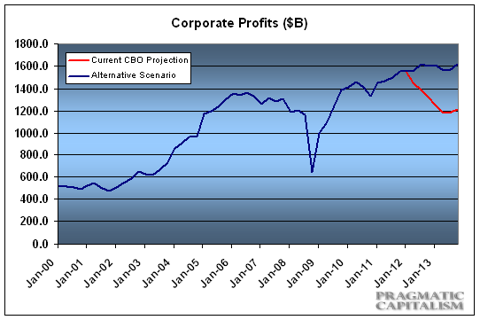 The above chart is correct, with the red line addition. I never put objective prices or time frames in on my forecasts, do not believe exactly what you see. PC apparently agrees with my analytics, that Corporate Profits and hence earnings will be on the decline for some time to come.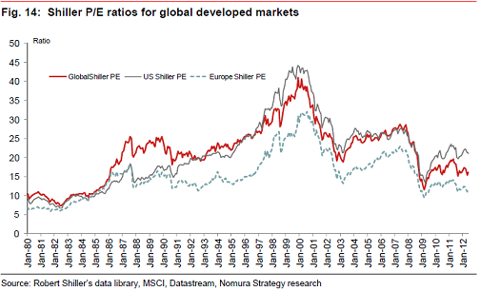 This is the most clear graphic of why most investors, especially those with mutual funds have LOST money they should have made, I have seen in a very long time. I hope you take the time to UNDERSTAND!
I would like to thank PC - Pragmatic Capitalism for their fine work and supporting charts and data.
- - -
Communications
I do not communicate with readers or followers using SA's Comments or Message Center. Obviously then, I do not read or respond to any "Comments" made by the readers of my articles. In the past, doing so has presented problems that I now simple feel I must avoid.
I would be pleased if you would like to have an Email dialog with me, I will provide a prompt reply / response via Email.
My Email Address is: senorstevedrmx@yahoo.com
Thanks for permitting me to share my "stuff."
I would of course appreciate your - Telling a Friend or Two about my Work / Analytics.
Symbols covered in my SA articles:
AA, AAPL, AMZN, BAC, BIDU, C, CMCSA, CSCO, FCX, GE, GOOG, IBM, INTC, JNJ, JPM, MCD, MO, MSFT, PFE, RIMM, T, SBUX, SIRI, T, VZ, WFC, WMT, XOM,
- - -
If you would like further information about me, my objectives for writing SA articles, and my professional services and fees.
( click here for my objectives and professional services and fees )
If you would like to ask questions or share thoughts - Just Send Me An Email. No Cost, No Obligation / No Fool-in !
Smile, have Fun - "Investing Wisely",
Steven H. Bauer, Ph.D.