By Donald E. L. Johnson
I've been asked about three stocks and have evaluated four possible covered call trades. These are ideas, not recommendations. Please do your own due diligence.
Trades can be at the money (ATM) and out of the money (OTM). When it comes to weeklies or monthlies or longer out, for me, the question is, where is the liquidity and where is the volume and open interest that will make trading easier, especially if I want to close a trade early.
Trade the number of contracts that fits your budget for this kind of speculating. I like to trade higher-priced stocks to save on commissions, and I prefer to trade options on several stocks instead of just a couple to diversify my risk. I diversify my expiration dates to diversify risks. I don't own any of these stocks.
Again, this is just for your education. It IS NOT advice or recommendations.
Sell AAXN April 18 $50 strike (.37 delta) covered calls @ $1.20. Immediate return on risk (ROR) = 2.5%. Uncalled over 31 days=29.5%. Called annualized= 76.4%. I would be shooting for having this stock called and then move on to a new trade. If it's not called, do the May covered calls after April expires. The delta indicates that there is a 37% chance of the options being called if the stock closes April 18 above $50.
Sell ENB April 18 $37.50 strike (.30 delta) covered calls @ $0.35. Immediate ROR = 0.96%. Uncalled after 31 days =11.3%. Called annualized = 42.9%. Again, this is close to the money but has only a 30% chance of being called.
Sell MTCH April 18 $55 strike (.70 delta) covered calls @ $2.20, or a high and risky immediate 4% ROR. 31-days unncalled annualized ROR= about 47%. Because the strike is the same as the stock price, or ATM, the called ROR also is about 47%.
Sell NVDA March 29 $172.50 strike (.45 delta) covered calls @ $3.95, or an immediate ROR= 2.33%. 11-days annualized uncalled ROR= 77%; called annualized ROR = about 129%. NVDA has weekly options, which I often prefer when available because that helps me manage my risks.
Here are my notes that I wrote as I researched these stocks. When I evaluate stocks, I look for bullish momentum, under valued stocks where the prices of the stocks are below Valuentum.com's estimated fair value and decent volume and open interest on the call and puts options. While I show possible trades on all four stocks above, my notes show that I'm not ready to buy all of them. 
AAXN $47.96. Not rated by Valuentum.
Stock RSI=37.05. 30 is over sold. Charts are sells, but could bounce soon. Support around $43, Resistance around $52. Chaikin Money Flow =0.327, indicating institutional buying but that seems to be fading. I would avoid until stock bottoms. Once it bottoms, I might wait for it to breakout on the charts before buying the stock and selling covered calls or puts.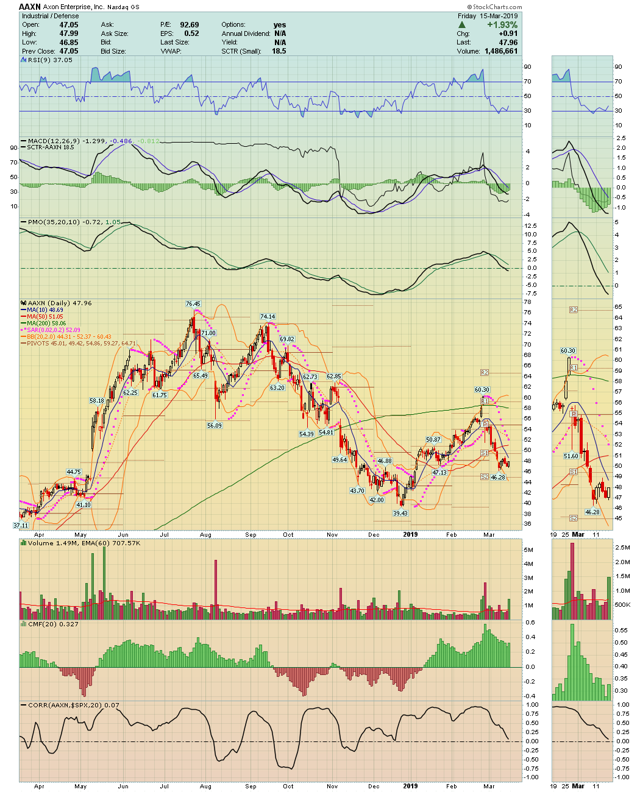 ENB Enbridge $36.52. Undervalued. FVE=$39 ($29-$49 range). Value creation poor, according to Valuentum. Value Risk Media. Valuentum buying index (VBI)=6, or strong hold. Dividend growth excellent. Dividend safety Good. Dividend cushion ratio is 1.8 so dividend hikes are possible. Economic castle is neutral. Technicals are barely bullish to neutral and mixed. RSI=51 and dipping. MACD still a sell. PMO oscillator a sell and sinking. SAR bullish but profit taking hit stock Friday. Support around 35, resistance around 37.50. Above 10, 50 and 200-day moving averages. Might do covered calls on this.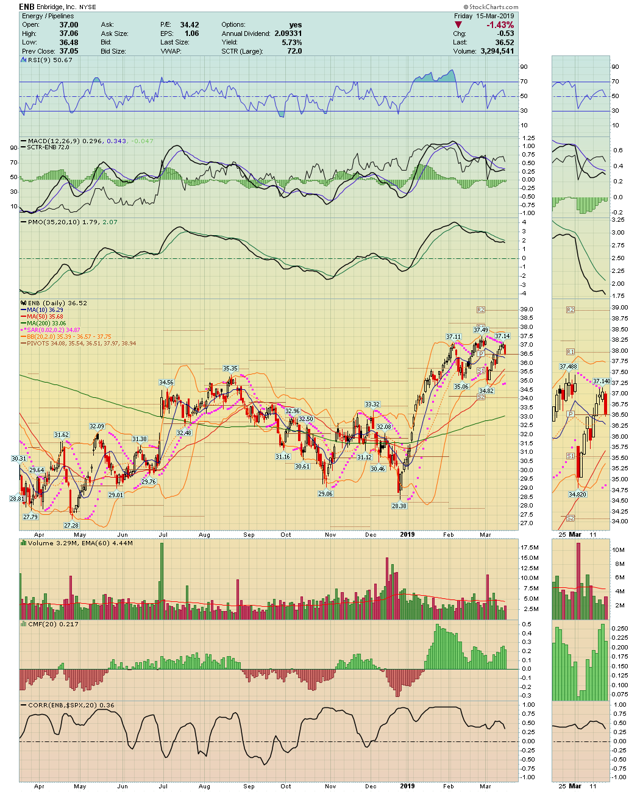 MTCH $55. Not rated by Valuentum. Charts are bearish but showing signs of at least a bounce. Support is about $52, resistance is about $56. SCTR a bullish 70. Stock up 3 of last 4 days on higher volume. RSI=54.55 and rising. May be a weekly or two-week trade. Nicely above 10- 50- and 200 day moving averages. You could do a monthly but be ready to bail if the stock plunges.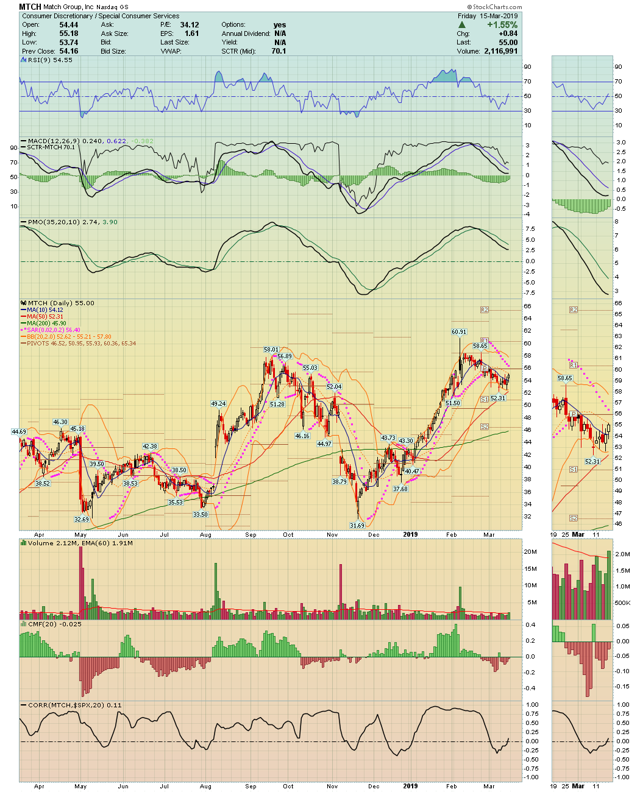 NVDA $169.81. FV= $170. Fairly valued and in middle of ($126-@214 range of fair value estimates). VBI= 3, or hold, according to Valuentum.com. Economic castle is very attractive. Value creation is excellent. Dividend safety is excellent. Dividend growth is excellent, according to Valuentum. Stockcharts.com shows mostly bullish, almost over bought charts. RSI=70.11, which is over bought. But StockChartsTrendRating (SCTR) is only 7.7, which is very poor momentum. Chaikin money flow shows institutions may be selling. MACD and PMO oscillators are saying buy. So I may do this one. Depends on options.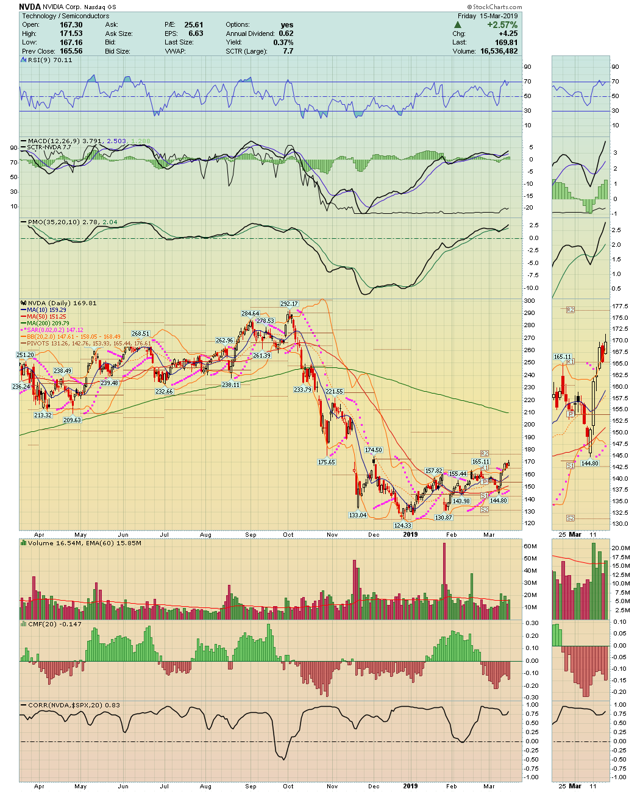 NVDA and ENB look most promising to me. I'll decide in the next couple of days. On Monday and Tuesday, depending on market conditions, I will be selling new rounds of covered calls and puts on stocks I own that weren't called when they expired Friday.
Disclosure: I/we have no positions in any stocks mentioned, but may initiate a long position in NVDA over the next 72 hours.
Additional disclosure: Beware: I am an individual speculator and trader for only my family's accounts. I am not an academic, portfolio manager, financial advisor, stock broker or analyst. This article is for the information and amusement of readers who are expected to do their due diligence and make sure that they know what they're doing when they begin to trade stocks, bonds or stock options. This article is not intended to be read as advice of any kind. Trading and speculating are risky, and trading options is more risky than trading stocks. I reserve the right to open or close trades at any time without disclosures or forewarnings.