There is a controversy on shale gas. Natural gas (NYSEARCA:UNG) producers love to boast the high productivity of their shale wells. Some claim that they could still make a profit even at current ridiculously low gas prices. But the data speaks otherwise.
Fracking Tales Meet The Reality
Recently USGS published report OF12-1118 which surveyed the EUR (Estimated Ultimate Recovery) of gas wells in 132 different natural gas resource areas. The USGS numbers released are very damning to the rosy claims made by NG producers over the years. Let us look at the numbers for the top US shale plays below: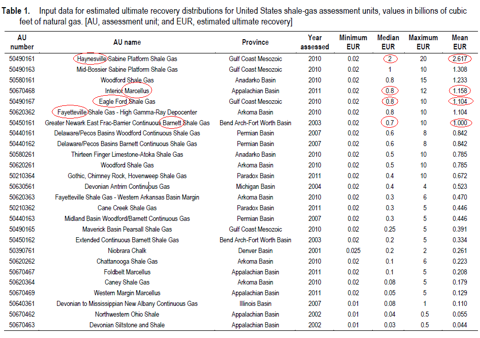 The Shale Shock Media called the report a Huge Fracking Surprise and had this to say:
Southwestern Energy (NYSE:SWN) and Chesapeake Energy (NYSE:CHK) claim average EUR's in the Fayetteville of 2.4-2.6 Bcf. The Powers Energy Investor, an industry publication stated:

"To put into perspective how ridiculous Chesapeake's claims of 2.6 Bcf is, consider the following: of the company's 742 operated wells completed on the Fayetteville, only 66 have produced more than one Bcf and none have produced more than 1.7 Bcf. Chesapeake's average Fayetteville well has produced only 541 Mcf."

The USGS confirms these numbers again with the average EUR for Fayetteville wells coming in at 1.1 Bcf, significantly lower than 2.4-2.6.
Critics like Arthur Berman, Chris Neddler, or any one who cared to study the real shale gas production data already know that the NG industry exaggerated the productivity of they shale wells. The data does not lie. Here is a quick statistics of all major US shale plays: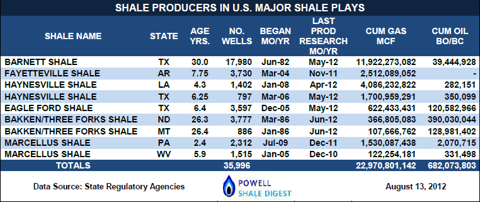 Taking the cumulative volume of shale gas produced and dividing it by number of wells in each play, the results are far below the EURs that the NG industry claimed for these shale plays:
Overall, for all US shale plays, there are 35,996 production wells with an accumulated shale gas production of 22,971 BCF. The average is only 0.638 BCF. At current gas price of $3.40/mmBtu, 0.638 BCF of gas is worth $2.17M. That is only a fraction of the costs of drilling a well and brining it into production.
Shale Gas Is Neither Cheap Nor Abundant
Decades after the NG industry venture into shale gas development, the industry has spent more than half a trillion dollars and developed 36,996 shale wells, averaging more than $13.5M per well total cost. The industry only had 23 TCF of shale gas production to speak for the money spend. That amount of gas is less than one year of US consumption, and is worth only $78B at today's gas price.
I believe it is conclusive that shale gas is non-economical at current gas price environment. The industry might be able to pitch a few exceptionally good wells drilled at sweet spots, but the overall performance of the entire shale gas industry is dismay.
Implications to Investors
As I always said, if you invest in NG producers, you need to do your own due diligence study. You cannot take the well performance claims of the producers at face value.
If shale gas cannot be produced cheaply, price must go a lot higher to allow some producers to make a decent profit. That means the current low price of NG is only temporary. NG cannot compete with coal in the long term.
I believe investors should switch away from the NG sector, and switch to the coal sector. Do you notice that investor put 75 times more investment capitals in the NG sector versus the coal sector? I think this is one of the biggest investment portfolio imbalances in the history of energy investment. Money was put in the wrong sector. This means huge investment opportunity for people willing to stick to coal, when naysayers claim that NG is replacing coal.
Disclosure: I have no positions in any stocks mentioned, and no plans to initiate any positions within the next 72 hours.