Consol Energy (NYSE:CNX) told another fracking tale to investors during their recent Q3-2012 earnings conference call. The CNX president said that:
On the drilling complete costs, let's go there first. Right now, and again, this varies quite a bit across our Marcellus field because it's a very large field, so I'm generalizing with an average view, and the actuals will be variations off of that on the high and low end, but the drilling complete cost is going to be somewhere around, I'll call it, $6.5 million per well, and that should get us on average somewhere around 8.5 Bcf per well. So when you do the funding and development math, it should be around $0.75, give or take, on our average type curve.
The claim of EUR of 8.5 BCF per well is a fracking tale.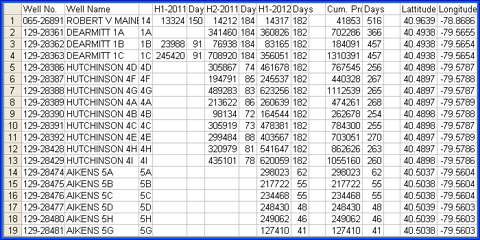 The above chart summarizes the 19 shale wells that CNX operates in Pennsylvania Marcellus.
The highest cumulative production is No 129-28363, which produced 1.310391 BCF in 457 days.
The average of 19 wells, is an accumulative production of 0.53 BCF per well in 235 days.
So the CNX president's claim that they achieved an average EUR of 8.5 BCF, is a long stretched fairy tale. The actual productions are far below that number.
Disclosure: I have no positions in any stocks mentioned, and no plans to initiate any positions within the next 72 hours.