After I wrote about the fracking tale of Consol Energy (NYSE:CNX), I checked what they said about the productivity of their Marcellus shale wells in the past. It turned out they have been telling the fracking tales of absurdly high EURs (Estimated Ultimate Recovery) of their Marcellus shale wells for several years.
Past Fracking Tales of CNX
On July 29, 2010, as CNX reported its Q2, 2010 result, they said:
The CONSOL Gas Division has seen excellent performance from its last five horizontal Marcellus Shale wells, including three brought on-line in the second quarter. The EURs, ranging from 5.5 to 9.9 Bcf, represent a middle - or "P-50" - case. The most recent wells, NV 22 CV and NV 22A CV were tied into line during the last week in May, so it is still very early in the lives of these wells. These EURs, while tentative, are much higher than the standard type curve that the company has been using. The results are even more impressive when one considers the length of the laterals, which averaged 2,200 feet. Preliminary EURs per thousand lateral feet in 2010 are averaging 3.3 Bcf. Although reported competitor data is scarce, this may be an industry record.
CNX claimed a median EUR between 5.5 to 9.9 BCF per well. Median means half of their wells should perform above that level, and the other half perform below it.
The Reality Versus The Fracking Tales
How had these wells perform since then? Let's check out data from PA DEP to find out. The operator code of CNX is OGO-37312. The two wells CNX mentioned were:
059-25145 (NV22CV)
059-25242 (NV22ACV)
I pulled the production records of all wells with that operator code. The cumulative productions of these wells are summarized as below: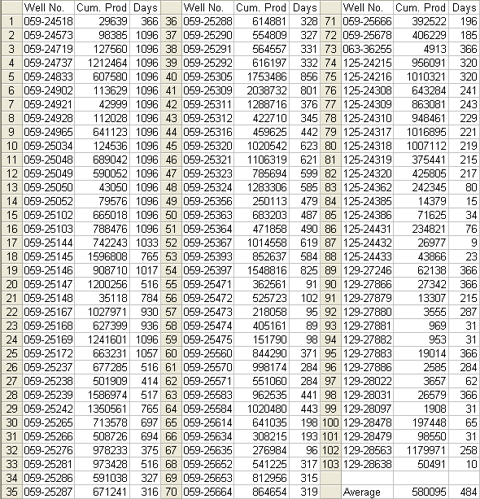 The average cumulative production of the 103 shale wells of CNX is only 0.58 BCF. The average history of production is 484 days. That's far below what CNX told us in 2010 and recently!
This chart shows the distribution of cumulative well productions: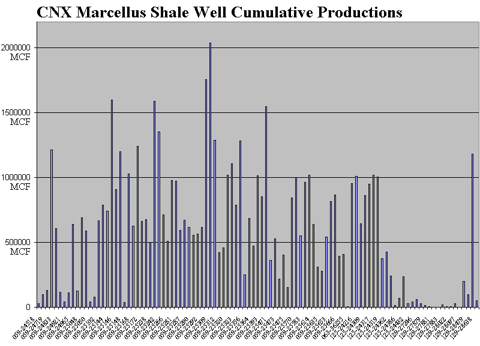 Only one well, 059-25309, exceeded 2.0 BCF. Only five wells reached 1.50 BCF of cumulative production. Most of the wells produced less than 0.50 BCF. Such performances are far below the ridiculous claims of CNX of an average EUR of 5.5 to 9.9 BCF.
Conclusion and Investment Implications
As I have discussed in the past, natural gas (NYSEARCA:UNG) producers tend to use flawed data models to exaggerate EUR of their shale wells. When they claim their gas wells can produce 3 BCF, 5 BCF or 9 BCF, you should NOT take their claims at face value. You should always scrutinize the numbers and check the actual data. In reality, NG producers often make exaggerated projections of their wells that decline fast than expected and produce far below estimates.
I am bullish on NG prices. But NG producers are not the right vehicle to invest in rising NG and coal prices. NG prices need to go many times higher than current level for producers to make a real profit. But current coal prices are right around the profitability threshold. Thus, coal mining stocks are much better investment opportunities.
The discussion here is also relevant to the following:
Chesapeake Energy (NYSE:CHK)
EnCana Corp. (NYSE:ECA)
Cabot Oil and Gas (NYSE:COG)
Southwestern Energy Inc. (NYSE:SWN)
Sandridge Energy (NYSE:SD)
QEP Resources (NYSE:QEP)
Alpha Natural Resources (ANR)
Arch Coal Inc. (ACI)
James River Coal (JRCC)
Peabody Energy (NYSE:BTU)
Disclosure: I am long ANR, ACI, JRCC, BTU.