It is time to look at latest EIA data and to provide an update on US coal supply and demand pictures.
US Coal Production Curtailment Continues
The US coal producers continue to curtail their productions as shown on the updated chart below: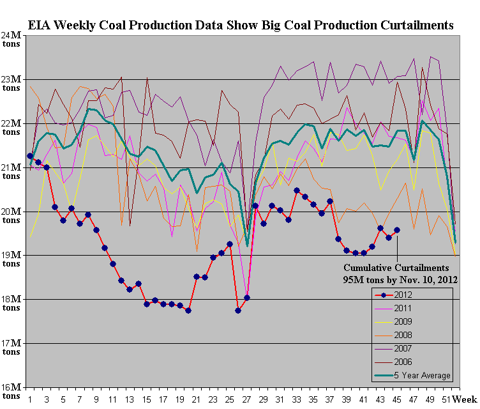 As of Nov. 10, 2012, the cumulative coal production curtailment was 95M tons, compared with the previous five-year averages.
US Coal Prices Are Recovering
According to CME Group, the CAPP coal future prices have rallied: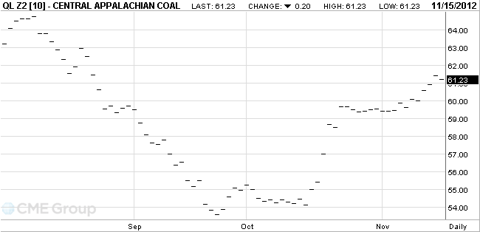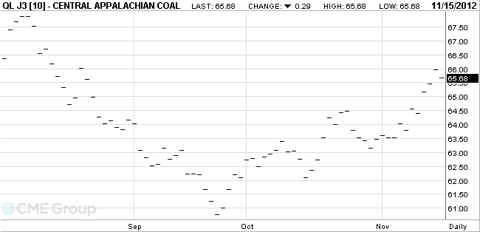 Natural Gas Storage Glut is Gone
Early in the year, every one was talking about the 1000 BCF glut in US natural gas storage. I predicted that the market will rebalance supply and demand, and that we will reach a normal storage peak in the fall. My prediction was vindicated. My prediction in April was for a storage peak at 3852 BCF, plus or minus 48 BCF.
The US NG storage peaked last week at 3929 BCF. This week we saw a draw down of 18 BCF. My projection was off by only 29 BCF. The total injection for the injection season was 1560 BCF.
The natural gas storage glut, due to over-production and a warm winter, was the reason NG prices and coal prices were suppressed. These bearish factors are now completely gone. The coal sector is poised for a big rally, as we enter a normal winter, and cut in gas well drilling activity will finally lead to production drop soon.
What Happened Since Last Fall
The EIA data provides a retrospect on the NG supply and demand since last fall:
From Dec. 2011 to Mar. 2012: Dry gas production was 625 BCF higher than last year; US consumption was 384 BCF lower than last year; net imports was lower by 230 BCF. This lead to a net storage glut built-up of 779 BCF of gas.
From Apr. 2012 to Aug. 2012: Dry gas production was 405 BCF higher than last year; US consumption was 811 BCF higher than last year; net imports was lower by 99 BCF. This lead to a net storage glut reduction of 505 BCF of gas.
Things are looking bullish for both natural gas and coal here.
Unfounded Fear that Obama Will Destroy the Coal Industry
The market feared that as Obama was elected for a second term as US President, he will impose more EPA regulations to kill the US coal industry. I believe that fear is unfounded.
Obama clearly indicated that clean coal will be part of his energy policy. He is not banning coal. He just wants to have new technology to burn coal more cleanly.
The coal sector had been rally from 2009 to early 2011, during Obama's first three years in office. Clearly, the President's agendas had no impact on the supply and demand of coal.
Obama was NOT responsible for the factors that caused the depression in coal and NG prices in the last year. It was due to the reckless over-production of the NG producers, and an unusually warm winter. Obama did not tell NG producers how many wells they should drill, nor could he affect the weather.
International Coal Demand Is Still Strong
In the first 10 months of 2012, China imported 220M tons of coal. That exceeded 182.4M tons China imported in the full year of 2011.
US exported 88.4M tons of coal in the first 8 months of 2012. My projection is that the whole year exportation will be 132.6M tons. That will be significantly higher than last year's 107M tons exported.
India is facing a looming coal shortage. Actually India's electricity grid collapsed over the summer, causing a massive blackout through most part of the country. India needed to import a lot of coal fast. The delay of India's coal importation due to bureaucracy was the cause of its power shortage woe, and also cause why international coal price had been weak despite of strong demands from China and Europe. When India starts to import more, things will change.
Investment Implications
I believe the US coal mining sector remains one of the most depressed sector in the market place, and the best investment opportunity for the next 12 to 24 months. Every day I encounter a lot of articles proclaiming "coal is dead" every day. Coal is not dead. Coal is the fastest growing fossil fuel in the past ten years, globally.
The discussion here pertains to interests in the following issues:
United States Natural Gas Fund (UNG)
Market Vector Coal ETF (KOL)
James River Coal Company (JRCC)
Alpha Natural Resources (ANR)
Arch Coal Inc. (ACI)
Peabody Energy Inc. (BTU)