Just a quick update. I have carefully analyzed archives of the EIA weekly natural gas updates, extracted useful information, and deduced accurate weekly NG demand figured to allow me to plot the data out: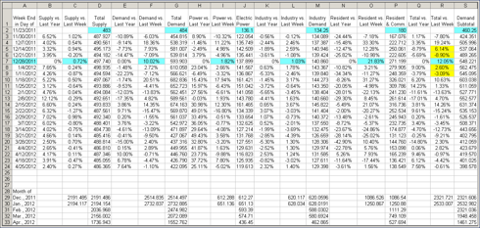 Here is the chart of weekly natural gas demand. Note that when the monthly tallies are deduced from the weekly numbers, they add up precisely to the monthly data that EIA releases: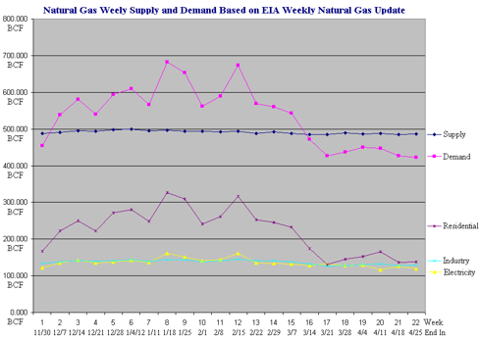 Seeing the above chart, where do you find natural gas demand in the electricity power sector? You probably need a magnifier to find it.
[Update: May 13,2012] The updated chart is shown below: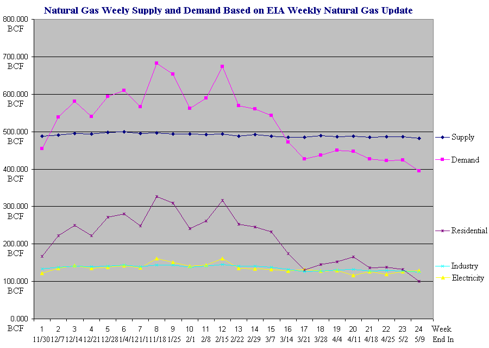 There is NO coal to natural gas switch. It's totally debunked. It does not show in the data. It does not show up in the chart.
BTW it is worth being a bit skeptical to some of the EIA data. Note this example below:

The data was provided by BENTEK. I can't help shaking my head!
I have submitted a formal SA article in which I discuss my findings in the EIA weekly natural gas updates. Please stay tuned!
Update: Please look at the April monthly tally of NG usage in the power sector. The data in the data table only tallied 25 days of April, up to April 25, 2012, for a total of 436.45 BCF. The week ending in April 25 saw 119.613 BCF consumption for 7 days. Extrapolate that for 5 days will be 85.438 BCF, bring the whole month of April to 521.888 BCF.
That would be an April, 2012 LOWER than the April of 2011 (at 525.956 BCF), by 0.77%.
http://www.eia.gov/dnav/ng/hist/n3045us2m.htm
So the alleged coal to gas switch so may people talked about, is already ENTIRELY GONE in April.
Disclosure: I am long JRCC, PCX, ACI, ANR, BTU.