US coal is bullish. The coal and natural gas (NYSEARCA:UNG) sectors are unique that they are quick to rebalance supply and demand under adverse market conditions. You can see the ongoing rebalancing when you analyze the data from EIA.
I will discuss natural gas (NG in brief) data here. The other article, "Rebalancing on US Coal Continues", discusses coal.
Please refer to my instablog post for detailed analysis of the data from EIA and FERC, and on basics of understanding natural gas, coal and electricity. I present just the results and conclusions here.
NG is important to coal investors. Cheap NG competes with coal in the electricity sector. But we need to quantify how much of coal demands were taken away by natural gas. Are coal demands returning now that NG prices have rallied from recently low? Let's find out in the data.
How The Winter Affected NG Demands
The following chart shows NG supply and demand in 2010, 2011 and 2012. The chart is plotted from October to October so that we can see the whole winter better. In the chart:
S2012 stands for 2012 supply, defined as dry gas production plus net imports; D2012 stands for total demands.
P2012 stands for demand in electricity power.
R2012 stands for residential and commercial [RC] demand.
Industry demand was not included, as it did have much seasonal variation.
Top of the chart are supplies and total demands. The power and RC demands are at the bottom portion.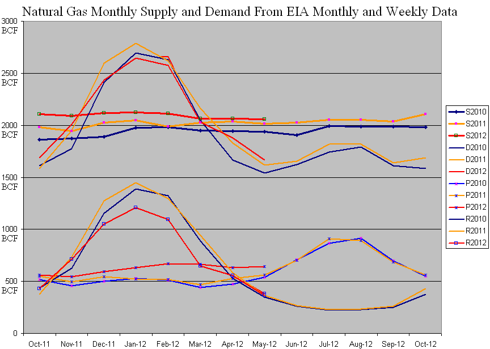 The NG supply line S2012 is flat and going down gradually. By now, the supply is only 2.69% above year ago level.
The total demand line D2012 fell below D2011 in December, and remained weak in February. It over-took D2011 by April, and kept above D2011 in May. The weaker RC demand (R2012) was the biggest factor in weaker NG demands. But it returned to normal in April.
Demand in the power sector gained. It was not enough to reverse the loss in RC demand. The power demand gain did not seem to be sustained. As shown below, the gap of power demand gain narrowed April and May, while the RC demand recovered: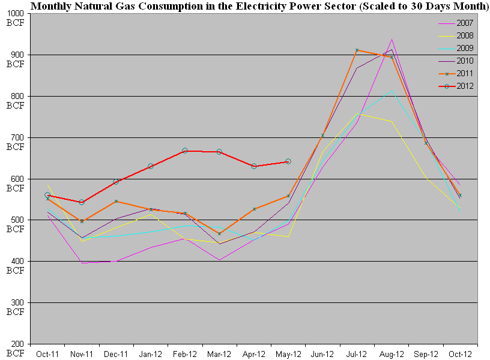 Natural Gas Supply Is Dropping Slowly
Investors are upset because they saw massive drop in number of rigs drilling for NG, yet there is no evident production drop so far. The weekly NG storage injection is only roughly 30 BCF per week lower than the same week last year.
Actually NG production is dropping slowing. You have to look at the data closer to notice it. The weekly data show small week-by week percentage changes that accumulate. See the chart below:
(click to enlarge)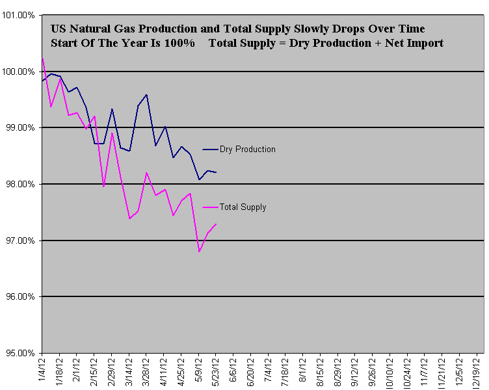 Today the NG supply is down 3% from the level at beginning of 2012. At beginning of the year, supply was 499 BCF/week. Now it is down to 484. The drop was 8% annualized. Productions of natural gas wells start to decline from day one. The industry must keep drilling new wells to maintain a flat total production. When the drilling slows, total production eventually begins to drop.
Due to the gradual NG supply drop, and the fact that current weekly storage injection is about 30 BCF lower than normal, I project that the peak NG storage will reach a normal 3800 BCF level by the fall.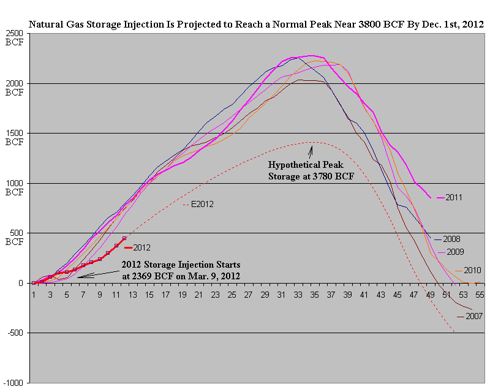 So far as shown in the chart above, the NG storage injection looks on target to reach the normal storage peak by the fall.
A Closer Look At The Numbers
The NG supply and demand numbers, scaled to 30 days months for uniformity, are summarized below:

The biggest winter impact on NG was the reduction in residential and commercial demand. That loss of demand has recovered in April and May. The loss of demand totaled 760 BCF. Increase of the power sector demand compensated a large portion of the demand loss.
The third factor was over-supply. But by May 2012, a large part of the over-supply was already gone. NG supply is still dropping slowly.
The May numbers of NG supply/demand situation did not look bad. Notice the power sector demand gained most in March, taking away some coal demands. The power demand gain diminished to only 82 BCF/month by May, or worth about 5.7M tons of coal.
Looking at these numbers, I believe that natural gas has returned to balanced supply and demand. We could run into a shortage by the fall, as production drop accelerates. Will NG producers rush to drill more wells if NG shortage does occur in the fall? They would not, as they had learned their lesson in over-producing. So in that case, utilities would have to switch some NG back to coal. Thus both natural gas and coal prices are very bullish.
I believe the coal sector is a better investment opportunity than the natural gas sector. Coal stocks are discounted way below where current coal prices would justify; NG stocks still have not reflected the discounts justified by the deeply non-profitable NG prices and by the shale gas controversy. Until we fully understand what's going on in the shale gas industry, stay away from these natural gas plays:
Chesapeake Energy Corp. (NYSE:CHK)
EnCana Corp. (NYSE:ECA)
ConocoPhillips (NYSE:COP)
Anadarko Petroleum Corp. (NYSE:APC)
EOG Resources Inc (NYSE:EOG)
Devon Energy Corp. (NYSE:DVN)
Baker Hughes Inc. (BHI)
SandRidge Energy Inc. (NYSE:SD)
Transocean Ltd. (NYSE:RIG)
BP plc. (NYSE:BP)
Exxon Mobil Corp. (NYSE:XOM)
New China Stimulus Bullish for Coal
The Chinese authority started a new round of stimulus, although we still do not know how big this new economic stimulus is going to be.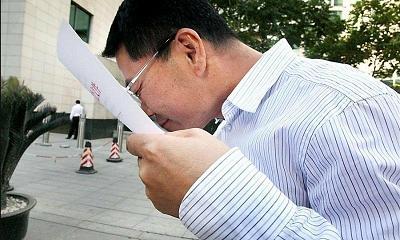 On May 27 of 2012, a mayor of a Southern China city kissed a document he received from NDRC. It's for a new steel plant with 10M tons annual production. The new plant relies on foreign coal as it is far away from major coal bases in Northern China!
China's electricity generation reached 4.7 trillion KWH last year, exceeding the USA by a small margin. That's an average of 536GW of electric power, or only 390 watts per person, much lower than global average. China sold 150 million air conditioning units last year. Each unit consumes 5000 watts of power when turned on. If these units are turned on at the same time, they drain 750GW of power, more than China's electricity grid can handle.
China desperately needs more electricity to meet its demands. As China generates most (80%) of its electricity from coal, it needs to buy coal all over the world to meet its energy needs.
Based on my study of data and facts, I continue to recommend these great values in coal:
James River Coal Company (JRCC)
Patriot Coal (PCX)
Arch Coal Inc. (ACI)
Cloud Peak Energy (NYSE:CLD)
Alpha Natural Resources (ANR)
Consol Energy (NYSE:CNX)
Black Hills Corp. (NYSE:BKH)
Walter Energy (NYSE:WLT)
Westmoreland Coal (NASDAQ:WLB)
Peabody Energy (NYSE:BTU)
Nacco Industries (NYSE:NC)
Alliance Resource Partners LP (NASDAQ:ARLP)
Market Vectors Coal ETF (NYSEARCA:KOL)
I am buying more coal stocks.
Disclosure: I am long JRCC, PCX, ACI, ANR, BTU.