Over the week end, there is strong signal from China that a new round of money spending and economy stimulus has started quietly.
I have submitted an article to discuss it.
Irony to its name, the National Development and Reform Committee (NDRC) is widely criticized for strong hand control of the economy.
All of a sudden, local officials rushed to visit NDRC like pilgrims, "eat and sleep with them by 24/7". Why? Because they have big money to spend and they can decide what projects proposed by local governments get the money!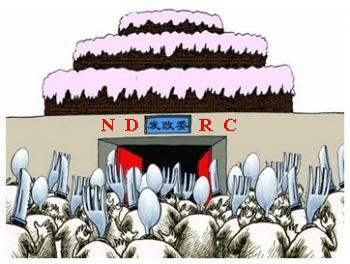 The report described an amazing scene! Local photocopy shops, taxi drivers and hotels saw their businesses boomed. Trash collectors complained they had to work over time to clean up the paper trash. Local officials from around the country carried heavy document packs and waited patiently to be called in to pitch their projects.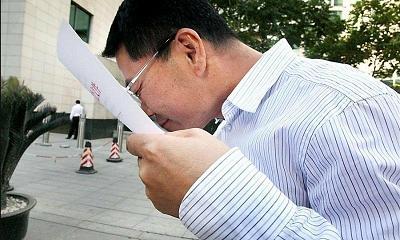 This guy, a mayor from a Southern China city, kissed the document with joy outside the gate of NDRC. They just approved a 10M tons per year new steel project in his city. TEN MILLION TONS of steel a year. Youthought China has enough steel capacity already? They felt they need more and they are buidling more, Paulo Santos!
Investors should consider investment opportunities related to China's new spending binge, and related to commodities.
The biggest investment opportunity is in something China needs desperately: the black gold coal. China needs coal and US has the largest coal reserve in the world. Look at China's coal production and demand growth in the past decade (in unit of 10,000 metric tons):

Look at this satellite photo of a giant depleted coal mine in China! China now burns seventeen (17) such big holes of coal a year: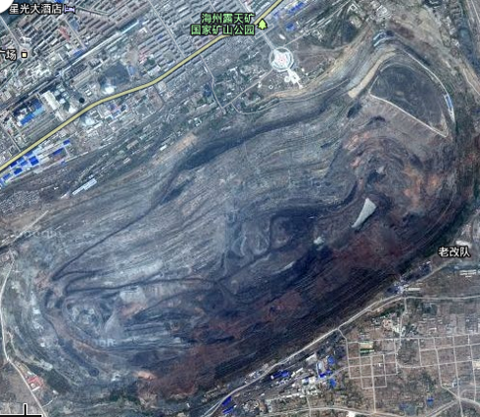 China's coal imports in first four months of 2012 were up 69.6% over last year to reached 86.55M tons. According to Chinese Custom, physical tonnages of all imports were up 17.5%. Are such growth paces slow downs? To the party bosses, an 8% growth is not enough to Wei Wen. Thus the new spending binge!
I recommend these great values in US coal at fire sale prices:
James River Coal Company (JRCC)
Patriot Coal (PCX)
Arch Coal Inc. (NYSE:ACI)
Cloud Peak Energy (CLD)
Alpha Natural Resources (ANR)
Consol Energy (NYSE:CNX)
Black Hills Corp. (NYSE:BKH)
Walter Energy (NYSE:WLT)
Westmoreland Coal (NASDAQ:WLB)
Peabody Energy (NYSE:BTU)
Nacco Industries (NYSE:NC)
Alliance Resource Partners LP (NASDAQ:ARLP)
Market Vectors Coal ETF (NYSEARCA:KOL)
Stay tuned as China's new economic stimulus quietly unfolds.