Twitter (NYSE:TWTR) has been going through rough times. Its user-base, after reporting dismal growth during the first three quarters of FY 2015, declined sequentially during Q4, FY 2015 (see the chart below).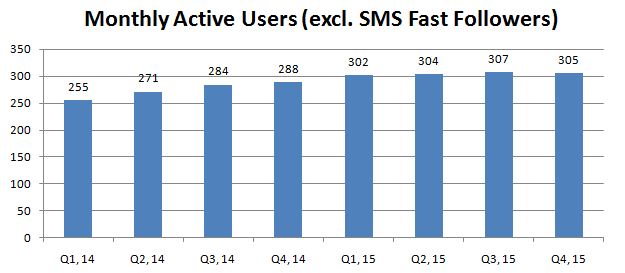 (Source: Twitter's report) (Numbers in millions)
The lack of user-growth made investors sceptical about the long-term growth potential of Twitter leading to the decline in the company's valuation by over 60% during the last twelve months (see the chart below).

What made the decline more worrisome is the performance of Facebook (NASDAQ:FB), Twitters biggest competitor. During the times when Twitter was struggling to grow its user-base, Facebook (despite its higher user-base) reported excellent growth in its user-base (see the chart below). Facebook's user-base growth showed that social media space is growing well, and Twitter is struggling due to its own reasons.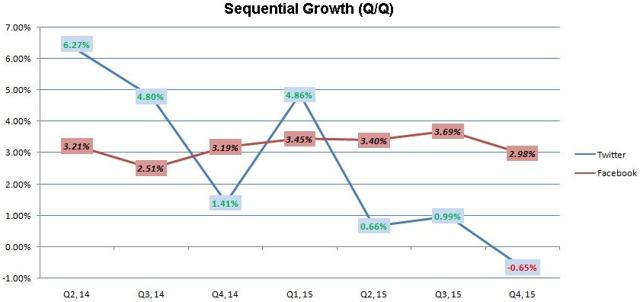 (Source: Twitter and Facebook presentations)
The prime reason behind this depressed user-growth was the lack of focus. Throughout the last financial year, Twitter primarily focused on monetization, which of one side allowed the company to improve its financials remarkably, but on other side reduced its focus towards user-experience, which affects the user-growth negatively.
The only significant product innovation from Twitter during the last financial year was the launch of Periscope, the live video broadcasting service, but since the company decided to launch periscope through separate app, the company didn't reap the full benefit of such an exciting product. Moreover, the company's various attempts, like getting back on Google search and the launch of Moments, didn't go as expected. However, on the positive side after focusing on monetization during whole FY 2015, the company once again has been focusing on user-growth.
Tweets are the strength of Twitter, and Twitter is working on its strength. The key improvement the company has made is the integration of Periscope and Twitter. On January 12, 2016, Twitter integrated Periscope broadcasts in Twitter timelines. This integration gave a new dimension to tweets by enabling the live conversation or sharing via live video broadcasts. With ever growing Internet speed, live video broadcasting is gaining popularity and is expected to be a huge growth opportunity in the social media space. Twitter being an early starter should be hugely benefited from this trend in the coming times. This sort of capability will also allow the company to explore more services like video chat, a service that can further improve the company's growth prospectus, in the future.
Despite the expected growth in the live video tweets, texting will continue to be the most used form of tweets. Recently, in an attempt to improve the attractiveness of its text tweets, Twitter gave its users access to huge searchable library of GIFs. GIFs are kind of visual symbols that make tweeting more fun. The availability of better and big GIF library will increase the quality and attractiveness of tweets and direct massages, which will eventually improve the user-experience and content quality of Twitter.
Due to Twitter's marketing efforts, every day millions of unregistered users, who do not have an account with Twitter, visit Twitter and view Twitter in a logged-out state. As a strategy, till recently, the company kept its logged out experience unattractive in a hope that a user might register in a curiosity to know Twitter better. The sluggishness in user-growth, however, made the company to change its approach towards its logged-out user experience. Recently in a major change of strategy, the company totally revamped its homepage to improve the logged-out user experience. Twitter converted its homepage to a showcase of its service and content where any user can browse through content tailored according to the user location. With the new strategy the company has made sure that it uses its key strength (existing users and content) as its key marketing tools.
Twitter competes primarily with Facebook in most of its markets. Facebook has a much higher user base and offers much more services including almost all the services that Twitter offers which makes Facebook a better option for a potential user. Twitter needs to offer something unique either on user-experience front or on service/product offering front to compete with Facebook. The moves like opening-up of its content for logged-out users and the early introduction of live video broadcasting (via Periscope) showed that Twitter is thinking ahead of its key competitor, which is a big positive for Twitter.
Conclusion:
Twitter survives and grows on the want of people to share information and the thirst of people to get information. The company is getting innovative and is improving the ways in which the information is created, shared and accessed, which will help the company to address its prime concern - lack of user-growth. Another thing that is evident from these developments is that finally CEO Jack Dorsey has a right management team in place.
Twitter has begun 2016 with some very positive developments. How positive these developments will turn out eventually only future will tell, but one thing is for sure that the company is moving ahead on right path, which is an excellent news.
Disclaimer: Investments in the stock markets carry significant risk, stock prices can go up or down without any understandable or fundamental reasons. Enter only if one has the appetite to take risk and heart to withstand the volatile nature of the stock markets.
This article reflects the personal views of the author about the company and one must consult its financial adviser before making any decision.
Disclosure: I/we have no positions in any stocks mentioned, and no plans to initiate any positions within the next 72 hours.