It has been a busy few weeks when it comes to news which has impacted many of our REITs 4 Alpha: High-Yield | DGI | Technology recommended names.
In the data center space, Digital Realty (DLR) stepped up and purchased wholesale competitor DuPont Fabros (DFT) in a merger designed to shore up market share in the US super-wholesale cloud service provider arena.
We were overweight DuPont Fabros shares, and they are over 15% higher on the merger formula of 0.545 DLR shares for each DFT share.
Amazon purchasing Whole Foods Market creates a very interesting dichotomy. Mr. Market sold off retail REITs last week, even though this purchase cements bricks and mortar as a key component of omnichannel retail.
I have been a proponent of an Amazon Landlord thesis since late 2015, which focused on industrial REIT and data center REIT names that stand to benefit from e-commerce growth and AWS public cloud growth. I will be updating it in the next week or so.
On the other hand, retail REITs and some of the freestanding net-lease REITs have been taken out and shot.
Some of these beaten down REIT names have been trading at or near 52-week lows, and offer a nice combination of value, current income and dividend growth. Last Friday, they all seemed to catch a bid.
That retail REIT tailwind extended through today's trading, after Berkshire Hathaway announced a 9.8% (the largest stake possible) investment in STORE Capital (STOR).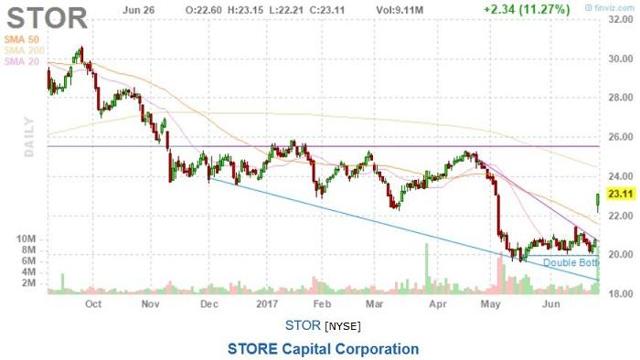 During the past 52-weeks, STORE has traded in a range of $19.65 - $31.44 per share. I wrote an SA free site article a few weeks back which explained our view that STOR was undervalued, well-managed, with a low dividend payout ratio and strong ssNOI to support a growing dividend.
According to CNBC, Buffett's has had his eye on STORE Capital for three years prior to pulling the trigger and making the investment.
Coincidently, I have also followed STOR since its IPO and have ample respect for how Chris Volk and his team operate.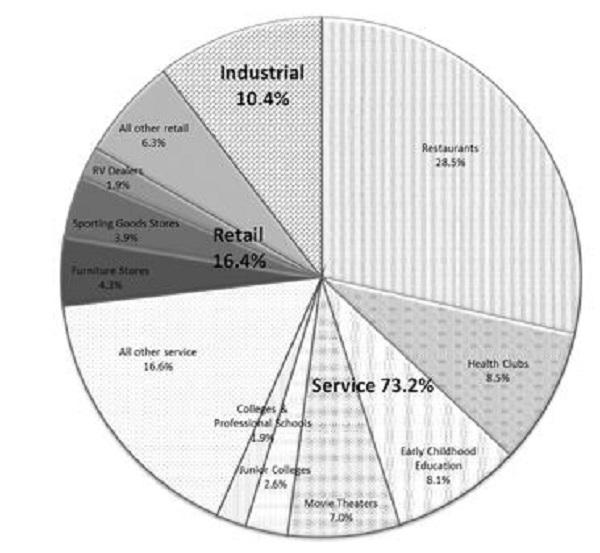 Source: STOR S-11 filing at IPO
Retail has never been a big part of the STORE Capital portfolio, and industrial has grown by about 50% over the past few years.
F.A.S.T. Graph - Valuation Analysis
It's time to use the F.A.S.T. Graphs tool to check under the hood. The black line denotes price. It is a visual comparison relative to the blue line, which is "normal" P/FFO for the selected number of years.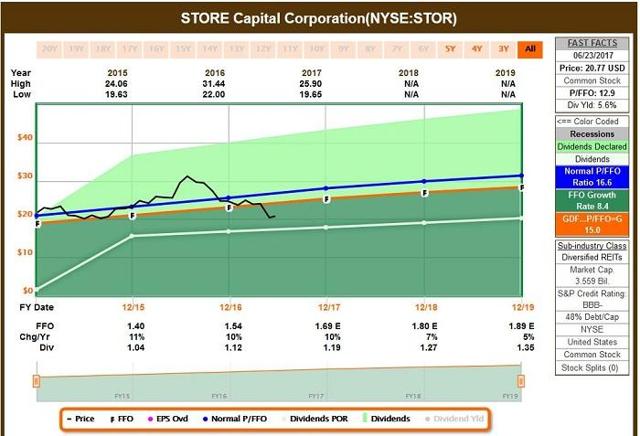 Notably, the FAST Graph data is one trading day behind, so this is what it looked like after the close of trading on Friday June 23, 2017.
The 11.3% pop in STOR shares Monday has reduced the dividend yield to a tad over 5%, still attractive for this net-lease DGI name. STORE's P/FFO is now a more "respectable" 13.7x, yet it is still three turns lower than this REIT has typically traded.
I think it would be reasonable to expect STOR shares to bounce around a bit, after the gap up on the Berkshire buy. However, my sense would be that a 15x FFO per share would not be out of line, and that would still would be 1.6x lower than "normal" since the IPO.
I recently launched REITs 4 Alpha: High-Yield | DGI | Technology on SA's Marketplace. Members get my buy and sell alerts, watch lists, portfolios, and deep industry-level analysis, especially for data centers and tower REITs. We also have a vibrant community of REIT investors chatting throughout the market day. Please consider joining the group or getting in touch with me through my SA account if you have questions.
I relentlessly hunt for diamonds in the rough and rising stars in addition to closely following data centers, covering REIT blue-chips and breaking news. Please consider following me as a Seeking Alpha author if you would like to be notified when my future articles are published.
If you have not been following my research closely on Seeking Alpha, my recent Marketplace Roundtable interview with SA Pro Editor Daniel Shvartsman details why we are overweight data centers and focus on technology at REITs 4 Alpha.
Disclosure: I am/we are long STOR, DFT.
Additional disclosure: A member of my household in a retirement account owns: STOR, DFT,