Summary:
The recruitment space is an ever-changing, exciting growth area, with several adjustments in major player's competitive positions over the last 15 years
There is a paradigm shift in the industry from traditional job advertisements to software platforms that facilitate efficient recruitment efforts
CareerBuilder has seen success in their shift to an HR SaaS focused company and away from the traditional job board business model
Monster's business is continuing to decline as they straddle too many strategies
Dice is successfully fostering their niche job board strategy and expanding customer value with SaaS based product offerings
I decided to break this up into a two part mini-series:
Part 1: An online Recruitment industry overview, with a majority focus on CareerBuilder, Dice and Monster (I purposely Ignored Linkedin)
Part 2: Dice Financial performance, and equity valuation Model with a few comparisons to Monster.
It's been a rough earnings season within the recruitment space, with Linkedin and Monster taking as much as 64% hits to their stock prices and Dice Holdings Inc. dropping as much as 16% after the impairment of their Oil exposed niche job boards. I have spent a significant amount of time learning about the strategic initiatives and financial performance within the recruitment/HR technology space, and I figured I would pass along these learnings.
Before we get into anything, here are a few definitions to limit the confusion of any potentially unfamiliar terms:
ATS: Applicant tracking system: central location and database for a company's recruitment efforts. ATSs are built to better assist management of resumes and applicant information. Think of whenever you have applied to a job and had to go through the pain staking process of entering all of your information in four long steps before you could submit your application.
SaaS: Software distribution model in which applications are hosted by a vendor or service provider and made available to customers over a network, usually on a subscription basis (think Salesforce).
Job Aggregator: Scrapes Employer's jobs on their ATS systems, other job boards etc. to build a centralized location for searching jobs - think Indeed.
SMB/SME: Small and Medium Sized business
Generalist Job Board: A job board that posts jobs across all job categories
Specialist Job Board: A job board that posts jobs in a specific job category, such as healthcare, technology or Finance
Industry Overview:
The recruitment industry may not be the most exciting, or most talked about industry within the technology space when you compare it to something like Fintech or self-driving cars, but there has been plenty of exciting innovation over the last few years. The recruitment industry is highly saturated within North America and we consistently see new start-ups filtering in and out, attempting to be the next best innovator in the recruitment space. The job board doctor is excellent at providing updates and insights into the latest trends (www.jobboarddoctor.com/) and i suggest those following or working in the space to subscribe to their feed. The exciting part about the recruitment industry is the shift from static job advertisements/postings to SaaS based platforms and products that leverage technology and Big Data, all while still maintaining the ultimate goal of efficiently connecting candidates and employers. The frustrating part is the 'veteran' traditional job-boards that started in the early era of the Internet, and failed to adapt after more than a decade of generating excellent free cash flow returns. The industry has shifted to where a job posting has become commoditized and employers are no longer willing to pay for a job posting blindly, but rather they want to pay for applicants and technology that improves the efficiency of their recruitment efforts. On this theme, job aggregators, such as Indeed, have come and disrupted the classic job board business model and are growing revenue at high rates.
Here is a snap shot of the relative revenue growth of a subset of the recruitment space I could gather financial data on (not adjusted for acquisitions):
Note: I had to put Indeed on its own axis (right side) as the company's growth rate has been substantially higher than its competitors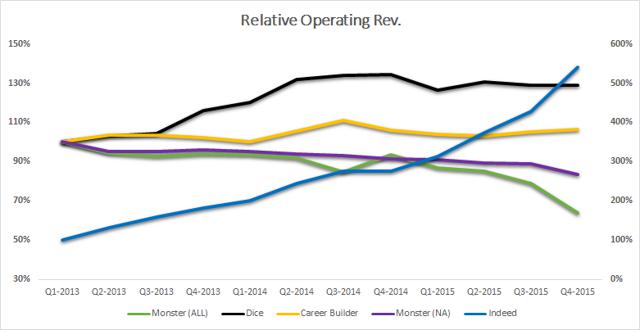 Indeed (Job Aggregator):
Indeed has a simple strategy - have all the jobs in an easy to use interface by aggregating jobs from employers and the job seekers will come. That's exactly what job seekers are doing. Once their job seeker traffic jumped substantially, they began charging employers per click to 'sponsor' their jobs within their search results, similar to Google's Adwords model. Employers are getting a large amount of applicants for their jobs (both for free and when sponsored), eliminating the need to go pay $400-600 for a job posting on a traditional job board with less job seeker traffic. SMB customers can take full advantage of a free posting on Indeed and not have to spend a dollar to get applicants. It's difficult to compete with this and I think it is a terrible idea to compete as a generalist job board against this strategy or try to copy it at this point, as Monster seems to be doing with their 'All the jobs' strategy (i.e. Monster). Enterprise customers have given large contracts to Indeed and are giving Indeed the freedom to sponsor jobs as they think fit. As a traditional job board, you need to find a way to co-exist with this business model and identify other areas in the recruitment value chain that could benefit from an improved offering.
Let's compare the strategic decisions made by CareerBuilder and Monster, both of whom have been around since the mid-90's and have been competing head-to-head ever since:
CareerBuilder:
Note: CareerBuilder is partly owned by the public company Tegna - NYSE:TGNA
CareerBuilder is a generalist job board, meaning they provide generic job postings across all job categories in one location. CareerBuilder decided a few years back to shift their focus from a traditional job board, where they would get most of their revenue from job posting packages, to an HR SaaS focused technology company (more on this below). Monster and CareerBuilder have been competing head to head for years in this traditional space. Monster was the big kid on the block in North America in the 2000's, maintaining strong market leadership, but CareerBuilder overtook their North American Revenue in 2010 by 61 Million and in 2015 CareerBuilder surpassed the entire Monster business in revenue (albeit there have been several divestitures on Monster's part and acquisitions on CBs part). It's unfortunate that CareerBuilder is not a stand-alone company, as I would love to dive into their financials.
Career-builder has made several acquisitions over the years, all with the end goal of transitioning to a HR tech/SaaS focused company that I mentioned above. First, they purchased a 74% stake in EMSI, an economic modelling company, entering the workforce/labour market analytics space. One example of an application EMSI is allowing HR professionals/recruiters access to the supply and demand of specific jobs by region and attaching "hard to fill" scores to each. Recruiters can then know where they should look for candidates and what they would need to offer candidates to fill a harder to fill position. Their next significant acquisition was the purchase of Broadbean, which distributes jobs to thousands of other job boards and social sites, as well as provides detailed sourcing analytics to measure ROI. The industry is shifting towards this trend of distribution and ROI measurement of sourcing efforts, with several different companies providing this functionality, but CareerBuilder is providing it within their ATS (more on this below), which puts them at a huge advantage.
Next they took a majority stake in TextKernel, which provides them with multi-language CV and job parsing technology. TextKernel added advanced semantic search and matching capabilities to CB, improving their offering within their new recruiter platforms. One example of an application of this is the added ability to provide a 'matching' or 'qualified' score to candidates against any specific job, acting as an automated screening service. Think about the value of having this within an applicant tracking system with millions of resumes and the ability for the system to tell you the top ten candidates most fit for the role right away. Also, fundamentally it allows recruiters to easily search through resume databases or through job postings by better understanding a search queries true intent/context, improving the relevancy of results.
The most significant offering is when all of this comes together in the pre-hire platform CareerBuilder1, which offers candidate relationship management, job distribution (Broadbean), workforce analytics (EMSI), applicant tracking systems (luceo), and semantic search all within ONE system, making them the only company offering a complete end-to-end solution. I think this product will really disrupt the industry moving forward and will be the next big thing if CB can ensure they maintain certain service/quality parameters in its delivery.
CareerBuilder is doing exactly what I suggested above in response to Indeed's growth - attempting to co-exist by offering value across a large part of the recruitment chain. CareerBuilder is sacrificing short-term returns for longer-term gains, as they explicitly ditch their low margin transactional business (i.e. manual screening services and traditional job advertising) for software platforms that are scalable and produce higher retention rates. Do not under appreciate the significance of this shift and the success they have had so far, as CareerBuilder has increased their SaaS products from 1% of their revenue to 25% in 2015. Just to put the icing on the cake in their lifelong 'battle' with Monster, they have still been able to stabilize their business financially as they make this switch, while Monster has seen continuous declines.
Monster (NYSE:MWW):
I would say I'm strongly biased against Monster, as I have watched intently as they deteriorate financially year after year. Monster maintains its generalist job board status, where they derive most of their revenue from job posting packages and their resume database. On top of this generalist status, Monster is also following an "All the jobs, All the People" job aggregation strategy, while slowly increasing their SaaS product offerings. Monster is attempting to follow a similar path to CareerBuilder with their SaaS products, but they are clinging to their declining transactional SMB/Mid-Market job posting business, which is the opposite of CareerBuilder's strategy. Monster's SMB and mid-market business is suffering and still makes up 20-25% of their North American business, as they continue to discount and trial new product bundles in an attempt to extract as much value out of this target customer as possible. They recently noted in their earnings release that this discounting did not generate enough of an increase in volume to offset the reduced price, thus increasing the strain that this side of the business has caused. The SMB and mid-market business will continue to be a problem for Monster, and replacing this revenue with SaaS product revenue has proven to be a difficult undertaking.
On top of this, smaller, more agile competitors like Zip Recruiter are coming out and offering ATS equivalent platforms for SMB customers to manage and source candidates, and they also distribute jobs across different job boards/social sites within this platform. They are doing this at a very affordable monthly rate from as low as $249 a month (not to mention they give you a 4 to 7 day free trial). As a frame of reference, Applicant tracking systems (ATS) are very expensive tools, costing tens of thousands of dollars that large enterprises use to manage candidates that apply to their jobs. The small and medium sized business space usually has either a homegrown (as simple as an excel spreadsheet) /open-source version of an ATS or a scaled down version of an enterprise level ATS. Zip Recruiter does a great job of catering to this market, and offers a high caliber recruiting tool to customers whom otherwise would have limited options, essentially offering a light version of CareerBuilder1 for the SMB space.
Moving on to their SaaS based or new strategic products, Monster has slowly been growing this business from 2.8% in Q1-14 to 7.1% in Q4-15. Their resume products have improved with the acquisition of TalentBin, which allows for an extension of added profiles from social sites across the world and the ability to easily communicate with these potential candidates where they live online. Their new cloud based candidate search platform - Monster cloud search - allows users to search using Monster's 6sense semantic search technology to identify qualified candidates within their existing talent pool (including their own ATS) and from any external source, in one centralized location. This is another recruiting tool meant to improve efficiency and give recruiters more of a reason to use a Monster product as their central recruiting hub, regardless of which company's resume database is providing the resumes. I think some of these new strategic products are solid, but at their rate of growth they clearly are not enough to stabilize Monster's declining transactional business.
By trying to position themselves as a generalist job board, that aggregates jobs, that also has an array of SaaS offerings, they are essentially saying they want to compete with Indeed on the job advertising front and CareerBuilder on the SaaS product front. Sure, it would be great to be able to lead in both areas, but companies have limited resources, and need to focus on how best to allocate those resources to create economic profits. Monster seems to be straddling too many different strategies, which puts the company at further risk of decline. I strongly believe this will continue to hurt Monster until they can finally decide on who they want to become moving forward.
I will add one more thing. You can make an argument that Monster is trading at a very low valuation right now, even when you bake in the implied negative growth rate. Before the 4Q-15 release, I had faith that they would stabilize their business to some degree and were ready to make some progress in their SaaS business moving forward. After reading through the transcript it is clear that management is unreliable, as they abandoned past promises around EBITDA targets and hinted at potential acquisitions, which has been a huge part of their decline in recent years.
I will now shift the focus to Dice. I added a bit more detail here as the information below will flow over into my valuation of Dice in part II of this series.
Dice Holdings Overview (NYSE:DHX):
Moving the focus to Dice, I will attempt to add context and a background to preface the valuation that I will publish after this article. Dice holdings is a specialist job board and is a made up of several different niche job boards that focus on a specific job category, such as Finance. They operate across several countries and have been growing by acquiring different verticals, acquiring technology companies and re-investing in SaaS product development. The majority of their revenues come from the sale of recruitment packages, which mostly involves a combination of job postings and access to their resume database. They have been expanding into the SaaS space by growing their Open Web product and launching their new platform getTalent.(more on this shortly)
In my opinion, DHX is in a unique position as they are somewhat sheltered from increasing competition by the niche leadership of each of their brands, and they still have the opportunity to further expand their SaaS and analytics offerings across these verticals. Specialist job boards provide seekers a place where they know the content is tailored specifically to them and to me this creates more of a switching cost for seekers. For example, once a job board becomes the leading place for healthcare jobs, healthcare professionals may make this site their 'go to' site over an aggregator like Indeed. By extension this gives specialist job boards more time to adapt to competing technology and the changing marketplace, versus Monster which as a generalist is not awarded this same lag. DHX still has to transition and grow their SaaS product offerings and improve their user experience across their sites, but I'm simply implying that the switching costs for a jobseeker may be higher for a specialist versus a generalist.
Acquisition and Segment Discussion:
Here is a quick history of DHX's acquisitions since 2010:
1) Rigzone (2010 - 51.7M): expansion into the energy business
2) Slashdot (2012- 20M): - expansion into the media business (recently sold off at 2.6M)
3) Work DIgital (2012- 10M): - 'Acqui-Hire' - This acquisition was the foundation for Open-Web, Freshup and GetTalent
4) The IT Job Board (2013- 12.2M): - expansion into international markets (NASDAQ:UK) where Dice expanded its offering of finding solid technology candidates
5) onTargetjobs (2013- 46.3M): - expansion into healthcare/hospitality verticals - this has been a highly successfully acquisition with great potential
6) OilCareers (2014- 26.4M): - Expand Rigzone presence in non-US markets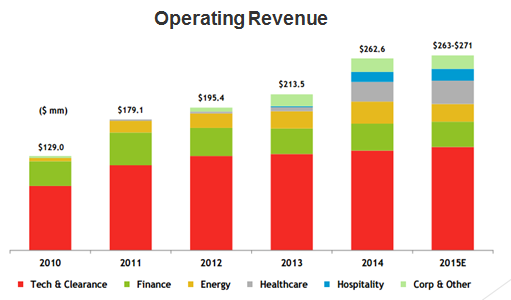 (Segment Slide from DHX's Investor Presentation)
Dice has had success with its acquisitions over the years, even when you consider the disaster of the Slashdot-Media purchase (which I'll ignore for now). The entrance into the healthcare and hospitality space has proved successful, as these segments have maintained a solid rate of organic revenue growth after acquisition. One interesting new product in their healthcare vertical is Shift. Shift taps into the temporary employment space and offers the ability to quickly and easily apply for part-time jobs in the healthcare industry and is growing significantly, with over 7000 active shifts and 4500 registered professionals. CareerBuilder does not appear to be interested in entering the part-time space, but Monster has hinted that they may enter this space to stretch their focus even further. I think these types of specialized products will continue to do well for Dice and produce solid organic growth. The HealtheCareers brand is also offering a pay per qualified applicant model instead of the traditional job posting package, showing their confidence in delivering candidates. As a frame of reference, this is a high risk move as I think if many other job boards tried to do this their revenue per posting would drop substantially, assuming the PPQA rates were reasonable. I'll admit this is a bit easier given that the "qualified' criteria could be considered less subjective as there are certain certification/education requirements in the healthcare industry.
The oil and gas segment, Rigzone/OilCareers, has been under pressure with depressed oil prices, resulting in an impairment of their energy segment, and this was the key driver in the drop in DHX's stock price after 4Q release. That being said, Rigzone is positioning themselves well to capture long-term growth when and if the market does recover by offering specialized data services, such as competitive analysis of rig fleets, to nourish their existing customer relationships.
The Finance segment, which is composed of job boards in the United Kingdom, Continental Europe, Asia, Australia, the Middle East and North America has seen solid growth in 2015, with 10% constant currency growth across the entire segment. Although there is uncertainty in the financial services industry in Europe, it seems there is plenty of room to grow the finance segment in the U.S. as the CEO quoted here (benzinga.com/news/16/02/6674308/dhi-group-ceo-talks-new-products-terrible-energy-job-recruiting-environment-and-t). Additionally, Open Web is now being sold to customers in the finance segment, which should help increase the average revenue per customer.
Dice Holdings biggest division, Tech & Clearance, has had moderate level organic growth over the last few years and they are looking to expand into other regions. Tech and clearance has an adjusted EBITDA margin of 46%, higher than their overall margin that hovers around 30%. Customer counts have been dropping steadily over the last three years within the IT vertical, showing that Dice is not immune to the pricing pressures being faced in the transactional job posting arena. LinkedIn and Indeed are prime competitors for technology candidates and will continue to pose threats to DHX's North American market moving forward. The positive news is that with the success of OpenWeb and other offerings, Dice has been successful in increasing the average revenue per customer to offset this customer decline. This is an impressive feat, given if we looked at the same metric for Monster, we would see a decline in both customers and in revenue per customer.

The Clearance jobs segment is focused on jobs that require formal security clearance. This vertical's revenues are up y/y 23%, with a focus on a pay-for-performance product, which is greatly contributing to their revenue growth. In their recent earnings transcript, CEO Michael Durney mentioned that the U.S. government continues to slow down the security clearance approval and renewal process, acting as a huge positive for this niche because you have the same level of need with less supply of people.
It will be interesting to see how revenue grows when and if Dice expands any of these verticals into more countries. I think there is plenty of potential to expand worldwide with this specialist business model. If you want to see an international job board expansion success strategy, look at Australia's Seek (ASX:SEK). Seek has maintained a basic technology job board for years, with the strategy of entering 'early stage' emerging markets where job seekers are still migrating online from newspapers and other physical sources.
SaaS Product Expansion:
Dice Holdings Inc. entered the SaaS based product space with the acquisition of Work Digital, which was done to get access to their high caliber employees. Open Web came out of this acquisition and Work Digital is now a part of the new BrightMatter group/division, which focuses on developing and bringing new products and services to market. Open Web aggregates candidate social data from 130 sites to build profiles and allows employers to easily communicate with candidates where they are online, acting as a direct competitor to TalentBin. Open Web now has more than 1000 customers and is being expanded to other verticals (it is already present in the Finance and Tech & clearance segments). Open web is a key contributor to the increase in revenue per customer, as many customers are adding this product to their typical recruitment package.
DHX's new SaaS based recruitment platform is getTalent (gettalent.com/) and is similar to Monster Cloud Search and CareerBuilder's TalentStream. It is a talent sourcing platform designed to help HR/recruiters organize and engage with candidates from any source (including an ATS) in one central location. One of the key differentiating value propositions with getTalent is the ability to easily cultivate all candidate relationships by constantly communicating targeted messages wherever candidates are across the web via mediums such as Instagram, RB, SnapChat and Quora. The typical talent sourcing platform only sends out targeted emails after jobs have already been posted. Another differentiator is that you can use their chrome extension to add candidates in your natural workflow as you find candidates across the web and their FreshUp product will automatically update/ fill in missing details for profiles within getTalent. I'm excited about this product and will watch intently to see if it picks up traction.
If you think about CareerBuilder's pre-hire platform and how it provides recruiters one centralized location to cover all of their recruitment needs, there is less of an incentive to use getTalent if I am already using CareerBuilder's full end-to-end solution, unless there is a significant difference in price ( I would assume there is). getTalent may have some unique offerings with FreshUp, their recent chrome extension, and their targeted marketing capabilities, but I'm unsure how these two products would fit together on a spectrum or if they are purely rivals. The positive news is that Dice has integrated their Open Web product with a subset of the applicant tracking systems on the market, and to external platforms like CareerBuilder's TalentStream and Monster Cloud Search. This integration allows Open Web to complement competitor products and co-exist, as there will always be a need for a specific type of talent that one of Dice holdings' verticals may have the edge in providing candidates.
Strategy Moving Forward:
Dice Holdings' strategy moving forward is to continue to acquire businesses to enter new geographical markets and new verticals, and expand deeper into the recruitment chain. Also, given their strong free cash flow, DHX will re-invest in their core business to drive organic revenue growth across their various niche job boards. Although CB and Monster both compete in the enterprise ATS space and are trying to expand their value throughout the entire recruitment chain, Dice still has the potential to be one of the "external" sources that fall into these platforms such as Careerbuilder1, as I mentioned above. I think their management team is very effective and understands where their strengths lie and where they need to grow within the recruitment space.
In part 2 of this series, I will jump into the financial metrics and valuation side of things.
Disclosure: I am/we are long DHX.