Summary
GigOptix has grown revenues from $3.2 million in 2007 to an expected $38 million in 2015 both organically and through successful integration of six acquired companies.
Company management expects to continue and even improve upon the 17% CAGR revenue growth rate it has established since 2009 when it became NYSE listed company.
The company is again trying to acquire semiconductor company GSIT to become a growing and profitable "world-class high-speed communication semiconductor business.".
GigOptix, Inc. (GIG) is a leading fabless supplier of high speed semiconductor components that enable end-to-end information streaming over optical and wireless networks. The company's products address long haul and metro telecommunications applications as well as emerging high-growth opportunities for Cloud and datacenter connectivity, storage-farms connectivity, interactive applications for consumer electronics, high-speed optical and wireless networks, and the industrial, defense and avionics industries. The company also makes product based on both RF and ASIC technologies products serving the high-speed telecom, datacom, storage and consumers optical and wireless communication markets, as well as the Mil/Aero, testing and medical industrial markets.
GIG is still off the radar, but when investors take notice, they will realize that at current prices GIG is an grossly undervalued equity offering them an optimum investment opportunity with asymmetric reward/risk ratios.
Before all the renewed GSIT acquisition talk last week, analysts had a consensus one-year price target on the stock of $2.8/share. In my opinion this price target is conservative given the high-growth scenario GIG is positioned as a supplier of semiconductor components that enable end-to-end information stream over optical and wireless networks. This business is growing at an accelerated speed because of the global need to improve communications speed. The company has grown revenues at a 17% CAGR rate since 2009 when it became a publicly listed company. GigOptix has grown organically by investing 30 - 40% of revenues in R&D and by quickly and successfully integratingsix companies it has acquired since 2007. GIG has 54c/share cash and no debt minimizing downside.
With this background, I will first discuss the upside offered by GIG alone followed by what I expect from the GIG-GSIT combination.
The case of GigOptix without GSIT
GIG had a very successful start for fiscal 2015. The company increased revenues sequentially despite the fact that the first quarter is usually the weakest one due to sector seasonality. 1Q 2015 revenues were 6% higher sequentially and 28% year-over-year increase in product revenue over the first quarter of 2014. 1Q 2015 also marked the 5th consecutive quarter of revenue growth, going up from $7.4 million in 1Q 2014 to $9.1 million in1Q 2015.
Other metrics also improved significantly year-over-year. Non-GAAP EPS increased from a loss of 2c/share in 1Q 2014 to a positive EPS of 2c/share in 1Q 2015. Adjusted EBITDA increased to $1.4 million in 1Q 2015 from $0.5 million the year ago quarter. The current guidance for 2015 is $37 - $38 million in revenues. This means that GIG will report revenues averaging about $10 million for the last two quarters of 2015. This also means that either or both 2H quarters could be GAAP positive - this would be the first time that GIG reports GAAP profitability since becoming a pubic company in 2009.
GigOptics appears to be at a significant inflection point as revenue is expected to accelerate in 2Q 2015 to $9.3 - $9.5 million, beating analysts' forecasts. The company, as well as all four analysts that cover the company, expects a stronger second half of 2015 and a continuation of this momentum in 2016 and beyond.
The 4-analyst consensus revenue growth is estimated to go from $38 million in 2015 to $44 million in 2016. One analyst estimates revenues of $48 million in 2016. These analysts have a 1.8 mean recommendation comprising of a 1 strong buy and three buy recommendations. The average analyst consensus price target is $2.85/share.
Again, GIG is on the verge of reaching GAAP profitability thanks to steady revenue growth, a tight control on costs, and a hefty 60%+ gross margin. This despite a 30 - 40% quarterly investment in R&D to remain as a leader in its niche markets. Furthermore, the company's products and IP are backed by over 180 patents.
Despite this impressive performance the market is currently valuing GIG at about 90c/share because the company has 54c/share cash and zero debt. Another way of looking at GIG's ridiculous undervaluation is related to its low 11 x forward P/E multiple versus the semiconductor sector's 25 forward P/E multiple. I should add that GIG is expected to grow 4 times faster than the consensus semiconductor-sector in 2016 according to analysts' estimates. When looking at P/S and P/EBITDA GIG is even more undervalued with respect to sector peers. Take P/S for instance, GIG is trading at 1.2 X sales vs a 2.9 sector average. For a more detailed assessment on GIG's undervaluation I suggest that investors read the article entitled "GigOptix: Undervalued Micro-Cap Semiconductor Supplier A Great Value Play" written by fellow Seekingalpha contributor L & F Capital Management on March 6, 2015.
Any potential GIG's downside is protected by its cash-heavy balance sheet ratios like a 5.0 current ratio and a 4 quick ratio, its strong/disciplined/focused management, strong IP protection, high operating margins, and the high-growth markets it serves.
Why has GIG's growth been so strong, and why it's expected to accelerate going forward?
GIG currently has two fast-growing product lines
High-speed communication for telecom applications and Data Center links (see slides 4,7, and 8 of GigOptics' presentation at Cowen and Company's 43th Annual TMT Conference)
In the last few quarters the increase in revenues came primarily from the company's High-Speed Communications business driven by the continuous strong demand for the company's 40-gigabit per second and 100-gigabit per second RF for optical communications application devices. These devices are being used in the newly installed Web 2.0 data centers. Another fast-growth product line is the new telecom 100-gigabit per second linear coherent systems.
For those not familiar with the terminology, "Web 2.0 Data Center" describes a data center designed for high-volume, vertical applications such as Google, Facebook, Yahoo, eBay, Amazon (not EC2), Baidu and Sina. These data centers are forecasted to comprise 25% of all servers by 2013, with a CAGR of 20+%. They are characterized, of course, by the need to support a small number of applications, each of which may run on tens of thousands of servers.
The company expects that the level of growing business observed over the last two years will continue to accelerate. In the 1Q 2015 earnings release, Dr. Avi Katz - Chairman and CEO of GigOptix stated:
"With a strong start to our fiscal 2015, a solid backlog for the coming quarter and encouraging revenue projections for the rest of the year, we have increasing confidence that our financial performance this year will result in record revenue, and non-GAAP and Adjusted EBITDA profitability, while at the same time getting us closer to achieving our next goal of delivering GAAP profitability."
The following are highlights of GIG's 1Q 2015 results:
Revenue in the quarter was up for the fourth straight quarter to $9.1 million.
Non-GAAP gross margin remained above the 60% threshold, coming in at 62% in the first quarter.
Non-GAAP net income was more than $700,000 or net income of $0.02 earnings per diluted share, representing the fourth consecutive quarter of positive net income.
Adjusted EBITDA of $1.4 million, representing the 15th consecutive quarter of positive adjusted EBITDA.
Cash balances were $17.7 million, with zero debt and we maintained a very high balance sheet quick ratio of 5.
Regarding 1Q 2015 product-line performance,
Revenue from the High-Speed Communications business which included telecom, datacom and wireless segments was $6.2 million, up 3% from 4Q 2014 and 17% up from the same quarter a year ago. This business represented 68% 1Q 2015 total revenue.
The ASIC product line contributed $2.9 million, up 36% from the first quarter of 2014. The company attributed this improvement to recent trends where customers have been moving into smaller geometries over time, and to new and expanded trends and applications. In this regard, the company recently announced the launch of a new mix single ASIC product to address high-end applications in the automotive industry.
After 1Q 2015 ended, On May 11, 2015, GigOptix announced the booking of a $7.9 million order with a large aerospace and defense contractor to deliver ASIC products. Dr. Raluca Dinu, Senior Vice President of Global Sales and Marketing said the following about this large contract:
"This significant order, with scheduled shipments throughout early 2017, confirms the acceptance of GigOptix's mature products in the field of ASIC for advanced military/aerospace applications. Through its broad offering of value-added ASIC solutions, using a rich portfolio of analog and digital IP's for various applications, GigOptix continues to serve legacy customers and acquire new accounts in established and emerging government and commercial markets."
The High-Speed Communication business has a myriad of products, the majority of them experiencing explosive growth. In the 1Q 2015 conference call Chairman and CEO Katz made the following comments regarding this side of the business during the Q&A session:
"I think if you look where we are, it's sort of a very interesting inflection point in the entire High Speed Communication business and to some extent it can be positive perfect storm. But we have to be caution about it. Four elements are driving the -- if you will, this knee points in the growth. One of which is exactly as you mentioned, the upcoming metro deployments in 100 gigabit per second linear.
Second thing is the trends in the long haul, in moving into a high speed avenue. First, 200 gigabit per second then into the 400 gigabit per second, which give optics, in most cases are very active with some of our major private telecom customers.
The third trend is the very fast optics and deployment of the 40 gigabit per second HSC plus in the Web 2.0 data centers, which is going I think faster than what was projected last year.
The fourth element is the rate of deployment of potential future generations in the data centers, including but not limited to new astonishing, the 40 gigabit per second, as well as moving into some deployment of the 100 gigabit per second. So there are lot of moving parts in the High Speed Communication optical business that are having and will have a major impact on how these markets move into the second half of the year."
Regarding the outlook, Darren Ma, Vice President and Chief Financial Officer of GigOptix, Inc. stated:
"The positive momentum we have seen in the last year should continue into the June quarter with revenue expected to be in the range of $9.3 million to $9.5 million, or up 3 percent to 5 percent sequentially. While it is still early in our fiscal year, we reinforce our previous forecast of annual revenue to be approximately $37 million to $38 million, or growing approximately 14 percent over the prior year."
My take on GigOptix acquiring GSIT
On June 4 2015, GigOptix issued a press release stating its renewed interest in acquiring GSI Technology (GSIT) for $6.5/share or about a 26% premium above the closing price of GSIT's common stock of $5.14 on June 2, 2015. GSI Technology, Inc., a fabless semiconductor company, designs, develops, and markets high-performance memory products primarily for the networking and telecommunications markets in the United States, China, Malaysia, and Singapore. The offer letter states that "Unless extended, the proposal shall expire on June 19, 2015."
The offer is probably similar to the one offered on August 19, 2014 whereby GigOptix proposed to buy GSI Technology for $161M, or $6.50/share. The price will likely include $2/share in cash, 1 share of GIG in stock, and about $3/share special dividend payable by GSI. As of March 31, 2015, GigOPtix had $17 million in cash and recently received a commitment letter from Opus Bank for up to $70 million to consummate the deal.
GigOptix sees that pairing its telecom RF component and ASIC offerings with GSI's networking DRAM/SRAM operations could "create a world-class high-speed communication semiconductor business."
The synergies would be based on offering GSIT's high-performance memory products for networking and telecommunications equipment and GIG's high-speed communications components. This would enhance their collective product and service offerings, allowing them to strengthen their value proposition that they provide to their customers through a wider range of companion and complementary products. This in turn would enable them to more effectively challenge against their respective competitors.
The 2014 offer was withdrawn by GigOptix on November 14, 2014citing that GSI Technology rebuked all efforts by GigOptix to engage in a direct dialogue.
This time there is a better chance to get the deal done. On June 5, 2015, Insidermonkey reported that Eric Singer's activist fund Vertex Capital Advisors is putting pressure on GSIT to accept GigOptix offer through an 13D filing.
The article states:
"Singer's involvement with GSI Technology, Inc. began in January when he first disclosed the 9.9% position that he holds today. In the middle of March he nominated four directors, including himself, for the company's board following GSI adding two new directors to increase its board composition to seven members. Those additions were seen as a way for the entrenched board to further insulate its position against Singer's activist involvement."
In the filing, Mr. Singer states:
"The Reporting Persons believe that GigOptix's offer is an attractive, credible offer that should be fully evaluated by the Board, particularly in light of GigOptix's strong operating performance and revenue growth, in contrast to the Issuer.
The Reporting Persons have serious concerns that the Board has failed to date to engage with GigOptix to consider a strategic transaction that could provide a compelling return to stockholders.
The Reporting Persons call upon the Board to discharge their fiduciary duties and immediate undertake a strategic review process to explore all strategic alternatives, including a possible transaction with GigOptix, because the Reporting Persons do not believe that the Issuer should remain an independent company. The Issuer is currently the smallest player in an industry that has undergone significant consolidation to drive scale and efficiency. Rather than capitalize on this industry consolidation, the Issuer has pursued a growth strategy that in the Reporting Persons' view has failed to maximize value for stockholders."
The filing further cites GSIT's underperformance in particular with respect to direct competitor, Integrated Silicon Solution, Inc. (ISSI). ISSI's success has made it a subject of a bidding warbetween another GSIT competitor, Cypress Semiconductor (CY), and Uphill Investments, a Chinese private equity consortium and the global consolidation of the semiconductor industry continues to heat up.
Assuming that the GIG-GSIT deal is consummated as proposed by GIG management by the end of 2015, there are significant benefits for shareholders of both companies.
Both businesses provide complimentary products of networking equipment and supply some of the same blue-chip customers (Alcatel-Lucent, Cisco, etc.). I expect that the combined business will be able to achieve synergies by eliminating and reducing some costs (sales and marketing, combined SG&A, R&D, customer service, and executive team) and by cross-selling the products to each other's customers by providing integrated and diverse solutions and services.
With the recent settling of the legal battle between GSIT and CY, GSIT's legal costs will go down significantly going forward. During the 4Q 2015 GSIT. During the 4Q 2015 conference call GSIT CFO Douglas Schirle estimated that legal costs would go down from $3.5 million in 4Q to less than a million in upcoming quarters.
Those familiar with GSIT will know that in 2012 it reported $82.4 million in revenues and $6.8 million in net income (or about 30c/share). Analysts' consensus for 2015 is only $54 million in revenues - a significant drop in just two years, and a loss of 11c/share. A portion of the revenue drop could be attributed to fears from some GSIT regarding potential negative outcomes of GSIT's legal battle with much larger competitor CY. In fact, this possibility was acknowledged by GSIT management during the Q&A session of the company's 4Q 2015 conference call. Therefore, I expect that with better management, reduced legal costs, and the synergies discussed above, the current GSIT's revenues and net income trends could quickly reverse. I am certain that Chairman and CEO Katz would work hard with his team to make this a reality if he gets his wish to acquire GSIT.
At the completion of the deal, GIG's share count would increase to about 55 million shares from the current 32.5 million shares. Conversely, revenues would increase from $38 million in 2015 to about $100 million in 2016 with a corresponding increase in GAAP profitability. If the combined entity would only command a P/S ratio of 3, it would equate to almost $6/share in 2016. As a comparison. competitors CY and IDTIcurrently command P/S valuations between 5 and 7.
At March 31, 2015, GSIT had total available cash of about $108million. This is comprised of cash at hand and short and long-term investments. With the $17 million GIG has and the $70 million commitment from Opus Bank, cash would not be an issue for the deal to become a reality.
GIG Chairman and CEO Katz has made it clear that he intends to continue growing the company organically and through acquisitions as it has since 2014. In the 1Q 2015 conference call he reiterated that goal as follows:
"Looking ahead for our strategic enhanced growth and as I mentioned in our previous calls, we remain proactive in searching for opportunities to increase the size and profitability of GigOptix through potential acquisitions. We continue to evaluate opportunities to put us in position to enter our just markets where our technology is complementary or new growth markets where we can farther leverage our technologies for new products and boost our business size. Regardless of the nature of the acquisition, we will execute -- we will stick to our strict criteria that any potential acquisition must be accretive shortly after the deal closes."
And CEO Katz is a man of action as shown on the following slide - The slide shows that since 2007, the company has executed six acquisitions, one license agreement with IBM, and a JV with BrPHOTONICS from Brazil (source: company presentation at Craig-Hallum Alpha Select Conference held on September 18, 2014):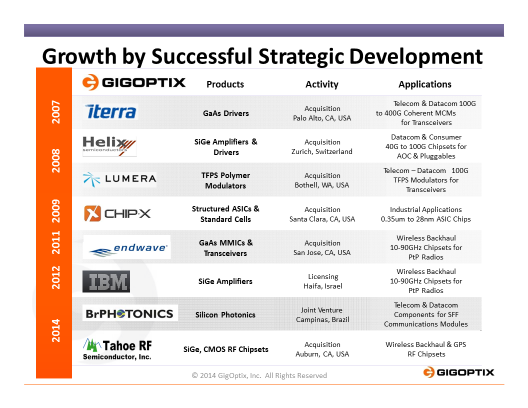 And how did those acquisitions contributed to GIG's stellar growth from $3.2 million to the forecasted $37.5 2015 revenue? The following slide from the May 28, 2015 Cowen and Company 43th Annual TMT Conference suggests a seamless and successful integration of the acquired companies: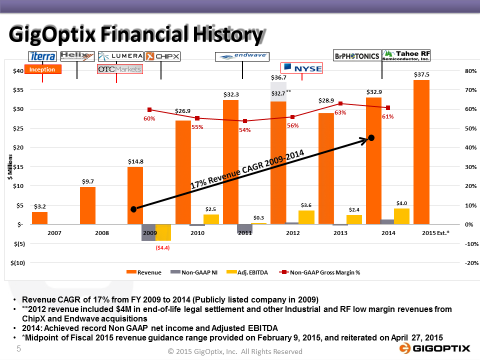 The bottom line is that GIG, with or without GSIT, will command significantly higher valuations going forward. Rest assured that CEO Katz is not putting all of his eggs in the GSIT basket to grow the company. I am sure that there are several other companies he is evaluating as potential acquisition targets - his record speaks for itself.
Conclusion
GigOptix is currently grossly undervalued considering its expected accelerated growth both organically and through acquisitions, a strong balance sheet, gross margins in the 60% area, and a dynamic and aggressive management team. The company is currently trading at a significant discount to peers in just about every valuation metrics as discussed above, and as stated very clearly by L&F Capital Management.
The potential acquisition of GSIT would be a major plus for shareholders of both companies as the combined company would quickly exceed $100 million in revenues and would likely be consistently GAAP-profitable. GigOptix Chairman and CEO Katz has a proven record of implementing successful acquisitions which quickly contribute to top and bottom lines as shown above. The combined company could command a $6 valuation as a $100 million profitable entity in 2016. This would equate to a P/S of about 3 which is about half of competitors' CY and IDTI valuations using this metric.
It should be clear that GIG is currently undervalued and has significant upside without GSIT. Company management and the four analysts covering the stock agree that GIG is at an inflection point and that revenues will accelerate in the second half of 2015 and will continue at least into 2017. Therefore, if the GIG-GIST acquisition fails again, it will not have an adverse on GigOptics. Chairman and CEO Katz has emphasized that the short-term revenue goal is $60 million (up from almost $40 million in 2015). This, he expects to be accomplished through organic growth and through acquisitions. It should be obvious that the $60 million expectation assumes that GSIT will again refuse to accept GIG's proposal. Otherwise, Mr. Katz would have said $100 million plus which is what the GIG-GSIT combo most likely will produce in 2016.
Probably the best way to play this opportunity is to buy shares of both companies. If the deal is consummated as proposed, current GSIT shareholders would gain 25%. If the deals fails again the downside is minimal because GSIT has over $4 in cash/investments. Those buying GIG shares at current prices can potentially gain 100% in a few quarters if GSIT is not acquired, and a potential 400% gain post merger.
Investors considering buying GIG stock should do their own due diligence. There are risks inherent with investing in smaller companies. There are also inherent risks involved with the semiconductor industry. The industry is highly competitive and moves extremely fast - this could become a heavy burden on a small company like GIG. A weak economy and/or lower demand for its products would slow down its growth rate and potentially turn profits into losses. Investors must carefully review all the risks and uncertainties as detailed in the company's SEC 10-K filings.