Summary
On June 29 GigOptix raised guidance for 2Q 2015 and FY 2015. The company will report its 2Q financial results on July 27, 2015.
GigOptix expect to report 2Q 2015 GAAP profitability - its first since the company became public in 2009.
By raising FY 2015 revenue guidance, GigOptix most certainly report GAAP profitability in 3Q and 4Q 2015.
With three GAAP profitable quarters in 2015 GigOptix will increase its current $17.7 million cash (54c/share and no debt) potentially to exceed $20 million by year end.
GigOptix intends to increase revenues from the projected $39 million in 2015 to at least $60 million within two years organically and through acquisitions.
GigOptix, Inc. (NYSEMKT:GIG) is a fabless supplier of high-speed semiconductor components that enable end-to-end information streaming over optical and wireless networks. My article on GIG, "GigOptix Inc. Offers Significant Upside Potential With Or Without GSI Technology," published on June 17 (when GIG was trading at $1.51) discusses in detail the products and services offered by the company. The focus of that article was to discuss GIG's potential, alone and with a possible acquisition of GSI Technology (NASDAQ:GSIT). Although it has not been made official by either company, I suspect that the deal fell through, and as I expected GIG kept moving up and GSIT retreated.
On June 29, 2015, GigOptix raised 2Q 2015 and FY 2015 guidance as follows:
1) The company expects 2Q 2015 revenues of approximately $9.8 million or 8% higher than 1Q 2015. Previous guidance was $9.3 - $9.5 million
2) GigOptix also increased the guidance for fiscal year 2015 to "at least $39 million." This is up 19% from fiscal 2014, and about 4% higher than the midpoint of the previous guidance of $37 - $38 million.
3) Most importantly, GigOptix expects to achieve positive GAAP profitability for the first time since becoming a public company in 2009. In addition to this, the company will report record non-GAAP profitability for the quarter.
GigOptix will release its 2Q 2015 financial results on July 27, 2015.
Looking closely at the new guidance, the "at least $39 million" expected for fiscal year 2015 suggests an average revenue of little over $10 million for 3Q 2015 and 4Q 2015. This also suggests that both quarters will be GAAP-profitable as well. This exceeds the expectations I had when I wrote my first GIG article. At that time I expected one GAAP-profitable quarter this year. And now it looks like the last three quarters of 2015 will be GAAP profitable. This is a remarkable achievement that it's not currently reflected on the share price.
GigOptix is currently significantly undervalued considering its proven and expected accelerated growth, 54c/share and no debt, gross margins in the 60%+ area, and a dynamic and aggressive management team. The company is currently trading at a significant discount to peers in just about every valuation metric. For instance, GIG currently trades at a low 12 times forward P/E multiple versus the semiconductor sector's 25 times forward P/E multiple. Furthermore, GIG is expected to grow 4 times faster than the consensus semiconductor sector in 2016 according to analysts' estimates. When looking at P/S and P/EBITDA, GIG is even more undervalued with respect to sector peers. Take P/S for instance, GIG is trading at 1.6 x sales vs. a 2.9 sector average.
Reinforcing the notion that GIG is undervalued, SA contributor L&F capital Management published the article "GigOptix - Still Undervalued; $3.60 Fair Value" on July 1, 2015. The author used a rigorous valuation method to arrive to the $3.6/share fair value. One key fact that the July 1 article highlights is the following:
"Roughly 32% of GIG's market cap is protected by cash on the balance sheet, and with profitability expected for Q2, that cash should only grow."
Indeed, as of March 31, 2017, GIG had $17.7 million in cash and no debt. This equates to 54c/share cash which should go up with a GAAP-profitable 2Q 2015. This means that GIG is trading at roughly $1.2 above cash value.
I believe the market will start valuing GIG more in line with a fair value of $3.6/share after the company announces its 2Q 2015 financial resultson July 27, 2015. It is very likely that some or all of the analysts covering the stock will upgrade it after a strong 2Q 2015 and a raised guidance for FY 2017. As of today, the analysts' consensus revenue growth is estimated to go from $38 million in 2015 to $44 million in 2016. One analyst estimates revenues of $48 million in 2016. The current average analyst consensus price target is $2.85/share.
As demonstrated recently with the push to acquire larger sector player GSI Technologies, GigOptix' Chairman and CEO Avi Katz is not content with the status quo and demands accelerated profitable growth going forward. CEO Katz has made it clear that he intends to continue growing the company organically and through acquisitions as it has since 2004. In the 1Q 2015 conference call, he reiterated that goal as follows:
"Looking ahead for our strategic enhanced growth and as I mentioned in our previous calls, we remain proactive in searching for opportunities to increase the size and profitability of GigOptix through potential acquisitions. We continue to evaluate opportunities to put us in position to enter our just markets where our technology is complementary or new growth markets where we can farther leverage our technologies for new products and boost our business size. Regardless of the nature of the acquisition, we will execute - we will stick to our strict criteria that any potential acquisition must be accretive shortly after the deal closes."
And CEO Katz means what he says as shown on the following slide - The slide shows that since 2007, the company has executed six acquisitions, one license agreement with IBM, and a JV with BrPHOTONICS from Brazil.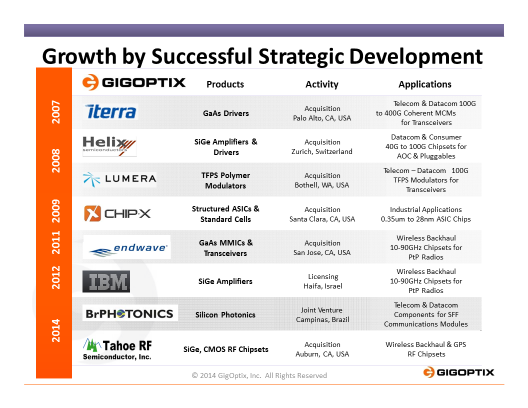 (Source: Company presentation at Craig-Hallum Alpha Select Conference held on September 18, 2014)
And how did those acquisitions contribute to GIG's stellar growth from $3.2 million in 2007 to the forecasted $37.5 2015 revenue? The following slide from the May 28, 2015 Cowen and Company 43th Annual TMT Conference clearly shows a seamless and successful integration of the acquired companies: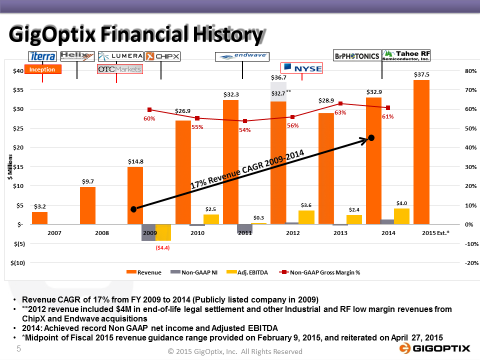 As demonstrated in the recent attempt to acquire GSIT for $6.5/share, GigOptix has the backing from Opus Bank to help CEO Katz achieve his goal to keep growing the company. For the GSIT acquisition GigOptix received a $70 million committment from the bank. I am certain that CEO Katz has his eyes on several other companies as potential acquisition targets - his record speaks for itself.
Conclusion
GigOptix is currently grossly undervalued considering its proven and anticipated accelerated growth, a strong balance sheet featuring 54c/share and no debt, gross margins in the 60%+ area, and a dynamic and aggressive management team. The company trades at a significant discount to peers in just about every valuation metrics as discussed above, and as stated very clearly by L&F Capital Management.
Company management and the four analysts covering the stock agree that GIG is at an inflection point and that revenues will accelerate the rest of 2015 and will continue at least into 2017. Chairman and CEO Katz has recently emphasized that the short-term revenue goal is $60 million (up from almost $40 million in 2015). This, he expects to be accomplished through organic growth and through acquisitions. With the backing of Opus Bank and its current $17.7 million cash (which will keep growing with three consecutive GAAP profitable quarters), GIG will continue looking for companies to acquire and make them acreetive to earnings right away.
Investors looking for solid execution, profitability, financial stability, and growth should consider GIG as an integral part of their value portfolio.
I recommend that investors considering buying GIG do their own due diligence. There are risks inherent with investing in small companies such as GIG. There are also inherent risks involved with the semiconductor industry. The industry is highly competitive and moves extremely fast - this could become a heavy burden on a company like GIG. A weak economy and/or lower demand for its products would slow down its growth rate and potentially turn profits into losses. Investors must carefully review all the risks and uncertainties as detailed in the company's SEC 10-K filings.
Disclosure: I am/we are long GIG.