Musclepharm is a sports nutrition company that has experienced major growth since their establishment in 2008. They've taken the somewhat unknown supplement market by storm and have gained some major partners and athletes to represent their brand in Arnold Schwarzenegger, Colin Kaepernick, and now Tiger Woods.
Q1 2014 Results:
Net revenue was up 123% to $50.2 million. Gross margin was 35.6%, up from their last few quarters but in line with their last Q1. Operating expenses were around the same as their last Q4, having no increase with their jump in sales. Their net income was $2.7 million, giving Musclepharm their first positive EPS in $0.23.
Continued Growth:
Musclepharm continues to grow at impressive rates from year to year. They're seeing growth in all categories with their slowest up 40% year over year, but will continue to reinvest some earnings back into the business to increase market share. They have a West coast distribution center opening by the end of the year to increase their efficiency. They see huge upside in GNC, seeing it makes up less than 5% of their business currently. Continuing to expand into brick and mortar stores having only scratched a surface of the potential could add major growth. The Arnold line made up 30% of the business and was one of the most successful products launches many of their clients had ever seen. They are also looking into international opportunities for manufacturing to save costs.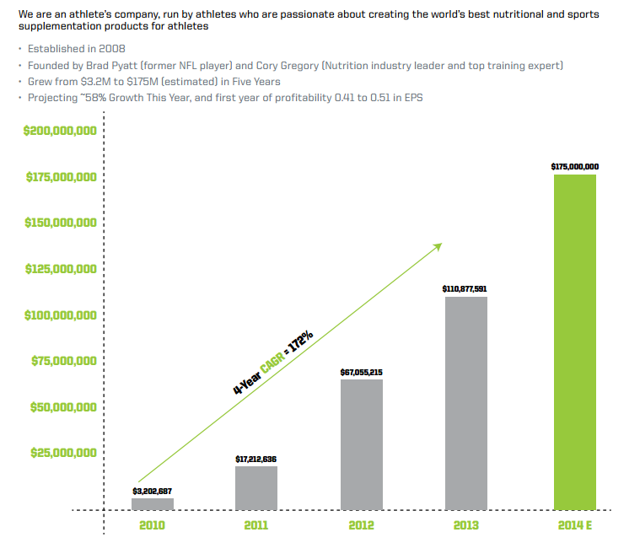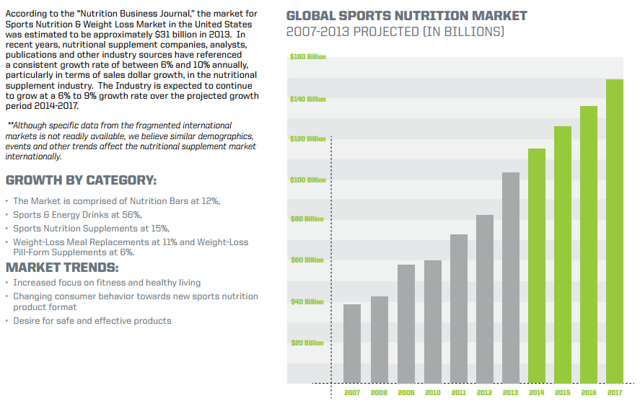 (Both from MSLP investor presentation)
Dilution:
One of the biggest problems with MSLP is how their share count has continued to increase. It's been a serious concern and any early investor would have been burned from it. What their results now show is that these strategic partnerships have worked. Their Arnold line has taken off and is a major reason why their revenue growth has been able to keep its pace. Where it will make short term results suffer some more, it looks like in the long run these partnerships will benefit the company greatly. As was said on their Q1-14 cc, they want to grow to a billion dollar business, not a profitable 200 million one. Any strong growth opportunity they see, they're most likely going to take (hence the recent Tiger Woods partnership).
New Products Coming:
Musclepharm is set to launch a new product late Q3 or early Q4 called Dropz. It's an energy product, that is supposed to deliver a safer way than what is on the market right now. This product will have no sugar and limited caffeine and offer an extended energy with no crash. In the cc they said they were looking for an athlete that would fit this product, my guess is that was what the Tiger Woods partnership is for. They're also testing "QZones" which they received from the Bio Zone deal and figuring how to implement them into more of their products. QZones is a technology that allows nutrients to be delivered from products better. To be honest I'm too not sure of the science and how exactly it works. They also recently announced Combat bars. Nutrition bars are about 12% of the sports nutrition market, or $12 billion. This is Musclepharm's attempt to continue growth and enter a new market.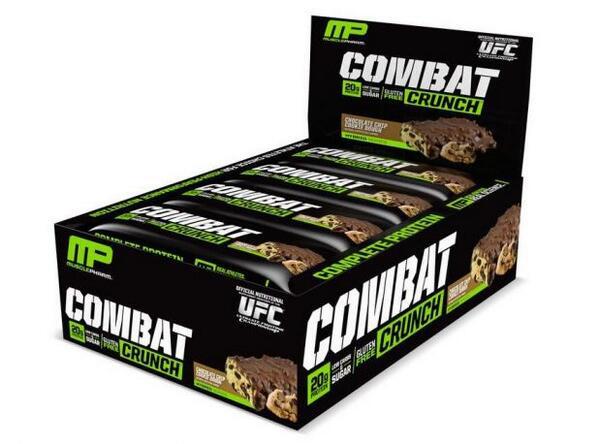 In their investor presentation, they say they will have 75 new products from the MusclePharm brand, 20 new products from their FitMiss brand, and 40 new products from their Arnold brand in 2014. These will mostly be new flavors or different sizes of products, but they are still aggressively expanding their products.
Views:
Musclepharm has finally reached profitability. Investors have been impressed with their growth quarter to quarter, but the fact the company couldn't turn a profit always has overshadowed what they did accomplish. Finally having proven they can operate profitably they've addressed one of the biggest red flags they had going. I don't see MSLP having the greatest earnings going forward though as they continue to reinvest in themselves and look for new growth (ex. Tiger Woods). As someone who originally stumbled upon Musclepharm by using their products, they've taken supplement market by storm. Not only do they offer some of the most superior products, but they've created a true recognizable brand behind it. From their constant media presence, to starting a MP clothing line. In my view they've only started with the clothing line and may be a much bigger part of the company down the line. I see Musclepharm wristbands and t-shirts at local gyms and around the community, which is amazing for what I originally thought of as just a supplement company.
The Tiger Woods partnership will continue to grow brand awareness. He is one of the most recognizable athletes in the world and will be a strong force in pushing their products to a broader audience. Especially if he is the face of their new Dropz product.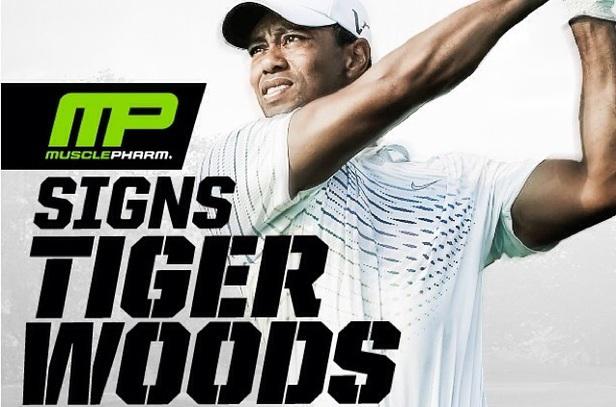 Closing Notes:
They are continuing to work with the SEC and it has taken longer than anticipated. Nothing is being found that is alarming or will hurt the company long term. As a young CEO Brad could have probably handled some things better (his words). The investigation is supposedly ending Q2, Q3 and as soon as that finishes they will move forward with the uplisting and they're hopeful it should be done by the end of the year.
If Musclepharm can continue this growth along with the uplisting thy have major potential over the next few years,
Any questions either comment or message me on twitter @Stock_Maverick.
Disclosure: The author is long MSLP.