Until recently the stock of Pep Boys (NYSE:PBY) had exhibited some rather lackluster stock price performance relative to its peers. It got a big boost when it agreed to be acquired by the Gores Group on January 30th. The agreed to acquisition price is at $15 per share with Pep Boys having 45 days to shop for a better deal. While some feel that the shareholders are getting fair value, others tend to disagree. Already the law firms are lining up to launch investigations as to whether Pep Boys management breached its fiduciary duty in obtaining adequate value for the company.
The company inhabits a unique niche within the Automotive Retail space, providing both automotive services and merchandise. Management has spent considerable resources on a makeover, the focal point being a heavier emphasis on the services aspect of Pep Boys business. The company added 107 service and tire centers during the first 9 months of 2011. Ninety-nine of those centers were acquired in 3 transactions, the biggest being the acquisition of 85 Big 10 stores in the Southeast. The expectation is that the by-product of this strategy will be significant improvement in its margins which are currently at the bottom when compared to its peers. Numerous trends would appear to support a service-focused strategy. These include: ever-increasing technological sophistication under the hood, the closing of many car dealerships following the 2008 economic crisis, an increase in the average age of automobiles on the road (average age of cars is 10 years, light trucks average 9 years). The effects of a poor economic backdrop combined with stubbornly high unemployment should keep this last trend intact for some time to come. What ails the economy is good for Pep Boys. The key challenge will be in the execution of its strategy.
Despite the recent appreciation (+24%), Pep Boys stock valuation may still climb higher. A recent article in Bloomberg suggests that the company is being valued at 5.9 EBITDA after accounting for net debt. If we use this metric as a yardstick Pep Boys could fetch anywhere between $19 and $32 per share (when compared versus parts provider Advanced Auto Parts AAP and servicer Monroe MNRO respectively). If we use the more conservative number of $19, that is an additional 27% above the $15 offer. StockpickerUSA, our proprietary quantitative trading system has PBY ($15.18) buy-rated at 4 out of a possible 5 stars. For PBY StockpickerUSA.com ticker look up---see:http://www.stockpickerusa.com/tkr/tkr.pl?=pby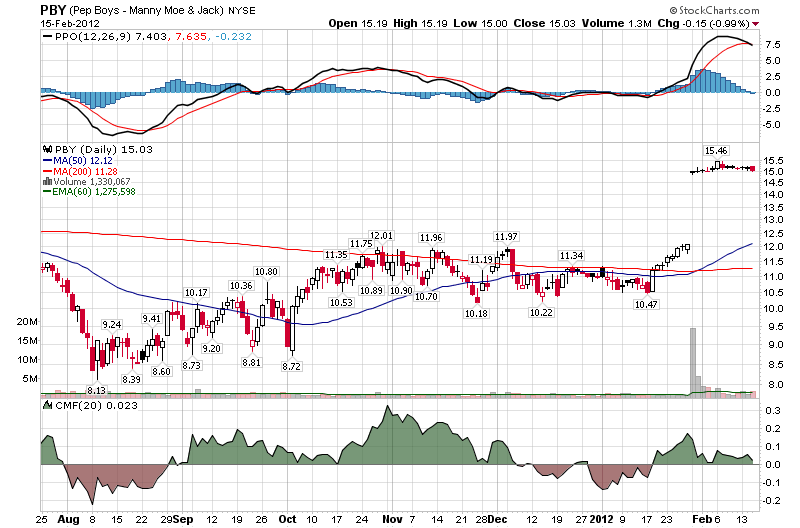 Disclosure: I have no positions in any stocks mentioned, and no plans to initiate any positions within the next 72 hours.