As Bitcoin breaches $1,000 a coin dozens of die hard libertarian fanatics and some enterprising speculators have become instant multimillionaires off of investments as small as a few hundred dollars.
The mania has incurred endless speculation, including bold pronouncements and lots of criticism. For some Bitcoin is the new gold or the future currency of the world. For others it is a Ponzi scheme or a bubble reminiscent of the Dutch tulip craze. In truth it is neither of these extremes, and I will attempt to explain and determine Bitcoin's value through a rational evaluation and by dispelling misconceptions.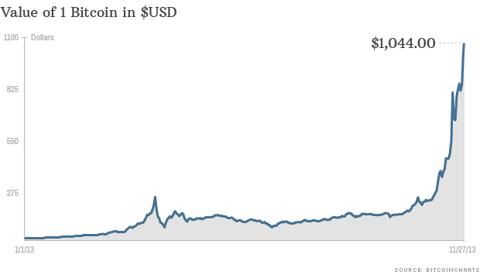 Misconception: Bitcoin has no intrinsic value
Bitcoin does have some intrinsic value based on its unique properties as an unregulated financial product that can be transferred very easily and cheaply. For example it allows for participation in set of online retailers and service providers that don't accept any other type of payment such as online gambling websites. It also facilitates fast, global transactions with 0 to minimal fees, which SF based, venture backed Bitcoin exchange Coinbase believes will help it gain favor with merchants who are unhappy with high credit card fees. Although currently only a fraction of users have Bitcoin for its intrinsic value (and the majority have it for speculative purposes), Bitcoin does have value as a medium of exchange. Thes value propositions combined with a fixed quantity and an expanding user base give it room to grow.
Misconception: The Dutch Tulip Analogy
Bitcoin is similar to the dutch tulip bubble analogy in that both Bitcoin and 1630's tulips are heavily speculated on "commodities" with little intrinsic value. However a key difference between the two is that the quantity of Bitcoins is capped at 21 million, whereas tulip production is more or less unlimited. This cap decreases the likelihood of an extreme crash and allows Bitcoin to appreciate in value as more people become interested in the currency. Another key difference is that tulips are an old invention and likely weren't seeing massive global adoption for their intrinsic value in 1630's Holland. On the other hand, Bitcoin is barely 5 years old and has only came into the media limelight two years ago. Its prospects for increasing adoption are immense and should serve as a means to drive up price.
Misconception: The Ponzi Scheme Analogy
Bitcoin is very similar to a Ponzi scheme in that early adopters of the coin can earn millions of dollars and that Bitcoin relies on an ever increasing user base to allow speculators to make money. The key difference between a Ponzi scheme and Bitcoin is that while fraudulent Ponzi scheme investments have a value only insofar there are new investors, Bitcoin has some intrinsic value. As soon as there is no longer growth in new user acquisition the price of Bitcoin will fall dramatically, but never to zero, as there will be some users who use it for its intrinsic value.
Misconception: The Gold Analogy
Bitcoin is actually surprisingly similar to gold. There is a fixed supply of both Bitcoins and gold, both Bitcoin and gold have some intrinsic value, and both Bitcoins and gold are both heavily invested in for speculative purposes. The key difference between Bitcoin and gold, is gold's position as a medium of exchange and store of wealth for millennia, combined with the assumption that a greater percentage of gold is used for its intrinsic values in semi-conductors and in jewelry versus speculation.
Determining the real value of Bitcoin
It is impossible to determine the number of Bitcoin users and how much Bitcoin is being used for speculation versus how much is being used for its intrinsic value. Likewise it is impossible to measure exactly how many people are using Bitcoin and what the growth in user acquisition is. However because Bitcoin is still a new technology, and the lack of Bitcoin infrastructure created large barriers to entry up until recently, it is likely the Bitcoin user base still has room to grow substantially.
As long as the Bitcoin user base is growing (and purchasing Bitcoins) faster than speculators cash out, Bitcoin will be continue to rise in value. Eventually when the user base stops growing the balance will shift and there will be more sellers. This will trigger a massive decline in Bitcoin until it reaches a more stable value. If Bitcoin's lower merchant fees and other value propositions make it into a widely accepted form of payment it still could settle at a very high value. Bitcoin's market cap of approximately 12 Billion dollars is dwarfed by Visa's credit purchase volume of $981 billion for 2012. Based on what we know about Bitcoin, my prediction is Bitcoin will continue to rise in value for the next 1-5 years as new user acquisition continues rise.
1B7a91F83TpnMg6aGBa2pYcRiJrot23RNQ