If we look at last night's activity on the Nikkei from an intra-day perspective, it looks terrible. On the daily chart, though, it looks like little more than a long-overdue correction. Nothing goes up in a straight line forever (as gold bugs can attest to).
Leading into yesterday, the Nikkei was up 80.43% since November 13th, 2012, with only slight pull backs, stretching over a few days instead of a few hours.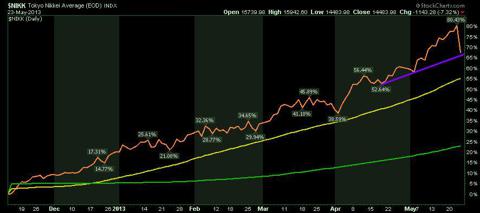 A correction of this magnitude was only a matter of time, with all the same difficulties as predicting an earthquake.
Japan knows earthquakes are going to happen and a tsunami will follow, but timing is everything.
If the Nikkei is viewed on the daily chart, this "panic dump" isn't nearly as bad as it first appears. All that has happened is that the Nikkei is trading at the same levels as its open from nine (trading) days ago.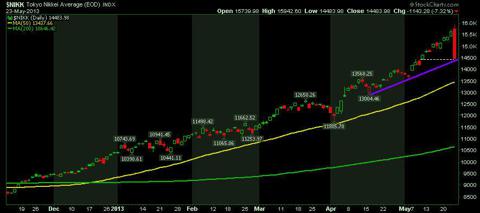 The Nikkei is certainly worthy of our attention here, but it would have to break 14,300 (or thereabouts), before I would consider it to be in any kind of danger zone, and even then, I'd need to see confirmation with bearish follow-through.