How many kicks do the Gold Bugs Index and GDX need to close an irritating gap that's been keeping the two trading vehicles from pushing higher since April? Both the Gold Bugs and GDX have confronted, "the gap" several times in the past four months, only to be beaten back each and every time. If it's true that, "gaps get filled," surely the two will have to break through at some point.
First, we can see the two essentially trade in unison, as the chart below illustrates. Give or take a percentage point or two, there is generally little difference between them.
In the following chart, there are two gaps to be filled on both vehicles: the larger of the two gaps has been met about half way at its highest point. On Friday, however, the GDX actually re-entered the gap before pulling back while the Gold Bugs stalled.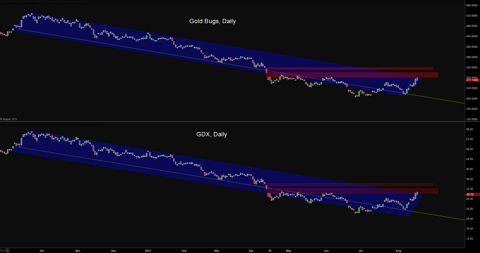 If you had been trading the GDX Friday only to see it enter the gap and once again stall, you need only look at the Gold Bugs for a reason why. On a five minute chart, the Gold Bugs hit the gap and immediately pulled back, which was enough to bring the GDX back to earth.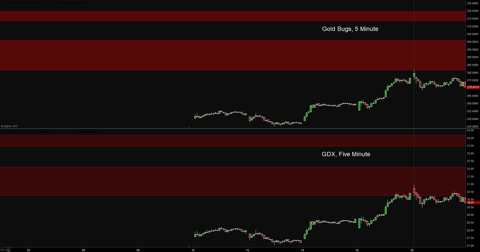 You may want to track both vehicles. One has an effect on the other.
Disclosure: I have no positions in any stocks mentioned, and no plans to initiate any positions within the next 72 hours.