When I last wrote about gold stocks on the 18th of August, the Gold Bugs Index was mired in sideways activity, unable to take a truly serious run at "the gap." Nothing has changed since then, aside from one thing: the Gold Bugs is once again threatening to overtake previous lows, having failed at the gap on August 27th.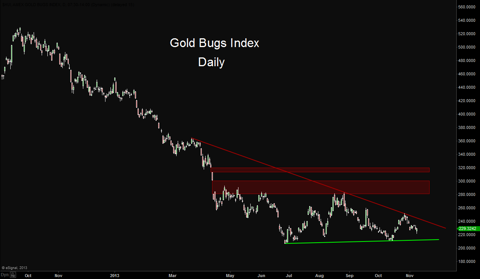 Whether or not new lows are in the cards is not so easy to determine, considering the Jekyll and Hyde manner in which gold and the stocks in this sector trade in any given hour/day/week/month.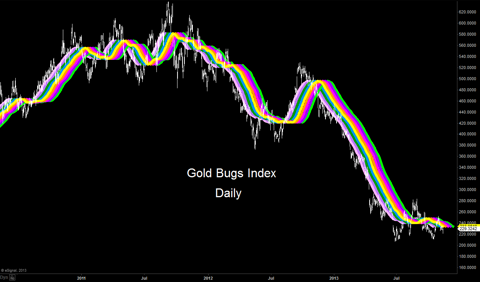 Simply put, both gold and gold stocks are not the slam dunk many would have us believe. The sector is incredibly volatile and very difficult to time correctly, something traders and investors might expect on the way down to an inevitable bottom.
The question is:
Where is the bottom?
Let's suppose gold finds itself below $1200 for the second time this year. Where would that leave gold stocks (which seem to out-perform gold on the way up and under-perform gold on the way down)?
A critical number for gold is $1215.40
If it gets down that far and doesn't hold, we could be looking at sub-thousand dollar gold for the first time since September of 2009.
Disclosure: I have no positions in any stocks mentioned, and no plans to initiate any positions within the next 72 hours.