If the trend is our friend, I continually wonder why so many people try to buck it where precious metals and mining stocks are concerned.
I admit, it would be great to write a post declaring the ultimate bottom is in for precious metals, and be right. Unfortunately, I would have to share my victory with hundreds (if not thousands) of other writers who -- on any particular day -- say the exact same thing. Of course, many of those writers have been saying that for more than two years, so we could eliminate them for blind-sided repetition.
Gold is not the easiest game in town where technical forecasting is concerned, if only because outside factors play such an important role in its direction. Still, when there is so much technical evidence pointing towards more downside, I don't quite understand why so many people continue trying to time its bottom. I really think, if there was some way to measure it, we would see record numbers of people who have been "bottom fishing" gold and silver all the way down to their present levels.
Why? Because so many are led to believe precious metals cannot fall any further. This happens at every important juncture on a severe decline (which is not to be mistaken with a pull back).
We have all seen and read some very influential technical analysts over the past couple of years (whether it is someone trained in the art of MACD crossovers; Elliott Wave Theory; trend line or horizontal support; head and shoulders; and whatever other system so many of us use). The bottom line is none of it has worked, at least not where a true bottom comes in to play. We still haven't found our true bottom (unless someone has come up with something today worth taking a good look at).
I remain convinced of the numbers in the following chart: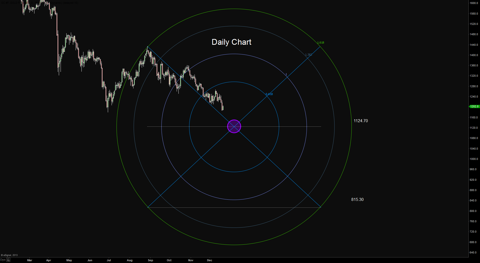 In other words, the chart is telling me that $1124.70 is the minimum downside for gold, as it presently stands.
The chart also tells me if the number above is breached for any significant length of time, $815.30 is where gold will ultimately reach.
This is my analysis, and I could be wrong. I am not recommending you short gold, but at the same time, you should prepare yourselves for a worst-case scenario as to its direction, which is decidedly down.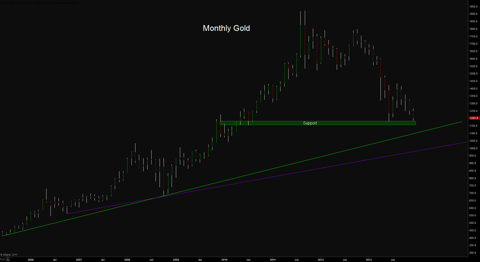 I can hear the arguments already: Look at the support, not only horizontally, but also on those two trend lines.
Okay, but have we not been seeing enough trend lines and enough horizontal support broken, already?
Of course we have. If that weren't true, we wouldn't be where we are now, would we?
Let's take a look at the trend line breakdowns: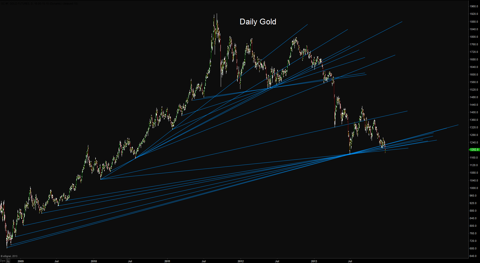 How many trend line breakdowns does a person need to see before realizing playing them has only been successful on a small percentage of occasions?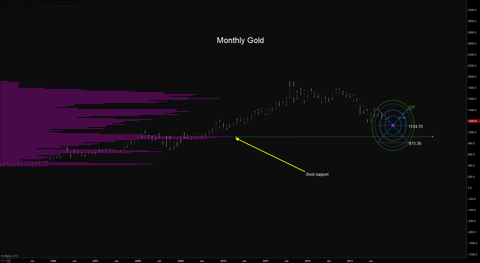 This is not an exercise in telling you not to buy gold, but I really don't care about the Fed, Bitcoins, QE 2, JP Morgan, or the Comex.
Patience might be your greatest virtue if you want to invest in precious metals.