Fitbit (NYSE:FIT) missed fourth quarter 2015 Wall Street estimates and its stock is trading near the lows since its highly successful IPO last year. This is creating a very attractive entry point for value technology investors looking for a company with long-term potential growth prospects. Fitbit has innovated a healthy consumer wearable device that monitors different aspects of wellness. There are millions of people in the U.S. trying to reach their 10,000 steps a day because of Fitbit.
The company disappointed Wall Street with its outlook because it plans to spend more money on research and development than the Street expected. Higher expenses means lower profits. The company also set expectations for slowing growth in 2016 compared to 2015. This has caused many short-sighted analysts to throw in the towel and downgrade Fitbit. But higher research and development spending today could lead to much higher growth and profitability tomorrow.
Because of the sell-off in the stock the company is now trading in the range a value investor in technology would look for. First let's take a look at the company's balance sheet provided by its fourth quarter 2015 earnings press release: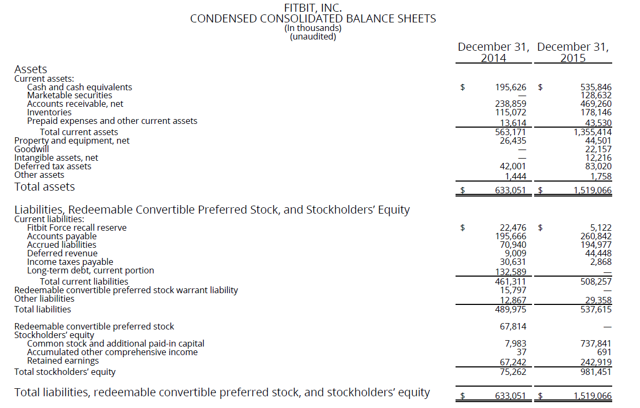 The company has $664 million in cash and marketable securities versus only $538 million in total liabilities. It also has $469 million in accounts receivable giving it a greater than two to one financial assets versus debts coverage. This company looks to be in business for a long time. Fitbit is trading near $3 billion in market-cap fully diluted. Its balance sheet metrics are in-line with the current balance sheet metrics for Apple Computer (NASDAQ:AAPL) and Intel (NASDAQ:INTC).
Fitbit is also profitable, and growing. Here is a look at select parts of its revenues, profits, and growth:

Fitbit earned $254 million in 2015. It is trading at around 12 times trailing earnings. Again, in-line with Apple and Intel. The company grew at over 100% in 2015. However, it is projecting 2016 growth to be much slower in the 35% range. That is still a significant growth rate for such a small company. The statistic that catches my eye is active users grew from 6.7 million in 2014 to 16.9 million in 2015. The financial statements show Fitbit is currently trading like a value technology stock. Yet the company still has real growth potential.
Here is where Fitbit reminds me of Apple Computer. Over the years Apple was the darling of Wall Street's eye, and at other times viewed as a dog. In 2001 Apple released a non-personal computer product called the iPod. After its release multiple Wall Street analysts maintained sell ratings on Apple's stock. The company was so cheap it traded for $15 per share even though it had $14 in cash and no debt. And this was after it released the iPod. The sell ratings only came off after Apple's sales took off and the stock took off. Wall Street's record of projecting the future of innovative companies can be considered cloudy at best.
Here is another area where Fitbit reminds me of Apple. Apple innovated the personal computer with a dream of bringing affordable computing power into the hands individuals. It created a market where none existed. But the computer was really a calculator and a store of knowledge device. There was a market for knowledge. Fitbit has created a device to monitor a person's movements during the day where none existed. But there is a market for wellness. Both companies used innovative marketing campaigns to drive their products. Both companies have created a base of loyal followers who happily share their experiences with others.
This is what opened the door for Apple to move to other technology products. It is what will open the door for Fitbit to potentially move to other products as well. Apple's original visionaries are gone from the company. It is not clear that its current leaders can steer it into new innovative products and markets. Fitbit's original innovators are still there. The company is trading at a very attractive price totake a chance and see if Fitbit can do it again and again, just like Apple was able to do.
Disclosure: I/we have no positions in any stocks mentioned, and no plans to initiate any positions within the next 72 hours.
I wrote this article myself, and it expresses my own opinions. I am not receiving compensation for it (other than from Seeking Alpha). I have no business relationship with any company whose stock is mentioned in this article.