Injection of PLX-PAD cell therapy to eliminate need for endovascular surgery
Critical limb ischemia (CLI) is a huge market - $12 billion globally. 1.7 million patients who live in world's largest and most advanced pharmaceutical markets, including the U.S., Europe, and Japan suffer from this limb-threatening and life-threatening disease. This number is expected to top 2 million in the next five years.
Amputation is the outcome unless CLI is treated. A whopping 25% of CLI patients lose a limb. Causal factors for CLI include high blood pressure, high cholesterol and diabetes, all conditions that are unfortunately on the rise worldwide. Severe obstruction of the arties causes reduced blood flow to hands, feet and legs, leading to all kinds of pain, ulcers and gangrene.
Other than arterial surgery, there is no effective treatment for CLI. No wonder regulators in two of the largest and most progressive healthcare markets in the world have placed their bets on Pluristem Therapeutics' (NASDAQ:PSTI) PLX-PAD cells to treat CLI. Go-to-market trials are expected to start this year.
The green light was just given to Pluristem by Japan's health regulators to start a pivotal trial of PLX-PAD in 75 patients in the treatment of critical limb ischemia (CLI). The trial will start either in Q1 or Q2 2016.
Approval to market PLX-PAD will be granted to Pluristem, if results are positive, based this one, relatively small trial. Japan's new accelerated regulatory pathway for regenerative medicine prioritizes the most promising new regenerative and cell therapies and gives select expected winners, like PLX-PAD, the quickest way possible to market. Japan's affluent and aging population needs a solution to CLI that is better than amputation and highly invasive, costly, arterial surgery. Who wouldn't rather get an injection of cells to cure CLI rather than have surgery to remove, replace, or put a stent into clogged arteries. Better for the patient and those who pay for healthcare, without a doubt. A large percentage of older patients with CLI who have other serious medical conditions aren't even eligible for surgery. For this group, PLX-PAD would be the only, and fortunately for them the best, treatment option.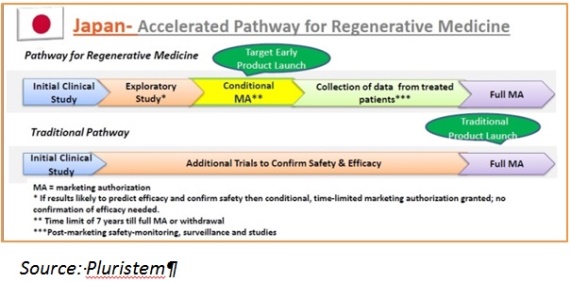 Q4 2017 is our educated guess for when Pluristem may get marketing approval and corresponding revenues. Company management expects Japan to grant approval in Q1 2018. We think they are being conservative. This, based on Pluristem's plan to initiate the trial in the first half of 2016, complete enrollment by first half of 2017, and publish results in the second half of 2017. That is fast.
With $47 million in the bank, no debt, and their EU, US and Japan approved manufacturing plant that can produce 150,000 doses annually, getting this approval from Japan will be a huge value creator for Pluristem.
Potential Japanese partners should be lining up to do a deal with Pluristem now, in order to get the marketing rights to PLX-PAD in the island nation. A hefty licensing deal including upfront and milestone payments in the tens of millions should not surprise investors. Given the trial is slated to start in the coming months, such a deal should not be far off.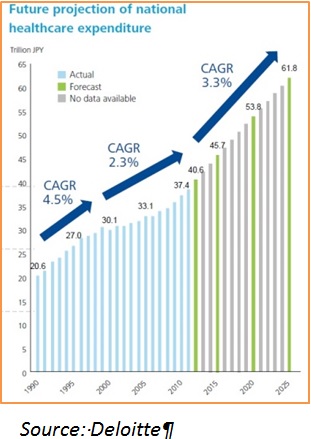 Revenues from PLX-PAD sales in Japan could ramp quickly, given that Japan is granting reimbursement as well as conditional approval, upon proof of safety and efficacy in this one pivotal trial. The 3rd largest spender on healthcare in the world is Japan, just after the U.S. and China, according to a report by Deloitte. An aging population and high standards for healthcare are expected to drive spending even further. For Pluristem, given the healthcare and corporate environment, approval in Japan is probably the next best thing to approval in the U.S.
Data - this is the other and perhaps most important aspect of this pivotal trial in Japan, in addition to potential revenues through a big-pharma deal in Japan and revenues there from sales of PLX-PAD upon approval. Cell therapy holds great promise, especially Pluristem's because it is off-the-shelf and easy for the Company to manufacture. Regulators in the U.S. and other markets can still be skeptical, as can big pharma that is not already invested in regenerative medicine. Publishing data showing safety and efficacy in 2017, along with marketing approval in a world-leading market like Japan, will impact regulators, big pharma partners, and propel Pluristem into the mid-cap range, in my opinion.
Conditional approval from Japan's Pharmaceuticals and Medical Devices Agency (PMDA) means the cells go to market upon showing initial proof of safety and efficacy in the small Phase II pivotal trial. While patients are being treated in the market, safety and efficacy need to be confirmed within 7 years after the conditional approval.
500% better than placebo was the result of another clinical study in a different indication of PLX-PAD cells. Getting anywhere near that number should secure conditional approval in Japan.
The Europeans are also on board with Pluristem, having selected PLX-PAD cells for their new fast-track process for approval in CLI. A pivotal trial in CLI is expected to start in Europe this year as well, with clinical sites in the U.S.
Active in trials in three indications in the U.S., Pluristem has just received the FDA's approval to start a Phase I trial of PLX-R18 cells in the treatment of insufficient hematopoietic recovery following bone marrow transplant, an important indication in the treatment of bone marrow failure after chemo for cancer patients. A Phase II trial in intermittent claudication is now being conducted in the U.S. and several other countries. Orphan Drug Designation was just awarded to Pluristem in the U.S. for preeclampsia, which threatens the life of mother and child and for which there is no cure. Potentially next for marketing approval in the U.S. is PLX-R18 for the treatment of acute radiation syndrome (ARS). The FDA says PLX-R18 is eligible for approval following its next trial in large animals, since this indication can't be ethically tested in humans. This could mean huge revenues from defense contractors or the U.S. government, looking to stockpile Pluristem's off-the-shelf cells.
Market moving catalysts abound, Pluristem's stock should be buoyed by a very event driven 2016 and potential marketing approvals in 2017.
RAY DIRKS Research suggests that Readers/Investors place no more than 1% of the funds they devote to common stocks in any one issue. It's best to diversify.
Disclosure: I am/we are long PSTI.