The $230 billion fast food industry is the next big, very big, frontier for self-serve, cashless kiosks. Over the past decade, consumers who don't like waiting in lines have enjoyed self-checkout at retail outlets including grocery stores, Target and Walmart. Self-serve fast food kiosks take this trend one giant leap forward and have met with huge consumer approval at a growing number of fast casual and fast food chains. Each one of these self-serve kiosks has a cashless payment processing device. On Track Innovations, OTI (NASDAQ:OTIV) a leading global innovator in near field communication (NFC) and cashless payment solutions, is aggressively going after this market.
$18 billion is the estimated size of the self-checkout kiosk market by 2020, according to Technavio. Growth is driven in part by the fast food industry's adoption of the technology. Moreover, the fast food industry, by virtue of its magnitude, is hugely influential in trend setting and consumer purchasing habits. Consumers who get used to using self-serve touchscreen kiosks at McDonald's are more likely to use them in many other retail settings, further propelling demand for the kind of cashless payment solutions offered by OTI.
"Thousands" of cashless payment systems were sold by OTI for use at kiosks and self-checkout stations at fast food chains across the U.S., according to a press release issued by OTI in February. The buyers are fast food chains that are "household names" according to OTI.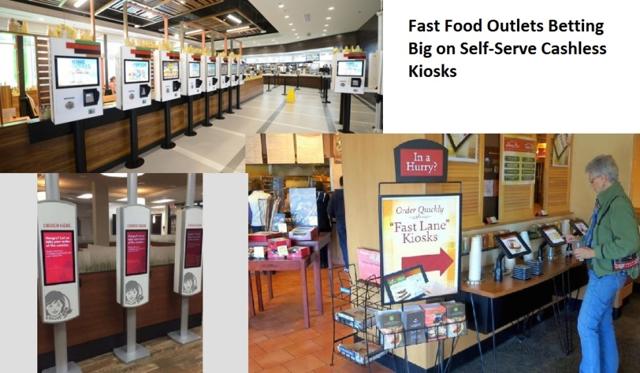 McDonald's (NYSE:MCD)? Burger King (NYSE:QSR)? Wendy's (NYSE:WEN)? Panera (NASDAQ:PNRA)? All of the above? We don't know who OTI's customers are in this business segment. During OTI's 2016 year-end earnings conference call on March 19, CEO Shlomi Cohen was asked if he could divulge who are these "household name" fast food chain customers. He suggested it would certainly be beneficial to OTI to reveal the names, but that the customers didn't want him to do so, and that he respects his customers' wishes.
Beyond these first "thousands" of orders, Cohen was very optimistic about revenue growth selling the company's industry leading cashless payment processing technology to fast food chains, yet he stopped short of giving specific revenue estimates. When asked for volume numbers, Cohen replied, "As I mentioned before, we are not giving guidance regarding the specific accounts but I will say that this is only the beginning with this specific food chain. With -- let's say with the plans we are having at the moment, the idea is to accelerate the number of systems that we are going to implement in the network."
"..only the beginning" were the words that jumped out at me. Only the beginning in an $18 billion market can really add up for a smaller, innovative technology company like OTI. Adoption rates for this technology are all about customer satisfaction.
Convenience, speed, control, no lines, and the ability to customize your order are the huge benefits of using a self-checkout kiosk at a fast food restaurant. This is what's driving the multi-billion growth industry. I recently went into a McDonald's in my neighborhood, used the kiosk, and was thoroughly satisfied.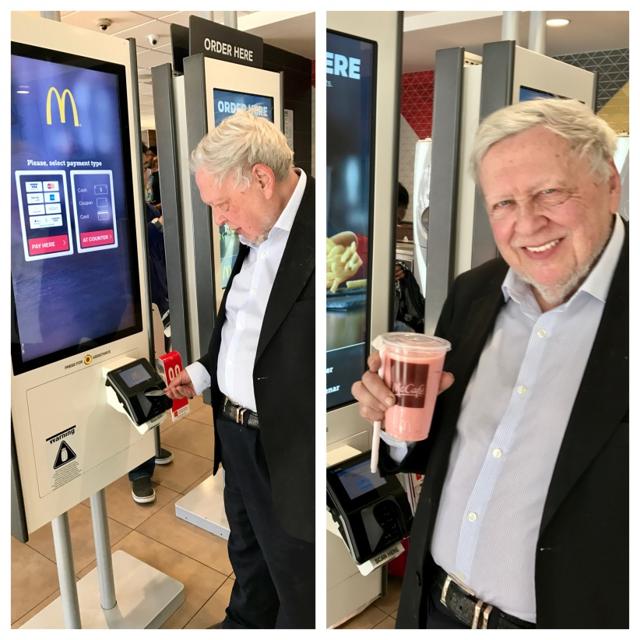 The large, high definition LCD screen lets me just touch the food of my choice, swipe my card, and I'm done. The fast food chains, saving significantly in front-of-the-house labor costs, can divert labor to food prep, thereby offering better, faster, and more customized food and service to customers. The customer gets a better, more tasty experience, the fast food chains increase revenues and save money through reduced front-of-house labor costs. OTI also has the opportunity to cash in on potential recurring revenues from each fast food transactions if it can integrate with customer loyalty programs and/or its proprietary NFC wearable tech.
Fast food restaurants including Panera are finding kiosk orders are actually increasing sales and have a quick two-year ROI. "The inclusion of near field communication technology - our expertise - into these machines is changing operations on a global scale. It enables customers to have an intuitive, quick and seamless shopping experience," stated Cohen in the OTI's February press release.
McDonald's will roll out "Create Your Taste" digital self-order kiosks in 14,000 of its U.S. stores. As of November 2016, McDonald's had already installed kiosks in 500 stores across New York, Southern California, and Florida.
Wendy's is also installing self-service kiosks at 1,000 of its approximately 6,600 restaurants by then end of 2017. Panera already has kiosks in 50% of its locations.
OTI has multiple revenue streams and management is focused on increasing its transactional recurring revenue business. As indicated in its 2016 year-end conference call, the fast food industry is one of several huge opportunities for OTI. This week at the NAMA OneShow, the trade show for fast food and convenience services industry, OTI is actively expanding its customer base. As industry verticals from fast food, to gas service stations, to vending machines, to wearable tech change and evolve, cashless payment systems will be essential to each. Investors and analysts are recognizing this.
Retail is going self-serve and it's going cashless. OTI has the platform technologies that retailers need to make this transition.
RAY DIRKS Research suggests that Readers/Investors place no more than 1% of the funds they devote to common stocks in any one issue. It's best to diversify.
Disclosure: I am/we are long OTIV.