Proven efficacious as an antidote for Acute Radiation Syndrome (NYSE:ARS) with data recently published from studies conducted by the U.S. National Institutes of Health (NIH), Pluristem Therapeutics' (PSTI) PLX-R18 cell therapy addresses an even more substantial, $11 billion market in hematology. Boosting blood cell production, PLX-R18 is a cell therapy that shows promise for damaged bone marrow resulting from high levels of radiation from a nuclear or dirty bomb and for the treatment of cancer related hematology indications.
Data recently published from an NIH dose-finding large animals study show that subjects treated with PLX-R18 had a survival rate of 85% as compared to 50% in the untreated groups. Superior safety results indicate PLX-R18 is ideally suited for rapid deployment in large populations in case of a nuclear emergency because it can be administered without prior testing of individuals for their level of radiation exposure.
A pivotal study for FDA approval in ARS under the Animal Rule and potential orders for government stockpiles are the next step for PLX-R18 in ARS. These contracts, in the U.S. alone, range from $30 million for an initial order, up to $1 billion. While the threat of a nuclear attack or accident requires precautions, radiation used in the treatment of cancer every day is a huge area of dire need. 
A Phase I trial in the U.S. is underway for PLX-R18 in the treatment of hematopoietic recovery following bone marrow transplants, an indication that treats the damaging side effects of radiation and chemotherapy.
$11 billon is the estimated size of the global market by 2025, for hematopoietic stem cell transplantation according to Accuracy Research Market. This is a CAGR of 11% over the next decade. Technological advancement in cell therapies such as Pluristem's is a primary driver behind these numbers.
8 out of the 14 cell, tissue and gene therapies approved by the FDA are hematologic (blood) products, according to the FDA's Office of Cellular, Tissue and Gene Therapies. Clearly, the FDA is inclined to approve cell therapies to treat hematologic indications. PLX-R18 cells may be the next to join this group of FDA approved cell therapies.
With sales of over $1 billion in 2015, Amgen's (AMGN) Neupogen® has been the blockbuster drug in this space. Approved since the 1990s to boost white blood cell production to fight infections in cancer patients going through chemo and radiation therapy, and approved in 2015 as an ARS antidote, Neupogen is the closest comparable drug to PLX-R18 in terms of market potential.  Biosimilars have taken some market share away from Neupogen in 2016.
PLX-R18 is anything but a biosimilar. In fact, early data show Pluristem's cell therapy is far superior to Neupogen and its knock-offs. While Neupogen increases white blood cell production, PLX-R18 has shown to boost production of platelets, red blood cells and white blood cells. There is a huge distinction here.
Speeding up the process of blood production while bone marrow rebuilds itself, PLX-R18 works at a critical time when the patient could die from infections. PLX-R18 could go beyond blockbuster status with an ability to treat a broad range of indications related to bone marrow function damaged by either cancer treatments or nuclear catastrophes.
Cell therapy may be the optimal method of boosting the success rate of bone marrow transplants, which can be very helpful to people fighting cancer. Because bone marrow is where blood cells are produced, any therapy that can improve bone marrow's health and its ability to produce more white blood cells to boost immunity, and more red blood cells and platelets for a healthy functioning body, is both critical and fundamental.
Bone marrow transplants are now used to treat blood cancers such as leukemia and lymphoma. The procedure is also performed on solid tumor cancer patients whose bone marrow has been damaged by chemo and radiation therapy. Aside from cancer, several other conditions such as anemia and severe immune system illnesses impede bone marrow's ability to produce cells.
If it weren't for the high risks involved with bone marrow transplantation today, including graft vs. host disease (GvHD), the procedure would be used much more extensively. This is where cell therapy, and specifically PLX-R18 cells come in.
Data presented at the American Society of Hematology and published in the peer reviewed journal Blood, demonstrated that PLX-R18 has the capacity to generate and regulate adaptive cell responses and secrete cytokines, helping heal blood and immune systems and restore bone marrow function. Other preclinical data from trials conducted by Hadassah Medical Center in Israel and the U.S. National Institutes of Health show PLX-R18 cells secrete a range of specific proteins that trigger the regeneration of bone marrow hematopoietic stem cells.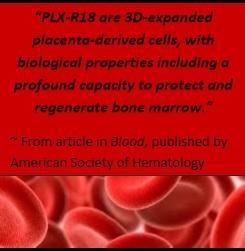 Data from the PLX-R18 Phase I study should begin to flow out this year, as the study is an open label trial. The dose escalating study will evaluate the safety of intramuscular injections of PLX-R18 in 30 patients. Clinical sites in the U.S. include the prestigious Baylor University Medical Center in Texas and the University of Chicago Medical Center. Efficacy-related endpoints for the study include measuring changes in platelet and hemoglobin levels, transfusion frequency, frequency of shift from transfusion dependence to transfusion independence, quality of life, and immunological parameters in the blood.
Cell therapy holds great promise to treat a wide range of medical conditions, and hematologic indications appear to be the trailblazers in gaining FDA approvals. Neupogen, now and old technology, produced over $7.42 billion in revenues for Amgen between 2010 and 2015 alone. That is a very impressive comp for PLX-R18 which, as a new cell therapy technology, displays superior abilities to produce blood cells. This may translate into superior revenue performance for PLX-R18 following FDA approval.
RAY DIRKS Research suggests that Readers/Investors place no more than 1% of the funds they devote to common stocks in any one issue. It's best to diversify.
Disclosure: I am/we are long PSTI.