Mobile digital health monitoring technologies use big data to deliver preventative, personalized healthcare that keeps patients healthier and creates significant cost savings to payers like insurance companies and employers. The top two players in treating diabetes through mobile health monitoring are Dario Health (NASDAQ:DRIO) and Livongo, a private VC backed company.
Advancements in information technology have generally outpaced the rate at which healthcare has been able to adopt the use of big data, artificial intelligence (AI), and machine learning (ML) technologies. Early on, Dario recognized the opportunity to deliver better chronic disease management by combining IT, mobile tech, and personalized medicine. Dario is at the forefront.
Users and payers are happy. Over 30,000 diabetics are now using the Dario blood glucose monitoring and diabetes management system. The Dario Smart Diabetes Management app, the gateway user interface for the Dario system, gets high marks on both the Apple App Store and the Google Play store.
Dario has shifted the paradigm on treating chronic disease. Instead of healthcare providers getting periodic data about patients, now patients and caregivers have real-time streamed data 24/7 on the cloud. This data is used to make better, more informed decisions such as coaching the user on optimizing their eating or exercise choices based on their personal data.
Diabetes management is the first indication for which Dario has delivered and is marketing a solution. The company is looking to do the same for several other chronic diseases.
Revenue growth was 84% at Dario year-over-year from 2016 to 2017. The company has reported 12 consecutive quarters of revenue growth. Its platform is scalable and ready to capture more of the global mass market in diabetes management. Revenues in 2017 were $5.2 million. With 250,000 users, Dario would hit annual revenues of $100 million. Capturing just 1% of the U.S. market, annual revenues for Dario would be an estimated $160 million. This is a high-margin, subscription-based revenue business.
The market is huge. 425 million people had diabetes in 2017 and Dario has regulatory approval to serve 48.5 million diabetics accounting for more than 10% of the global market. Dario is the clear leader in diabetes management through digital health.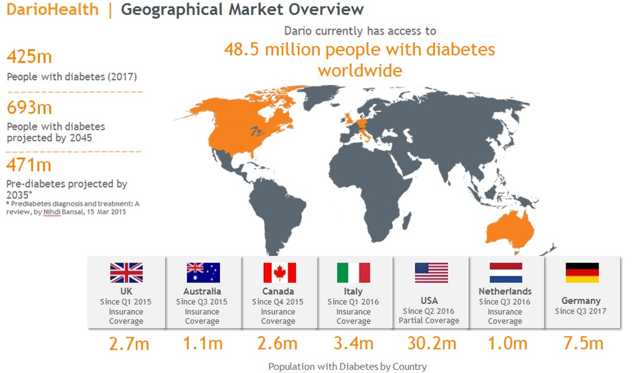 Source: Dario
Underscoring the value of managing chronic disease through digital health, top-tier venture capitalists recently completed a $105 million investment in Livongo. Livongo is similar to Dario and the darling of Silicon Valley VCs.
Livongo's business model appears to serve the needs of VCs more than it does those of patients and payers. Whereas Dario couples a tiny glucose meter with an app that runs on virtually any smartphone to create a native-mobile solution, Livongo asks its users to carry a dedicated cellular device for diabetes management, in addition to a smartphone that most people would normally already use. It looks like Livongo's VCs are trying to create another smartphone-like device to sell. Livongo is getting traction with self-insured employers that are looking to keep healthcare costs down for the employees they cover. Efficacy and cost savings numbers show Dario's product has quantifiable advantages over Livongo's
A key measure of clinical outcomes in diabetes is HbA1c levels. Whereas Livongo claims an average reduction of 0.7% in HbA1c levels in people who have used their device for two years, Dario claims 1% reduction, an improvement 30% better than Livongo's.
Cost savings per patient are also higher at Dario. Livongo states its product reduces patient care for the insurer or employer by $83 per patient per month, whereas savings based on the Dario product ranges from $80 to $100 per patient per month.
Using patient data for managed care is a key part of what drivers better patient outcomes. Dario's coaching platform can be integrated for use with other coaching providers and delivers coaching on pre-diabetes, as well as diabetes. In contrast, Livongo's platform is only used for in-house coaching and only for diabetes.
Dario is far ahead of Livongo in regulatory approvals and global reach. Livongo's product is only approved and sold in the US, based on information on the company's website, yet Dario's blood glucose monitoring system has been cleared by 4 regulatory bodies including the US FDA and is currently sold in 7 countries including the US, and Dario's product is fully reimbursed in 5 countries. Participating insurers for the Dario include Aetna, Blue Cross Blue Shield, and Cigna.
Livongo raised its most recent round of $105 million on an $800 million valuation from top venture capitalists. Top tier VCs including Kleiner Perkins and DFJ are sharp and savvy investors who tend to make the right bets on which markets and product categories will deliver investment returns. Dario's native-mobile, user friendly solution appears to be the superior product in this market. Private investors are betting big in this space, validating and boosting Dario's strategy and position in diabetes monitoring and management. For public investors, Dario is a clear investment opportunity, with a market cap around $30 million.
RAY DIRKS Research suggests that Readers/Investors place no more than 1% of the funds they devote to common stocks in any one issue. It's best to diversify.