Netherlands AEX25 index might be trading 70euros higher from the January average of 420 ,but the ballooned rally which hit the price of 500 this march is set to go lower and fall back on the support trendline of 420-440 within a months time.
The surge in the index was largely caused by the stabilization in the price of crude oil ,which bear rallied from the highs of $95 in September 2014 to double bottom at $43 in January and March 2015 , the future direction of the crude oil is unclear .
What's clearer is the volume activity traded on the Aex25 , volume activity tends to increase on the bottoms and decreases when the price balloons higher . The sudden drop in buying interest and the higher price might make investors nervous and the price seem unfair to buyers as there's a surplus of supply . The Index will eventually start to tank and land on the trendline support of 430 which indicates stable growth for passive investors.
The price of 492 provides a good exit for investors looking to take profit at the highs of the resistance trendline . The trend was started with high volume ,but that interest has faded and the sell bias will prevail , until it reaches an equilibrium of 420-440.
FTSE100 is currently trading at 7075 and the rally is also seen to end around the end of April and fall to levels of 6300-6400 in May.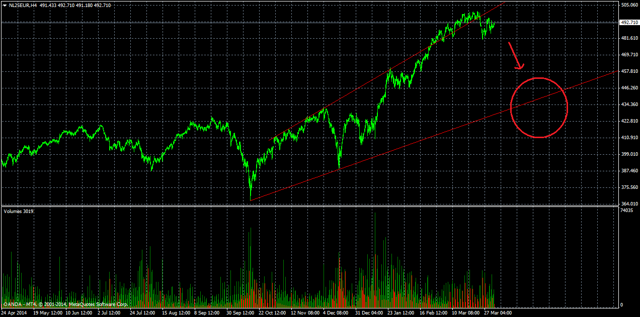 On the second chart of AEX25 , the lows and highs from the end of 2013 and the 2014 have been connected with a trendline . From an observation we can see a band being formed and the current price above the band , signaling that its over priced. Also there's been a decrease in volume ,which could be signaling a loss in the interest for the index as the price reached new highs.