China's tropical Hainan island's main industry, high-end tourism and conferences, abundance of luxury hotels and resorts with affluent foreign guests, and its naturally confined island location off the south coast of China, make it ideal for a controlled high visibility autonomous EV car-share demonstration program. Also, vigorous promotion of EV production and utilization by the very ecology-minded Hainan Provincial Government greatly encourages the establishment of a pilot program.
I will be publishing another investment article soon. The new article summary follows to provide prerequisite information for this blog:
New modern Kandi Technologies Group EV Factory rushed to completion in Haikou City on China's tropical Hainan Island
Make and configuration of EV to be produced at new factory unknown and subject of lively discussion and speculation
Author's study concludes that autonomous-capable Tesla Model 3 is most likely new EV to be produced at the KandiHainan factory
The new EV to be manufactured by the Kandi/Geely JV, backed by Chinese billionaire Li Shufu
Large recent insider buying by Geely CEO Li Shufu (50% of Kandi/Geely JV)and Kandi CEO Xiaoming Hu (Kandi stock) indicate that something really big is up
If Tesla Model 3 proves to be the Hainan factory product, heavily-shorted and beaten-down Kandi stock (NASDAQ: KNDI) would experience a massive short squeeze
It is very logical for Tesla to pioneer autonomous Model 3 car-share in China, the world's largest and fastest growing EV market, which is sure to become home to the world's largest autonomous EV car-share operations. Most Chinese live in high-rise apartments and very congested multi-million population cities, and don't even have access to on-street parking, much less a driveway or garage. Economical and convenient autonomous car-share would be very popular and well utilized by the 1.3 billion Chinese population, in the author's opinion.
Hainan Island can be accessed by only water and air, so it is geographically isolated from the mainland, although a bridge is planned for the future. Visitors from all over the world would experience the high performance Tesla EVs, as well as the exciting and carefree experience of autonomous car-share, and return home clamoring for Teslas and autonomous car-share in their own countries.
Hainan Island self-driving car-share operations would start small, perhaps by providing vehicles to select Tesla and Kandi JV employees for debugging, feedback, and improvement before phasing in public utilization. I anticipate that the Chinese driver's license requirement will be phased out so that tourists from foreign countries Will eventually be able toaccess the pilot program as it transitions to commercial operation. It will also be necessary do to have all road and parking signage be bilingual, so that English-reading tourists can manually drive the EVs in the event of a problem that requires the self driving features to be temporarily turned off until a fix is transmitted back to the EVs.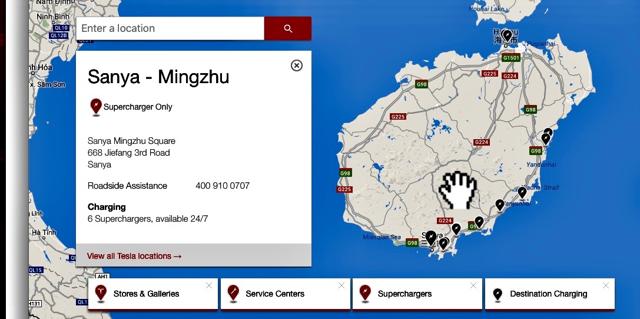 Hainan Island Tesla Supercharger and Destination Chargers
Tesla has just opened its first supercharger station on Hainan in Sanya at the south end of the Island. Sanya is 178 miles from Haikou City using the east side of the circle expressway that surrounds the island, so a Tesla can travel between these cities without stopping for a recharge (Notice that the map shows about 10 Tesla destination chargers already exist on the expressway between Sanya and Haikou City.) While Tesla superchargers provide fast charging for Tesla EVs for intercity travel, Tesla destination chargers allow hotel and resort guests to charge during overnight stays.
With the advent of an autonomous Tesla car-share operation on the island, hotels and tourist sites will be vying to be car-share charging and handoff locations. Both Tesla superchargers and destination chargers are only compatible with Teslas, and no other EVs can use them.
Concluding Remarks
The future is autonomous pure EV car-share, not only in my opinion but that of many other out-of-the-box thinkers. I recommend that you read the thought-provoking books and view the lectures on Youtube by Tony Seba, Stanford University lecturer and entrepreneur. His books and lectures provide much more information on the following benefits discussed by Seba (of course pending full implementation in the not too terribly distant future):
Reduce carbon emissions to improve health, increased life expectancy and to help save the world from self-destruction
Virtually eliminate accidents and associated vehicle insurance, liability, medical and vehicle repair costs, etc.
Eliminate drunk driving, dozing driver and driver error caused accidents, injuries and deaths
Increase highway capacity and reduce congestion, and speed up highway traffic
Reduce traffic congestion in urban areas by eliminating cars driving around looking for parking spots Eliminate accidents in parking lots, sometimes the most dangerous part of trips
No longer needed parking spaces and parking garages can be used for really useful things, such as road widening, green areas, office buildings, apartments, shopping centers, etc.
Drastically reduce the number of personal and commercial vehicles produced and in use by utilizing vehicles over 90% of the time (except for night time, when they will be recharging), rather than parking them 90% of the time
Production of fewer EVs reduces use of natural resources and reduce waste landfill pollution
Thank you for reading this blog. I welcome your comments.
Disclosure: I am/we are long TSLA, KNDI.