On Thursday, all of the big automotive companies reported higher February auto sales but its worth noting again that Ford (NYSE:F) was the only Big Three Detroit automaker that did not take any taxpayer bailout money. Hence, how has Ford (F) performed for investors, especially compared with General Motors (NYSE:GM), and should new investors (or traders) be taking a closer look at its stock? (Note: Chrysler remains privately held)
February Auto Sales: Ford (F) vs. General Motors (GM)
On Thursday, Ford (F) announced that US auto sales rose 14% in February as rising gasoline prices fueled demand for smaller and more fuel efficient cars. Specifically, Ford (F) sold a total of 179,119 cars and trucks in February 2012, up from 156,626 sold in February 2011. However, Ford (F) reported a 26% rise in F-Series pickup sales to 47,273 with 43% of buyers choosing the most fuel efficient engine - up from 42% in January. In addition, car sales rose 16% but Ford Focus sales rose 115% to 23,350 for the best February performance in 12 years.
As for General Motors (GM), it reported only a 1% rise (led by its small cars) because the automaker had offered big discounts back in February 2010.
Otherwise, it should be noted that analysts believe that US auto sales per dealership could rise to a record this year due to higher demand for vehicles thanks to more credit availability and the fact that the average car on US roads now stands at a record 10.8 years old. Moreover, automaker dealership networks have stabilized thanks to consolidation but there have been concerns that automakers might attempt to boast and sustain any increase in car sales by adding to their dealer networks.
Stock Performance: Ford (F) vs. General Motors (GM)
On Thursday, Ford (F) closed up 2.26% to $12.66 plus the stock is up 17.7% since the start of the year according to Google Finance. On the other hand, Ford is also down 13.6% over the past year but the stock is still up 52.5% over the past five years.
Meanwhile, General Motors (GM) rose 1.73% to $26.47 and it's up 30.6% since the start of the year. However, General Motors (GM) is also down 19.7% over the past year and 22.7% since its 2010 IPO - meaning investors have been doing better with Ford (F) up until this year.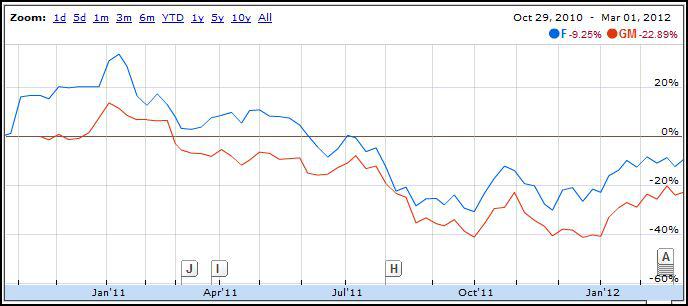 Nevertheless, its worth remembering that Ford (F) refused to take bailout money because it had heavily mortgaged itself in November 2006 right before the global credit markets froze up and it largely came out ahead of its Detroit rivals.
However, this also means that Ford (F) has a big target painted on it by the United Auto Workers (UAW). Specifically and during contract negations late last year, the UAW could not target Ford's bailed out rivals thanks to agreements put in place as part of these bailout agreements. Moreover, the UAW as a union has been hit hard by declining membership and so far, it has few prospects to organize auto factories in the right-to-work states in the South. Nevertheless, a new four year agreement was ironed out between Ford (F) and the UAW to avoid a strike.
By the Numbers: Ford (F) vs. General Motors (GM)
Near the end of January, Ford (F) reported that full year net income increased $13.7 billion to $20.2 billion in 2011. However, the figures were muddied by a one-time non-cash special item of $12.4 billion that came from the release of almost all of the valuation allowance against net deferred tax assets during the fourth quarter. Otherwise, full 2011 pre-tax operating profit was $8.8 billion for an increase of $463 million over 2010 results.
Meanwhile, General Motors (GM) surged almost 9% to above the $27 level in mid-February after it reported that net income surged 62% to $7.6 billion for 2011 - marking the first year since 2004 that Chrysler, Ford (F) and General Motors (GM) have all managed to be profitable at the same time.
The Final Verdict
For the final trading day of the week, the Next Candle stock forecasts for Ford (F) and General Motors (GM) has both of these stocks producing a higher high with about a 70% probability but for investors or traders with a longer term horizon, the jury is still out over whether both will continue rising.
Nevertheless, it looks like investors have already come out a bigger winner with Ford (F) whereas any long term investors in General Motors (GM) would have loss their investment when they filed for bankruptcy.
NOTE: THIS PIECE WAS JUST POSTED ON OUR BLOG AT
http://www.nextcandle.com/blog/2012/03/stock-week-ford-f-had-refused-bailout-money-did-investors-win
Disclosure: I have no positions in any stocks mentioned, and no plans to initiate any positions within the next 72 hours.