"Green ETFs" offer investors an opportunity to invest in the alternative energy space without having to take on specific company risk or hoping to find the next Microsoft among a wide range of potential candidates.
These ETFs, like all ETFs, hold a basket of stocks in their specific sector and in the alternative energy space, the ETFs are typically not well diversified and so can be subject to lack of liquidity and wide price swings. However, some of the major offerings are actively traded and can offer investors exposure to this new and growing field.
 
The main areas that "green" energy ETFs focus on are solar, nuclear and wind.

Potential ETFs in each of the sub segments of green energy are:
Claymore Global Solar Energy ETF (NYSEARCA:
TAN
)
First Trust ISE Global Wind Energy Index Fund (NYSEARCA:
FAN
)
Van Eck Market Vectors Nuclear Energy ETF (NYSEARCA:
NLR
)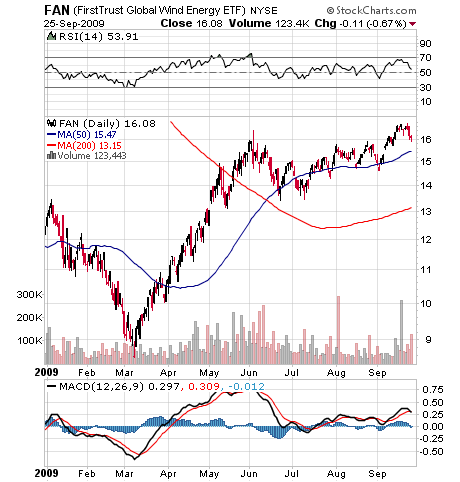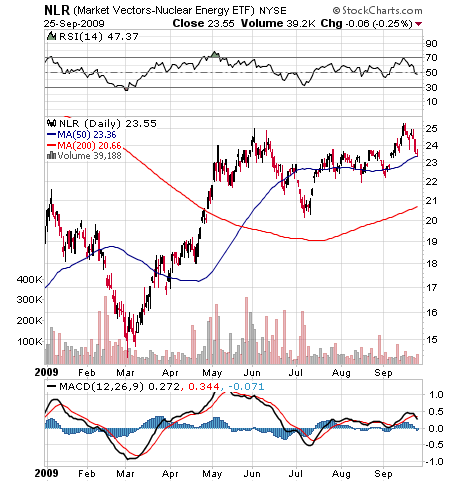 A quick look at the charts points out some interesting similarities and differences between these alternative energy ETFs.
First, all three of them have tracked the general recovery in the markets since March but have also generally outperformed the S&P 500 with TAN leading the way, more than doubling since the March lows, and FAN and NLR both up better than 60%. 
On the volume front, TAN is the most actively traded, followed by FAN and NLR, so if liquidity is important to you, take note of the trading volumes above. However, all are widely held with total Market Caps greater than $75 million.
TAN's major holdings are in companies like First Solar, Inc., Renewable Energy Corp, and SolarWorld, AG while FAN has major holdings in companies like Iberdrola Renovables, Vestas Wind System and Repower Systems AG, and NLR focuses on the nuclear energy space with companies like Exelon Corp and Constellation Energy Group.
So these three ETFs offer exposure to what could be a growing area as the world recovers from recession and political attention to climate change and clean energy ramps up. 
Of course no one can say for sure whether or not "green ETFs" will continue to outperform or be a suitable investment going forward. As with all investments, and even more particularly in newer fields with smaller and less established companies, due diligence is required.

However, it's easy to make a case for energy demand growing and being a dominant issue as the emerging markets build out and the world recovers from recession. The oil patch will most certainly continue to dominate energy supplies for the foreseeable future but many argue that alternative energy could benefit as well from current political winds blowing around the world. 

Whether or not that comes to fruition is an unknown, but judging from the interest in "green ETFs," many investors clearly think there could be a future in "going green."

Disclosure: None