As expected, it was a short but volatile week that ended virtually flat from last Friday's close.
But in spite of the gyrations, the markets remain in solidly bullish territory as indicated in the two charts below.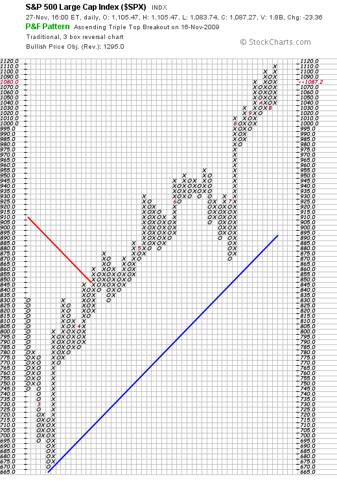 chart courtesy of
www.StockCharts.com
On the P&F chart above, you can see that the S&P 500 is still on a "buy" and that a 'sell signal' would occur on a breakthrough of the 1030 level.

On the chart below, the 200 Day Moving Average is at 942 so a drop of approximately -13% would indicate the end of this upturn and a return to a bear market.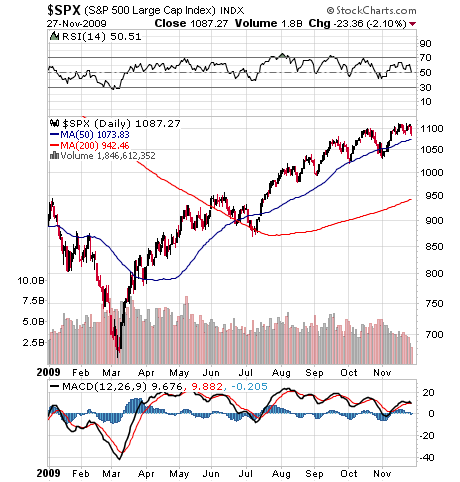 chart courtesy of  www.StockCharts.com

The signals remain mixed, and particularly interesting is the consolidation above and below 1100 on the S&P that has been taking place all month. 
Only 49% of all stocks are above their 50 Day Moving Average which points to internal weakness in the market.
The big news on Friday was the sell off in response to the Dubai World credit problems and potential default on $60 Billion of debt. How this plays out will obviously affect almost every asset class as we saw oil hit a 6 week low, gold decline and Treasuries rise on Friday. 
We remain in the "Yellow Flag" mode and expect choppy prices ahead.
The View from 35,000 Feet
As I mentioned, the Dubai World news rattled world markets Thursday and Friday, and depending upon whom you read, this could be a big deal or not. Analysts called it everything from possibly being a "major sovereign default" to a smaller gauge problem that could be "contained." 
It seems that no one knows for sure what the total exposure is, but consensus seems to point to British and European banks being more exposed than U.S. banks and global markets already started to recover late in the week as the potential threat was assessed in greater detail.
Interestingly, Dubai World reaches far afield with interests in MGM's prestigious City Center project in Las Vegas, a 50% ownership in Miami Beach's flag ship Fontainebleau Hotel and the upscale W hotels in New York. U.S. commercial real estate is already off more than -47% from the peak just less than 3 years ago and it's easy to see how interconnected all of this really is.
But earlier in the week, October housing sales came in better than expected, 2nd Quarter GDP was revised downward from +3.5% to +2.8%, November Consumer Confidence registered an uptick and initial jobless claims fell below the psychologically important level of 500,000 along with improvements in continuing claims.
But durable goods orders unexpectedly declined in October and so the economic data remained mix.
"Black Friday" seemed to be off to a good start but polls indicated consumers were planning to spend less than last year and industry executives wondered aloud if the good start to the Holiday shopping season could be maintained.
The Week Ahead

Lots of economic news ahead this week, including the ever exciting monthly employment report on Friday.
Monday:
November Chicago PMI
Tuesday:
October Construction Spending, November ISM Index, October Pending Home Sales, November Auto Sales
Wednesday:
November ADP Employment, November Fed Beige Book
Thursday:
Weekly Jobless Claims, November ISM Services
Friday:
November Non Farm Payrolls, November Unemployment
I expect more volatility on Monday, which seems to have become the norm in recent weeks, and then we'll have to see if Santa is coming to town with his annual "Santa Rally" this year.
Disclosure: None