This week we enter the holiday shortened last week of the year and the decade.  With four trading days to go, we're ready to say goodbye to the worst decade for the stock market since the 1930s.
Next weekend's report will include a great wrap up of the year and the decade. We'll take a look back at sectors that outperformed as well as those that lagged, along with a look ahead, so it is one not to be missed.
This week we closed our 2X position in DDM, Ultra Dow 30, for a gain of +1.9% in three trading days. Our two trades for the month in the 2X portfolio logged +5.2% in realized gains for the month.
Our five position Standard Portfolio made some good gains and also dividends were announced in four of the five positions.
In the sector world, Tech and Materials led the way but all sectors were positive across the board. 

The "Santa Rally" appears to be underway and if it continues this week, it will hold true to a long history of seasonality. Typically in the last week of the year and the first 2-3 days of the New Year we see gains approximately 80% of the time.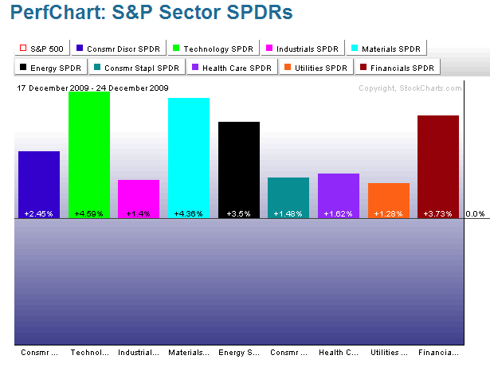 chart courtesy of
stockcharts.com
The View from 35,000 Feet
In economic news, last week, Initial Unemployment Claims posted a drop from the week before, as did continuing claims and bullish sentiment according to the American Association of Individual Investors was at 38% which is up from its lows but well below the averages seen during bull markets which indicates that this rally could have more room to run.
Next week will be short but with a couple of important reports on Tuesday, Wednesday and Thursday, including the Case Shiller Housing report and all important Consumer Confidence reading on Tuesday and the ever important employment numbers on Thursday.
Tuesday:
October Case Shiller Home Prices, December Consumer Confidence
Wednesday:
December Chicago Purchasing Managers Index
Thursday:
Weekly Jobless Claims, Continuing Claims,
Laggards:
Japanese Yen, British Pound

Typically small caps lead the way into the new year and so that sector should give an indication of what 2010 might hold.  Also next week, we'll take a look at some end of the year and beginning of the year "signposts" and the year ahead.
Disclosure:
XLI, IYR, ILF, SLV, EWS
Disclosure:
SLV, ILF, XLI, EWS, IYR