Original article here: http://bit.ly/1OQZXSQ
Our opinion: small upside potential
Street's opinion: small downside potential
Current price: $66.06
Target price: $69.00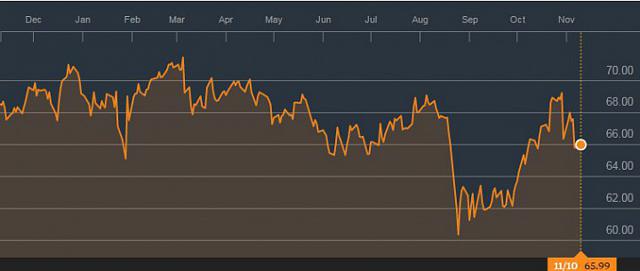 It is a challenging time for consumer companies around the world, and many of them are at crossroads. The New York City-based multinational consumer products company with a history of more than 200 years is not an exception. Same as in the case with Unilever, Colgate-Palmolive has a significant exposure to emerging markets: almost 43% of overall combined sales in Latin America and Asia, such markets demonstrate a steady organic growth, but the negative foreign exchange continues to be a major challenge, and we have to adjust this growth for the foreign exchange devaluation in some regions. For example, Colgate in Asia had a 5% volume growth across the country but the negative impact of FX reduced gains to only 2%.
In 15Q3, organic sales were strong but underappreciated because of the dramatic drop in advertising. Colgate posted a 5% organic growth, clearly supporting the notion that market share gains are strong, even as its advertising expenditure has been down in dollars and as a percentage of sales over the past 18 months. Still, we do not believe the 23% cut in advertising spending did any good to the company. While we realize that there has been some reduction to reported spending levels due to currency translation, we think this quarter was also impacted by local managers scrambling to meet short-term budgets in the face of enormous FX fluctuations.
Y-o-Y Change in Advertising Expense as a % of Sales (bps) (Source: Company data, Morgan Stanley)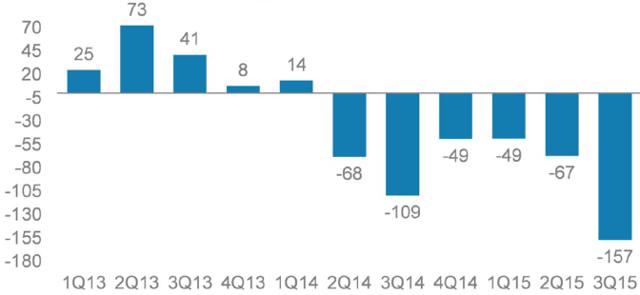 We also find Colgate-Palmolive to be in a beneficiary position during the monetary discussions, as the company is well known for its strong brands and lengthy dividend history meaning that it can certainly provide stability due to a high level of diversification of its business. Moreover, one of the possible risks is that interest rates will rise at some point, and certain shares like Colgate-Palmolive will become less appealing, given that their yields are already lower than those of most of their larger rivals, while the growth prospects do not stand out compared to more appealing growth investments across other industries.
We estimate the current forward dividend yield to be at 2.2% and highlight it to be a weak number. With the dividend policy being highly predictable and the payout rate stable at around 50% of net income, we see no potential for the dividend increase in the near future.
Consumer companies do not tend to fluctuate as much as the market as a whole in the face of challenging macroeconomic conditions worldwide because of the nature of their business. Demand for toothpaste and soap is much less elastic than for the latest electronic gadget or a car, so we consider Colgate to be a long-term winner. Consistent market share gains in the competitive market are a strong evidence of Colgate's dominant position as an oral care specialist. We do not feel like there is much of an upside potential to the price of Colgate-Palmolive but we believe the share price to go up in the short-term by as much as 4-5%. Our price target on CL shares is now $69, which reflects a high-single-digit premium to Large-Cap peers (PE multiple 23.5x, which is ahead of its five-year average valuation of 19.5x and its two-year average of almost 22x, Forward PE 22.07x) on our '16 EPS est. of $2.95.
While in isolation, the +5% organic sales growth is very good and well above other multinational peers (i.e. P&G), it is still lower than the Street's expectations. This, coupled with an over 20% drop in advertising (significantly more than in past quarters) and another reduction to earnings guidance, even if due to FX, surely makes the business feel a little less defensive at the moment. With that said, we do think some of this quarter's dynamics will prove to be an anomaly, but know that CL will likely remain under the microscope until advertising levels begin moving higher again.
Disclosure: I/we have no positions in any stocks mentioned, and no plans to initiate any positions within the next 72 hours.