Original article here: http://bit.ly/1XelO5N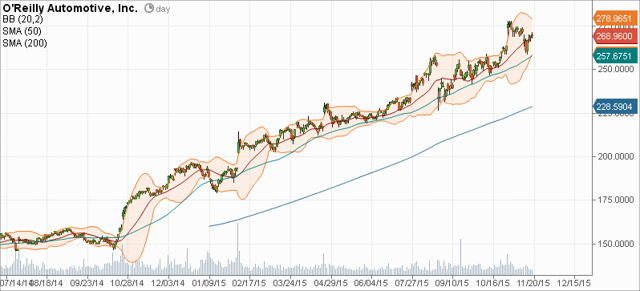 O'Reilly Automotive (NASDAQ:ORLY), a leading US auto component and equipment retailer, continues to please investors with its robust financial performance. According to the company's Q315 financial statement, its sales jumped 11% y-o-y to USD 2.08 bn as LFL sales rose an impressive 7.9%. Operating profit climbed 21% to USD 415 mn, while operating margin improved 1.7% to a record 20%. Adjusted EPS surged 23% to USD 2.53, substantially exceeding the Street's consensus of USD 2.36.
O'Reilly has a strong balance sheet and generates high cash flows, enabling it to spend a lot on stock buybacks. In the July-September quarter of 2015 O'Reilly bought back 1.1 mn of its shares worth USD 274 mn, and its stock buyback totaled USD 849 mn in January - September 2015. Meanwhile, as of late October, the company had USD 400 mn left of its current stock buyback program.
Since the beginning of 2015, O'Reilly opened 160 new stores in the United States, broadening its retail network to 4,523 stores in 43 states. Overall, this year O'Reilly plans to open 205 new stores.
I expect low gasoline prices in the US to be an incentive for Americans to drive more, providing stable growth of demand for the products and services offered by O'Reilly and other auto component vendors. O'Reilly's advantages are its strong brand and the premium quality of services, a huge catalog of spare parts, and well-developed marketing channels. I believe that these factors will allow the company to post the highest rate of LFL growth in the industry. According to the company's updated guidance for FY15, sales are projected at USD 7.85-7.95 bn, implying 9-10.4% y-o-y growth (up from the earlier USD 7.75-7.85 bn), EPS at USD 8.97-9.01, i.e. meaning a surge of 22.2-22.8% y-o-y, while LFL sales are expected to rise 6.5-7% y-o-y.
High growth rates coupled with the company's ongoing stock buyback efforts will boost share price performance in the medium term. I raise my target price for O'Reilly shares to USD 286, and still recommend the name as a mid-term investment. The short-term technical target price is USD 276.
Disclosure: I/we have no positions in any stocks mentioned, and no plans to initiate any positions within the next 72 hours.