Original article here: http://bit.ly/1NSAGSu

Introduction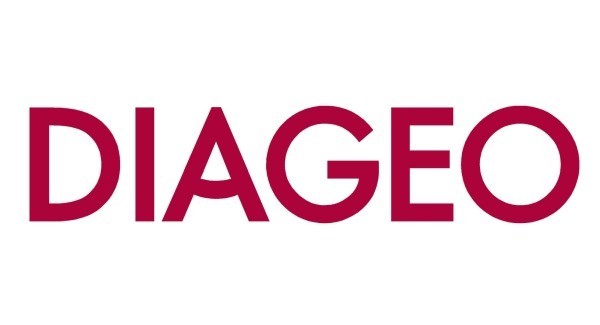 Diageo plc (NYSE:DEO) is a drinks business company. The Company is a provider of beverage alcohol of various brands in spirits, beer and wine. The Company produces its brands from more than 200 sites in over 30 countries. Diageo owns manufacturing production facilities across the globe, including maltings, distilleries, breweries, packaging plants, maturation warehouses, cooperages, vineyards, wineries and distribution warehouses. Diageo's brands are also produced at plants owned and operated by third parties and joint ventures at a number of locations around the world. Its geographical segments are North America, Europe, Africa, Latin America and Caribbean, Asia Pacific and Corporate. It offers products under various brands, including Johnnie Walker, Smirnoff, Captain Morgan, Baileys, Tanqueray, Guinness, Crown Royal, Yeni Raki, JeB, Buchanan's, Bundaberg, Ypioca, Cacique, Windsor, Bell's, JeB, Grand Old Parr, Shui Jing Fang, Ciroc and Bulleit Bourbon, among others.
Performance
Delving into analysis, we conclude that the company is undervalued relative to industry considering the P/E ratio(20.3 against 29.4 Ind. Avg.). The P/S ratio has average market value. However, there are premises for the P/S ratio growth as well as stock price.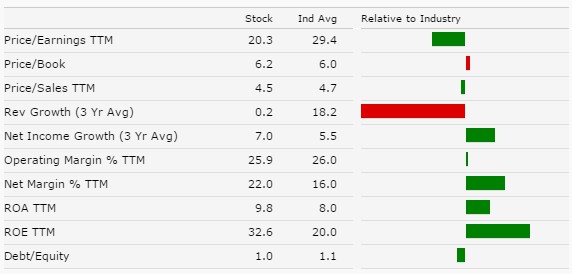 Source: Morningstar.com
Diageo faced evident difficulties due to macroeconomic slumps in 2014, when there was a problem of growth and development. But during this year the company is solving the issue, choosing emerging market as a top priority. (this, in its turn, helped to generate additional revenue and improve financial Y/Y) 2014. Diageo has also improved EPS, stockholders' equity and cash flows.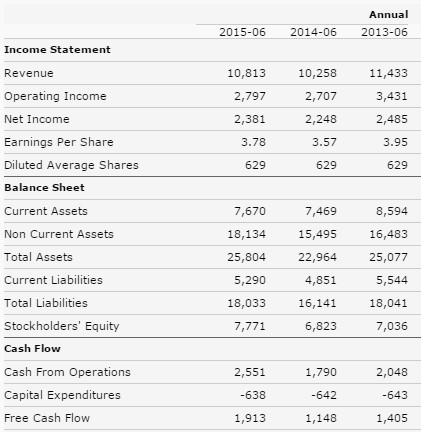 Source: Morningstar.com
We believe in the company and possible stock price growth due to a number of reasons.
Brands
Firstly, Diageo is one of the largest companies in the industry, embracing such brands as Johnnie Walker, Smirnoff, Baileys, Captain Morgan, etc.

Source: Company's report
7 brands of Diageo are in the top 30 international spirits brand with Johnnie Walker and Smirnoff in the lead.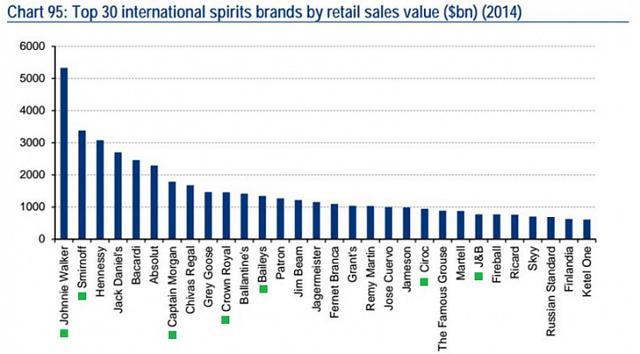 Source: Business Insider
However, Diageo is not focusing on the single segment :sales are highly diversified. There are surely such leader segments as scotch (brings up to 24% to revenues), beer (18%) which generate high sales. However, at the same time, one should also be aware that other segments equally contribute to revenues (from 8 to 12%) which should be relied upon in bad times.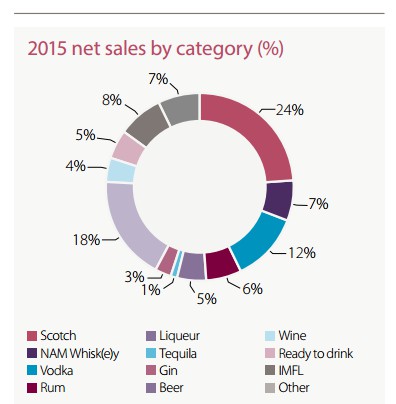 Source: Company's report
Technical analysis shows that the stock is overpriced, but, in this case, we see it as a positive trend as over the last 2 years Diageo has been traded below its fair value. We expect this trend to remain. Over a couple of last months the stock price follows smoothly the SMA, which is a positive sign as well. The RSI is 56 which means that currently stock enjoys a quiet life without indications of market reversals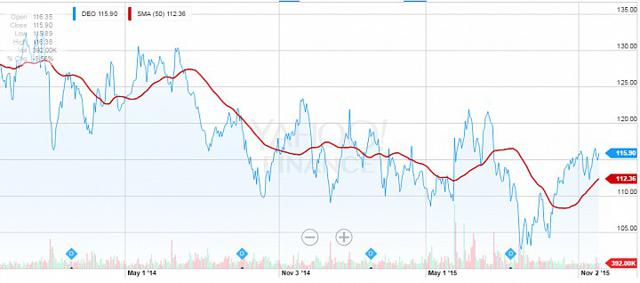 Source: Yahoo Finance
Christmas miracle
As practice shows, there are products demand on which rises on Christmas. Alcoholic beverages are one of them. While preparing for Christmas Days, families prefer to add alcohol to their shopping baskets in order to give it as a gift or put it on the holiday table. Having analyzed stock behavior, we can conclude that there might be a short term rise of the stock price as it were 2 years in a row.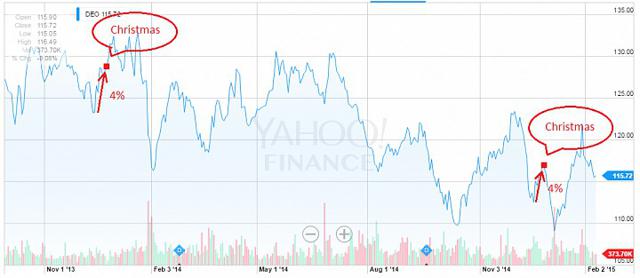 Source: Yahoo Finance
Dividends
Diageo has a progressive dividend policy with a bi-annual payout schedule. There's an interim dividend in April and a final dividend in October, and you can choose to receive the dividend in cash or reinvest it via Diageo's dividend reinvestment plan. This year, Diageo increased its interim and final dividend by 9 percent, but future dividend growth is expected to be lower. Diageo has earnings per share to dividend cover of 1.6 times which is outside the company's comfort zone. In the most recent annual report, Diageo Chairman Franz B. Humer explains dividend growth will be kept at a mid-single digit rate until dividend cover is back to the company's comfort range of 1.8 to 2.2x.
Conclusion
We recommend to buy the shares of Diageo as it may be of interest for long term and short term investors due to its stable performance, strong brands, highly diversified product portfolio, focus on emerging markets and undervaluation of the P/E ratio. As a bonus, the price is expected to rise due to forthcoming Christmas Day.
Disclosure: I/we have no positions in any stocks mentioned, and no plans to initiate any positions within the next 72 hours.