Original article here: goo.gl/XDZYfd
I remain upbeat about the shares of Nasdaq (NASDAQ:NDAQ), the operator of a global stock exchange. The company's financials for the third quarter of 2015 were solid. Revenues increased 6.4% y-o-y to $529 mn, exceeding consensus estimate of $524 bn. Removing foreign currency and acquisition effects, organic revenue growth was 9%. Adjusted operating income climbed 10% to a record $253 mn, and operating margin improved 200 basis points to 48%. Adjusted earnings per share jumped 12.8% to 88 cents and surpassed analysts' average projection of 86 cents. The impressive results were driven by strong operational activities, strong listings and IPOs and disciplined expense control. Also, these positives partially offset foreign exchange headwinds.
Nasdaq's order intakes surged to $83 mn in Q3 from $28 mn in the year-ago period. Additionally, total order value (the value of orders signed but not recognized as revenues) rose 15.9% to $738 mn. New listings totaled 88, which included 35 IPOs.
Nasdaq spent $255 mn to buy back 4.9 mn shares during the reported quarter. Over the first nine months of this year, the company returned $418 mn of capital to its shareholders through share repurchases and dividend payouts. The company has $226 mn remaining under its authorization.
Finally, in July, Nasdaq launched its "Nasdaq Futures (NYSE:NFX)" exchange. This exchange competes directly with CME Group and is attempting to lure traders with a reduced commission structure. Nasdaq disclosed that NFX is seeing healthy volume, with open interest surpassing 300,000 contracts. The exchange offers over 20 products, with an initial focus on energy benchmark index derivatives.
Currently, Nasdaq's shares are trading within an ascending wedge. I'd buy on braking a $60 resistance level, with medium-term target at $65.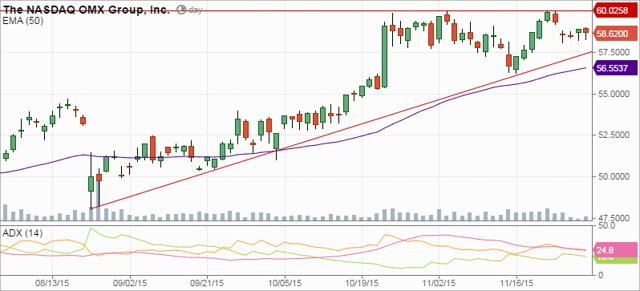 Disclosure: I/we have no positions in any stocks mentioned, and no plans to initiate any positions within the next 72 hours.