Kennametal Inc. (NYSE:KMT) effectively lost over $300M in market value since the opening bells as the company's share plummeted by over 15% as of the time of this writing. What a pain! As a result of this slump, the stock is down 35%+ year-over-year: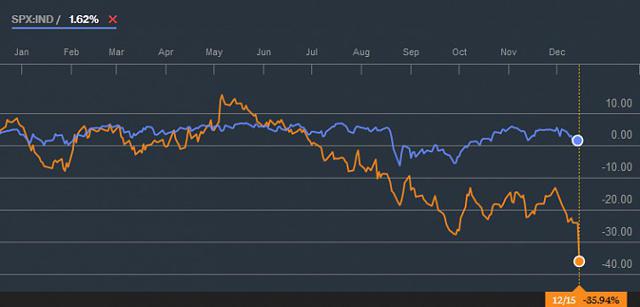 (Source: Bloomberg)
They main reason what the company's shares slumped is the recent revision of 2016 outlook, in which Kennametal cut its EPS forecast by as much as 30% - 60%. Here is why the revision was done:
"Our served end markets are experiencing significant volatility and we are being challenged by the current global macroeconomic environment. As a result, our visibility into our end markets is poor and we have decided to reduce guidance for fiscal 2016. In this difficult time of end-market weakness, we will focus on controlling what we can control by tightly managing our costs and working capital, while not losing the capability to respond when the markets recover. We will continue to update our investors with changing trends throughout the remainder of the fiscal year," Don Nolan, President and CEO said. "Despite weak market conditions we continue to make meaningful progress on critical initiatives to strengthen our foundation and ultimately grow our business, which we will outline in our meeting with investors tomorrow. When market conditions improve, we are confident that Kennametal will deliver substantially improved results."
Keep in mind that the initial 2016 EPS guidance was $1.70 - $2.00, according to2015 Annual Report. The press release was done on July 30. 2015. This means that the implied forward P/E ratio was 16.5x - 19.4x. If we cut the expected EPS by as much as 60%, we get minimum EPS of $0.68 - $1.40 which means that the implied share price should be between $11 and $27 per share. The stock is now trading at $21.50, slightly above the midpoint. There is still a lot of risk at current market prices.
On the other hand, apart from the kick in the guts, the company has announced a few positive developments:
- On December 1, 2015, Kennametal announced completion of sale of non-core businesses "related to certain castings, steel-plate fabrication and deburring operations to Madison Industries". According to the press release,
"The sale is in alignment with the company's previously announced portfolio simplification strategy and its plans to reduce manufacturing footprint by 20-25 percent. Furthermore, it allows the company to focus on long-term growth of core manufacturing and technology processes".
The transactions' amounts have not been disclosed. Lincoln International was Kennametal's financial adviser on these divestitures. Max Grigoryev, who is also acontributor here, used to work as an analyst at this investment bank, so kudos to him!
- Quarterly dividend was raised by 11% to $0.20 per share. The effective annual current yield, therefore is about 3.7%. The main question is whether the company can sustain it for the next year. Let us dig into Kennametal's latest cash flow statement: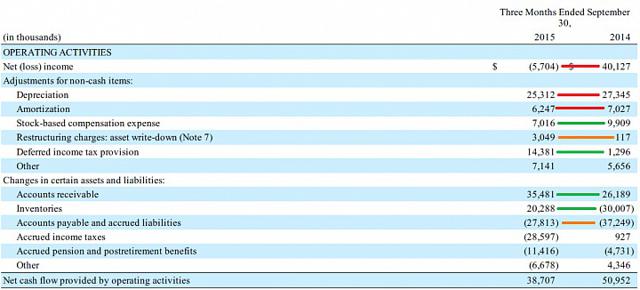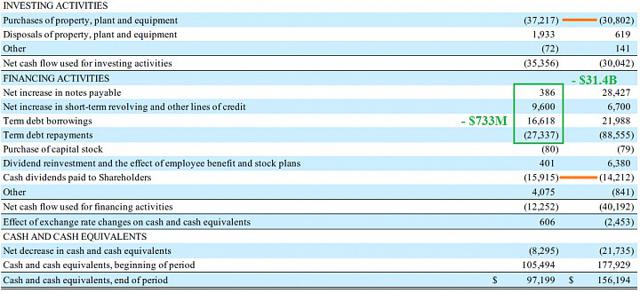 (Source: 10Q Report)
At $0.20 per share, Kennametal needs to set aside almost $64M a year on dividend payment. In other words, its free cash flows for the year need to total at least $64M for the company to pay dividends without a detriment to the business. As the Q1 results show, FCFFs totaled about $3.3M - a lot less the $15.9M spent on dividends. I only see the company making the payments without problems in the case when it cuts on CapEx (or distributes the proceeds from the sales of business to shareholders) and further reduces its net working capital (it has done so well in Q1, as evident in the statement).
- The total debt figure has been cut further - to $750.8M from $751.6M at the end of Q2 2015. Nevertheless, the D/E ratio increased from 0.55 to over 0.56 on a quarter-on-quarter basis. Although this is bad for cash flows, it is definitely beneficial for the company's credit rating, which is not that great, according to Capital IQ:

My final thoughts are on Kennametal's relative valuation, also presented by Capital IQ:


The company seems to be trading at a discount to peers. However, a further analysis shows that this relative valuation is well-deserved as the company's margins are below-average, while its growth rates have been the worst in the industry over the last twelve months.
Kennametal can be an interesting dividend pay but I am very concerned about their sustainability in the next twelve months. I recommend investors to stay on the sidelines and start picking up shares in the $15 - $16 territory, which is in the bottom 25% of the valuation range I calculated above.
Disclosure: I/we have no positions in any stocks mentioned, and no plans to initiate any positions within the next 72 hours.