​Today, shares of BlackBerry (BBRY) are up 11% on ​positive quarterly results:
- With the help of its acquisitions of Good Technology (closed in early November) and AtHoc, BlackBerry's (NASDAQ:BBRY) software and services revenue rose 119% Q/Q and 183% Y/Y in FQ3, and made up 29% of total revenue, up from FQ2's 15%. Service access fees (NYSE:SAF) fell to 31% of revenue from 43%, and hardware/other slipped to 40% from 41%.
- Also: BlackBerry forecasts software, hardware, and messaging revenue will be up Q/Q in FQ4, aided by software investments and Priv Android phone launches at additional carriers. The company "continues to anticipate positive free cash flow and adjusted EBITDA."
- Unlike in prior quarters, no smartphone unit sales figure has been given in the earnings release. 2,713 enterprise customer wins were recorded, up from FQ2's 2,400, and 70% of software revenue was recurring.
- Regional performance: North American revenue (boosted by Good) +29% Y/Y to $275M. EMEA -47% to $194M. Asia-Pac -58% to $55M. Latin America -71% to $24M.
- Financials: Free cash flow was $15M, and op. cash flow $19M. Gross margin was 43.1% vs. 37.8% in FQ2 and 51.7% a year ago. Thanks to job cuts, GAAP R&D spend fell 35% Y/Y to $100M. Sales, marketing, and admin spend (lifted by Good) rose 4% to $177M. $10M was used to buy back 1.6M shares. BlackBerry ended FQ3 with $2.71B in cash, and $1.25B in debt.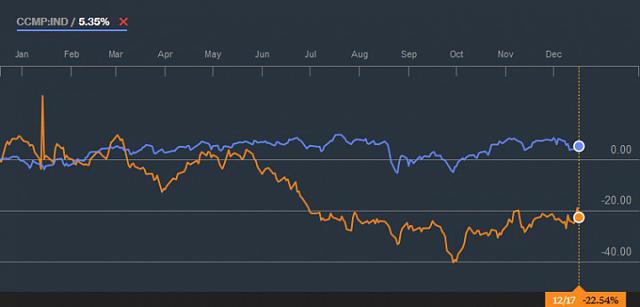 (Source: ​Bloomberg)
​ ​Despite the surge, the stock is still down over 20% on a year-over-year basis. Nevertheless, it looks like John Chen, the company's CEO, is continuing the painful turnaround at a relatively low cost: EPS are approaching zero and the cash flows are positive, which means that the cash burn is slowing down.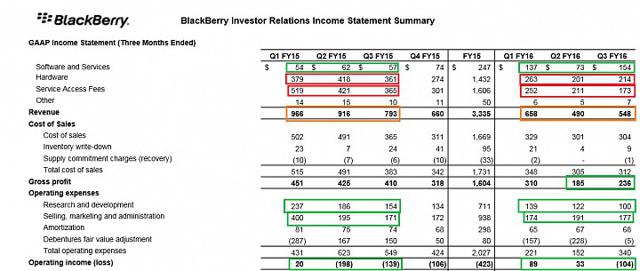 (Source: ​Q3 Results)
From the above illustration we can see that Software and Services revenues are continuing to show strong growth and positively impact the overall results. Unfortunately for the company, the other two big segments, Hardware and Service Access Fees are continuing to be a drag on the income statement. As a results, total revenues are down. On the other hand, Q3 seems to be the first quarter that showed a break in the trend. I hope that Software and Services will continue to outpace the other two divisions. We also see that gross profit shows better results on a quarter-over-quarter basis for the first time in Q3 in the last two years. I applaud Chen's ability to align cost trends with revenue trends.
Turning to the cash flow statement, we see the following results: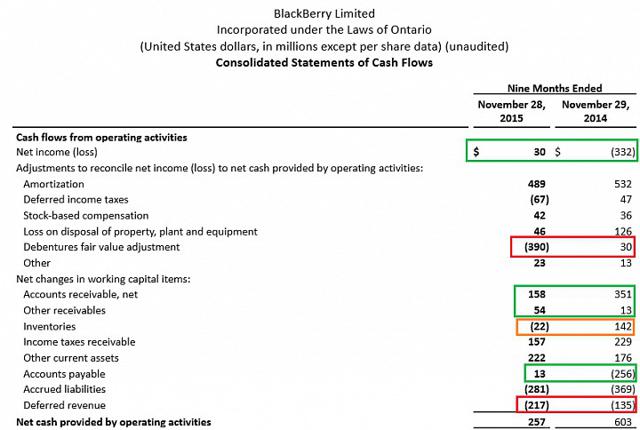 (Source: ​Q3 Press Release)
So, we see both positive and negative developments here. Net income for the nine months is positive at $30M, up from a loss of over $330M. I also see reductions in some working capital items, namely, in Accounts receivable and Other receivables, as well as a slight increase in payables. On the other hand, deferred revenues are down. This is a really bad thing because deferred revenues is essentially cash from customers recognized as revenues during the next twelve months. It helps cut down on working capital investments. Inventories are up by $22M which I consider a neutral result.
What bothers me a lot, however, is the fair value adjustment on debentures. You should see that they really eat into cash flows and operating expenses (on the income statements above). I have not been following BlackBerry closely since its demise in 2013, so I was not aware of what this item on the statements means. As it turns out, it has something to do with the FairFax Financial convertible debentures deal forged back in September 2013. I found out a ​good article about BlackBerry that looks into the matter in details:
​
"Fairfax Financial has negotiated a sweetheart deal for itself in the form of convertible bonds. Amid bankruptcy, Fairfax would vault towards the front of the line as a creditor attempting to recoup investment principal from distressed asset sales. In the event of a miraculous turnaround, of course, Fairfax could simply exchange its bond principal for BlackBerry stock and bank impressive capital gains. All the while, Fairfax will be collecting 6% interest for its time.
BlackBerry, again, is now charged with paying 6% interest on $1.25 billion in convertible debentures. In all, these interest charges amount to $75 million per year. On a quarterly basis, BlackBerry will likely pay out roughly $18 million in interest on these debentures over the course of the next 71 months. The debentures have been set to mature on November 13, 2020. Until then, BlackBerry will itemize these interest payments as investment losses upon the income statement. For Q3 2015, BlackBerry posted $21 million in investment losses. In all, BlackBerry racked up $148 million in total net losses through this most recent quarter, which ended on November 29, 2014.
BlackBerry has also now included a debentures fair value adjustment line item as an operating expense upon its income statements. The debentures fair vale adjustment line item is the result of a complicated formula, which takes prevailing interest rates, BlackBerry share prices, and the likelihood of debenture conversion into consideration. In effect, debentures fair value adjustment accounts for the difference between estimated debenture fair value and the $1.25 billion unpaid principal balance upon the loan. According to BlackBerry, the 6% convertible bond debentures carried $1.7 billion in fair value, as of November 29, 2014.
The debentures fair value adjustment line item, of course, has been subject to extreme volatility over the past year. BlackBerry took $150 million in debentures fair value adjustment charges through Q3 2015. For the sake of comparison, debentures fair value adjustment expenses swung from a positive $382 million to a negative $287 million between Q4 2014 and Q1 2015. The quarterly bottom line also improved in kind, from a net loss of $423 million to $23 million in net income through this same time frame. Investors should remain skeptical of a BlackBerry business model that appears to rely upon wild fair value fluctuations within privately placed securities to derive income, instead of delivering quality product and selling phones" (Source: ​Seeking Alpha)
Personally, I would not care about debentures​ that much in terms of financial analysis, if they did not have an impact on the company's cash flows. As you can see on the statement above, the company paid $390 in cash for the debentures adjustment. What a cash drain! On top of that, do not forget that the owners of the debentures can convert their securities into shares once the price hits $10 per share. This means that 125M shares can hit the market, thus diluting the current owners' interest by almost 24% (125M shares divided by the current number of diluted shares outstanding of 525.103M). On a "post-money" valuation, they will own about 19% of the company's equity, effectively lowering EPS by the same percentage. A sweet deal, indeed! As a retail investor, keep that in mind when you do your own valuation.
Now turning to the rest of the cash flows statement: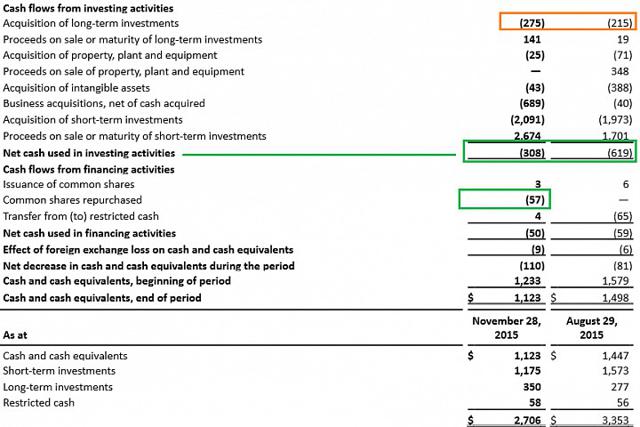 (Source: Q3 Press Release)
​
BlackBerry cut on investment activities to save cash which I find wise. In fact, it is still invests a lot of money in development but simultaneously sells non-core assets, such as real estate. A small amount has been spent on share repurchases - about $57M - which effectively reduced the total share count by 2.8M shares (approximately by 0.5%).
Overall, the cash balance in the bank went down by $110M and ended up at $2.7B. From a cash burn perspective, BBRY is very safe. Because the company generates positive operating cash flows, the outflows are mostly the result of CapEx and acquisitions.
​​
In terms of valuation, I decided to compare BlackBerry against its peers:


(Source: Capital IQ)
Comparing operating results, the company's growth rates, and the key multiples, we see that BBRY is valued more or less fairly against its competition. Therefore, I do not expect a multiple expansion in the absence of positive fundamental results in the future. In other words, BBRY is definitely not a value play.
A final valuation remark: BlackBerry's book value of equity is currently at $6.57 per share (or $5.31 when adjusted for the conversion option). Hence, the stock is trading at 1.3x - 1.6x its book value.
Do I consider BBRY a BUY? Yes, to an extent. I recommend these shares to those investors who have long-term view. Personally, I am not going to buy BBRY until the conversion option is exercised. I am just not comfortable with the 19% dilution and I do realize that I am missing out on some gains. As for the business itself, I hope that BlackBerry will divest its hardware unit when the service revenues reach a critical mass.
Original article here: http://bit.ly/1812BBRY
Disclosure: I/we have no positions in any stocks mentioned, and no plans to initiate any positions within the next 72 hours.