As crude oil ended up south of $40 per barrel in 2015, oil majors lost a lot of their market capitalization, as evident in the chart below:

(Source: Google Finance)
What readers can notice is that the price charts plateaued in September, and shares of the integrateds actually recovered some of their losses by the end of the year. Their stocks are down about 15% to 35%, according to the information provided by Google Finance. This is despite the fact that both Brent and natural gas futures are looking straight downward: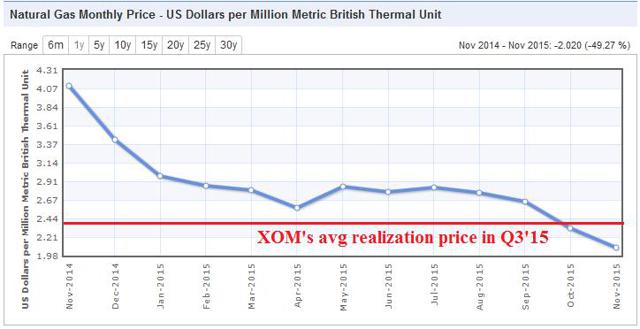 (Source: IndexMundi)
Note: Exxon's average realization price on natural gas in North America was $2.40 per thousand of cubic feet.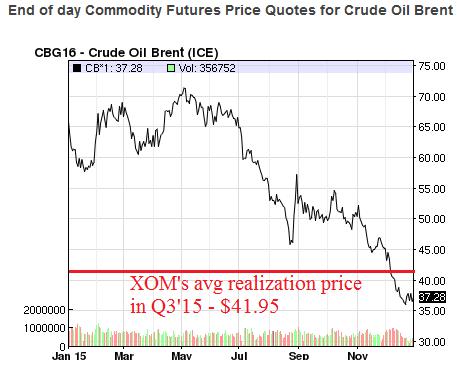 (Source: NASDAQ.com)
Exxon Mobil, among other big boys, boasts about its ability to cover both dividends and share buybacks despite the slump in the energy prices and actually managed to lift payments by almost 6% during the year: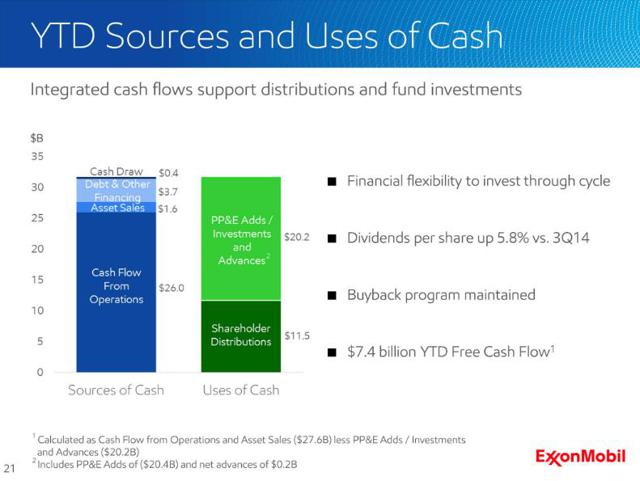 (Source: Q3 Presentation)
And no, the actual free cash flow in Q3 is actually about $5B - counting in asset sales distorts reality.
Despite the seemingly high cash cushion, there two things worthy of mentioning:
(1) Exxon could only finance about 50% of so-called Shareholder Distributions in Q3 from its own pocket (cash flow from operations less CapEx). The rest had to come from asset sales and debt financing - not a long-term sustainable strategy, in my opinion.
(2) Cash Flow from operations is down significantly over the same period a year ago (down by 22%):

(Source: 3Q15 IR Supplement)
Evidently, Exxon's losses in cash flows were offset by hedges and other items such as D&A and reductions in net working capital (over $1B in the last nine months). This is clear because energy prices fell a lot more than 22% over the last year:

(Source: 3Q15 IR Supplement)
We all know that derivatives are short-term assets that either get used in operations during a 1-2-year period or vest untouched. Clearly, Exxon's cash flows are headed south. I tried to model a 30% decline in earnings by comparing it to the latest quarterly cash flows and here is what I got:

(Source: 3Q15 IR Supplement)
Assuming a status quo in D&A, changes in NWC, asset sales, and CapEx, we see that the ending cash balance for a hypothetical next quarter is down by $1.4B. Even if earnings stay at roughly $3B per quarter for the next three quarters, the company will run out of cash by the end of 2016. And credit markets may get very expensive and demanding, if the energy prices keep sliding.
Of course, Exxon Mobil can slash CapEx (which is going to hurt its long-term business) and raise relatively small amounts of debt to keep liquidity going but I think that slashing dividends (or at least freezing them) and definitely cutting back on buybacks is the likeliest outcome in the $30-per-barrel scenario.
I am not saying Exxon Mobil is in a critical situation right now. The company is doing fine in terms of liquidity and leverage metrics but I think that the market is not truly appreciating the company's mid-term perspective giving its shares a 3.75% dividend yield, the lowest amid its peers (e.g. CVX has a yield of 4.8%, while TOT and BP have yields of 6% and 7.7%, respectively). Assuming that the oil majors are all in more or less the same situation, I would go with companies with higher yields (without going to the extremes - an unusually high yield, like in the case of RDS.A, may indicate that a dividend cut is on the way) because they have a higher margin of safety than Exxon Mobil. If Exxon freezes or cuts its dividends in the next several quarters, its stock may decline more rapidly than the shares of its competitors. The good news is that Exxon can scale down on share buybacks and free up a significant amount of cash of a quarterly basis. The bad news is that Exxon is already doing that: it spent $1.8B in Q1 '15 on buybacks, about $1B in Q2 '15, and only around $500M in Q3 '15, according to its latest cash flow statement. On top of that, Exxon cannot finance buybacks without external fund raising and asset sales. Hence, I do not expect dividend increases or generous buybacks going forward.
The bottom line is: stay away from Exxon Mobil, if you are a dividend investor relying on quarterly cheques.
Disclosure: I/we have no positions in any stocks mentioned, and no plans to initiate any positions within the next 72 hours.