If you believe the US economy is going into recession this year or you are bearish on financials in general because you think this year will continue to be volatile, you should consider investing (or buying/selling derivatives on) the following five ETFs focused on banks and brokerages. Here are the names (I got the names from a filter provided by TheStreet.com):
1. ​iShares U.S. Financials ETF (NYSEARCA:IYF);
2. ​Vanguard Financials Index Fund (NYSEARCA:VFH);
3.​ iShares U.S. Financial Services ETF (NYSEARCA:IYG);
4. ​iShares U.S. Broker-Dealers & Securities Ex (NYSEARCA:IAI);
5. ​Financial Select Sector SPDRFund (NYSEARCA:XLF).
Before we rank these instruments by various metrics, let us talk about things they share in common:
- In the past 52 weeks, the ETFs have largely tracked the major market: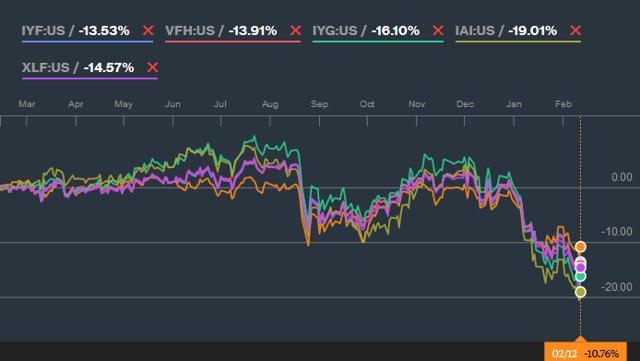 (Source: ​Bloomberg)
However, all funds have shown negative alpha over the past year (i.e. the have underperformed a major benchmark like S&P 500).
- All ETFs on the list have above-market betas meaning that they should perform better than the market in good times but decline by a greater magnitude when the markets tumble (the latter has already been evidenced in the above point).
- Each fund is at least 10 years old which means each ETF has a long enough track record to test hypotheses (i.e. do statistics on them).
- None of the funds has net assets in excess of $100M: the biggest fund (IYF) has net assets of around $74M, while the smallest one (XLF) has net assets of just above $20M.
Now let us rank the funds by the following categories:
- Liquidity, measured as a ratio of the average daily volume to total net assets;
- Diversification. The most diversified fund from the pack should have the smallest proportion of the total net assets allocated to top-10 stocks;
- Sharpe ratio, defined as the difference between the annual return and the risk-free rate (set to be 2% p.a. for this exercise) divided by the annual standard deviation (i.e. volatility);
- Options. In this category, we will look into the liquidity of the options market on the ETFs (volumes, spreads, strike selection);
- Track Record. ETFs that have the longest track record are ranked the highest.
The ​results of the exercise are given below:​​

(Source: TheStreet.com. Table provided by the author)
None of the funds seems to have absolute advantage before others. I personally like VFH because it has good liquidity, great diversification, and the second-best options market. Which one would you choose?
Read more here: http://bit.ly/1202VFH
Disclosure: I/we have no positions in any stocks mentioned, and no plans to initiate any positions within the next 72 hours.