A month ago, I ​wrote a piece called "Sell Russia Now", in which I gave my bearish views on Russian economy, the currency, and the country's stock market. I advised the readers to short Russian currency and open a hedged position in RSX, an ETF exposed to the country's stock market. Well, it did not go as well as I wanted:
(1) The Russian currency has actually strengthened since my initial call: it is about 76RUB per USD as of the time of writing vs. 83RUB per USD at the time of my recommendation. This translates into an 8.4% loss over a month's period.
(2) RSX was at $12+ per unit, while it is trading at $14.50 per unit now
If you shorted the ETF right after you had read my post, you would incur a loss of 17% as of today. However, if you simultaneously hedged your position with $14 May calls, you would actually be making a small profit right now (approximately 3.4%), according to the ​latest options prices: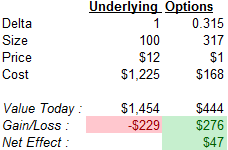 (Source: option-price.com, Yahoo Finance. Calculations by author)
Taxes and fees are excluded from the calculations. I rounded down the options position to 3 contracts (300 shares instead of 317) to reflect real life conditions.
​I was wrong about my short-term bearish view on Russia.
However, my long-term thesis remains. Russia is not going to survive with crude oil trading in the $30s. The government's budget was calculated with the assumption that oil will hold at an average level of $50 throughout the year. It is currently at least 30% below this pessimistic scenario. Consumption is falling, while the government keeps imposing new taxes on small and medium-sized businesses driving entrepreneurship off the cliff. The big corporations are milked as well: take a look at the latest quarterly report of Rosneft and see what percentage of revenues is paid in excise taxes, export duties, and income taxes. I do not think that increasing the tax burden on struggling businesses during the times of crisis is a wise and long-term strategy to help the country's economy get back to its feet. I firmly stand by my point that Russian politicians are corrupted and incompetent in the matters of economics and finance (it is worse than Trump, trust me).
Speaking of corruption, Russian telecom holding Vimpelcom ​was recently fined​​ ~$800M in a corruption case:
VimpelCom, the Russian mobile phone operator, has agreed to pay $795m in penalties to US and Dutch authorities and admitted to bribing a government official related to the president of Uzbekistan to gain entry into the country and win valuable telecom licences.
Uzbek subsidiary, Unitel, pleaded guilty in a US court to conspiring to violate the US Foreign Corrupt Practices Act by paying $114m in bribes to the official. US authorities at the Department of Justice and Securities and Exchange Commission say the bribes that were paid between 2006 and 2012 gave VimpelCom entry into the Uzbek market and allowed it to obtain 3G and 4G licences that generated more than $2.5bn in revenue.
(Source: FT.com)
​​Readers can say that companies are caught red-handed in corruption activities all the time around the world. This is different. This is a Russian company charged with corruption outside of Russia, on the international arena. Corruption, both on the government level and in Russia's business environment, is commonplace inside the country. Whether you want to run a convenience store or cut your competitor's throat in the airline business (check out the ​Aeroflot - Transaero story), you should bribe the officials to receive the so-called "administrative resource" (административный ресурс) in return. If you want to learn more about bribery and other crimes among the government officials, watch the video lecture by Peter Browder, who ran a hedge fund in Russia for several years before he bumped into a wrong person.
Let us turn to another big problem in Russian economy: foreign banks (now mostly investment banks) are leaving the country squeezed by the country's shrinking financial market and the strengthening of the local government-controlled banks:
As global banks leave the nation, a number of domestic banks have been faced with a worse fate than this-shutting down business altogether. Over the past few months, hundreds of Russian banks have either closed their doors for business altogether, merged or been acquired by bigger, more competitive rivals. The local Russian banking sector has developed a reputation for a certain degree of mismanagement and lack of controls. With more than 820 lenders in operation before the crisis, the Russian banking sector had developed a macro balance-sheet position with a dangerously high ratio of bad loans.
(Source: ​InternationalBanker)
​Basically, foreign banks are leaving or downsizing, while the local players are consolidating. The prime rate is 11% which does not help the housing market or the consumers market. People are dis-saving as real wages drop, while real inflation is high due to the high percentage of imported consumer goods in the domestic market (recall the RUB's devaluation).
Russia is an exporter of commodities with a badly diversified economy, corruption, and an archaic government structure (check out ​neo-feudalism). I do not see how modern capitalism can collaborate with this type of government system and, moreover, I do not see how I can make money investing in this country in the long-term, while remaining bullish. In short, my investment thesis has not changed despite the unfavorable market movement: I am short Russia in the mid-term (5 - 10 years).
Part I of the story: http://bit.ly/2101RSX
Disclosure: I am/we are short RSX.