More than two months ago, I wrote about Linn Energy (LINE). In that article, I did a thorough analysis of the company's statements and make to a conclusion that the market greatly underpriced its equity. I stated that I was bullish on the stock, which, at that time, was trading at $1.10 - $1.30 per share. It is now a penny stock which means I was really wrong about its pricing at least in the short-term.
On the bright side of it, I came up with a different strategy, which I think is one of the best mid-term trading strategies on the market now. The strategy is called "covered calls" - I described it thoroughly in a piece on SunEdision (SUNE). Why is this strategy very profitable exactly now? And in what companies/sectors can you find such great trades?
The two questions are intertwined with each other. This strategy is very profitable only when options on a security are very expensive. Of course, you can sell covered calls on any stock that has tradeable options but I am talking about annual returns in excess of 30%! What options are currently expensive? The answer is simple - on volatile stocks. Implied volatility makes options expensive relative to peers. What stocks are volatile? Well, all stocks are out of the market's favor. Think all energy companies and special cases like Valeant Pharmaceuticals (VRX). So, buying shares of distressed companies and selling out-of-money call options is a good idea? How is that?
Let me explain. This strategy may not fit a buy-and-hold mindset. Ben Graham, Warren Buffet, and other would probably never buy shares of companies like Linn Energy or Chesapeake Energy (NYSE:CHK) for many reasons, a few of which are very reasonable. However, before you tell me that stocks actually represent ownership interest in real companies and should be treated accordingly, let us go back to the fundamental principle of investing.
When you invest money, you limit your current consumption in order to get more money (and, hence, more consumption) in the future. We all know that there is no such thing as free lunch (except portfolio diversification - but that is a different story): returns come at a price. And the price is risk. This strategy and, in particular, the strategy on these particular stocks (energy companies and special situations stocks) is great from the risk-return standpoint.
You do not have to believe in Linn Energy, Chesapeake Energy, and many others in order to succeed. I do not really care whether these companies will be on the market a decade from or what competitive advantages they have before their rivals. I care about the risk-return profile of this strategy and the time required for me to make money from it.
Now let us go into details. Linn Energy, despite the many bad news about the company recently, increased its market cap by almost 28% today: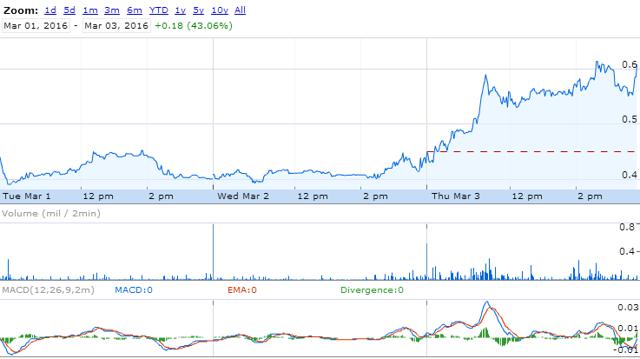 (Source: Google Finance)
Despite that, its long-term options are still very attractive (from the implied volatility standpoint):

(Source: TD Waterouse)
As you can see from the table, both puts and calls are expensive when represented as a percentage of the underlying price. In fact, puts are even more expensive than calls: the cost of the nearest $0.50 strike is 25 cents, almost half of the stock's current market price. So, why did I choose covered calls over cash puts (i.e. selling puts, while having enough cash to cover the downside)?
While it is true that the premium for puts is higher (I am eyeing the $1 and $1.5 strikes), the upside is also limited. If the stock trades higher than $0.50 in January 2017 (no matter what the price is), sellers will only pocket the premium. This translates into a maximum return of about 45%. On the other hand, if we sell calls stricken at $1.5, for example, we can expect a return of almost 185% in less than one year (it is March now, although it does not feel like spring at all here, in Canada)! Here is how it works:
The premium on January 2017 $1.5 calls is about 10 cents now. The cost of the shares is about $0.56. Therefore, the premium collected represents a 17% return in about 10 months;
If the stock rallies above $1.5 over the option's tenor, we will collect the difference between the strike price and the current price which happens to be almost one dollar (94 cents to be exact). This translates into a nice 168% return. The probability of this is not high, though (look at Delta):

(Source: option-price.com)
Our total return from the trade is then around 185% (I don't care about annualizing it because the expiry date is almost a year from now). This is how it is calculated: the 17% return from the collected premium plus the 168% price return;
Our total risk is $0.46 per share: if the company goes bankrupt over the year, we will lose 100% on the underlying but keep the premium from the call options. Hence, our total risk in terms of percentage is around 82%. This gives us a risk-return ratio of almost 2.3x (185% of maximum return dividend by 82% of maximum risk). I find this outstanding! By the way, you can view the $0.46 level as a break-even point. If the stock ends up below this price by January 2017, we lose an amount of money (not 82% but still an amount of our money). If it stays higher than this price, we keep a price return from the underlying.
I really think it is a good trade. I am waiting for a pullback in order to sell my calls at the highest premium possible (I do not really care about the cheapness of the stock in this case). Do you have the guts for this one?
Originally posted here: http://bit.ly/0303LINE
Disclosure: I am/we are long LINE.