Risk can come from a variety of ways in multple markets
I wanted to start off with credit default swaps to highlight another one of my ways to understand the percieved risk by the market on a given day, for any given time period.
Then look at sector technicals in the US.
Look at sector valuations in the US.
Lastly look at the high yield market which is cracking in price.
Credit Default Swaps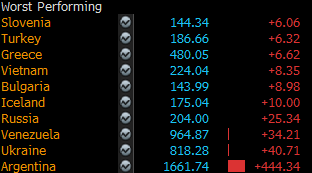 The chart above is the change in credit default swaps by country over the last week. Simply put, this highlights the protection being purchased by market participants. We turn to about 20 indicators during times of "crisis" and analyze each to see where the alleged risk is. Notice how Russia is actually not the top underperformer over the last week, and Ukraine, Argentina, and Venezuela are. This says a great deal to me, especially because I have been buying Russia since close to the bottoming out process months ago based on distressed valuation. Another key point is you do not see any of the large developed nations involved in active CDS buying.
Sector Technical Picture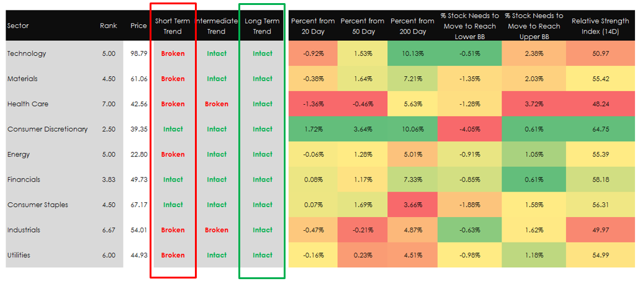 The chart above is our in-house sector ranker. It breaks down key technical data points and tells us which one is healthy, and which one is not. The key takeaway is that 1) technology is leading 2) 3 of the top 4 sectors are cyclical in nature, and 3) Utilities is at the bottom. Another key point is that the long term trends (in green) remain intact. This bodes well for long term investors. The flip side however and the reason why a near-term selloff is possible, is that the short term trends are seeing some cracks.
Sector Valuations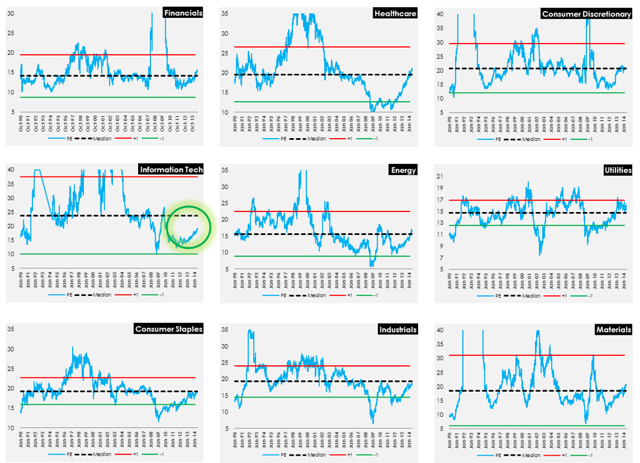 For those of you that do not think fundamentals matter and technicals rule the world... Check out the most expensive market and the cheapest market. Technology the cheapest sector on an absolute basis is the leading technical sector based on our model, while Utilities is the most expensive and worst technically. I use both in my analysis because when push comes to shove, market participants do not want to overpay for an investment. All the other sectors have now re-rated and are all near median levels since 1994.
High Yield Breaking Down...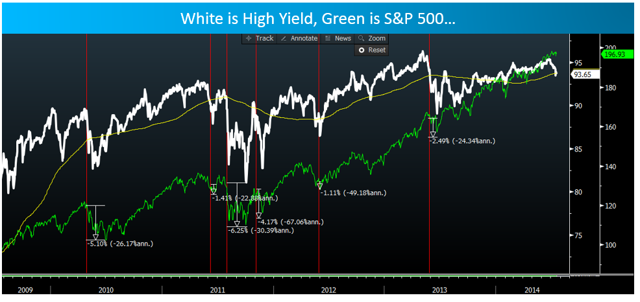 If you look at the fundamentals of the underlying companies of the high yield market you would not be so concerned. However I do pay attention to technicals, so I have a study for you. Above in green is the S&P, white is the high yield index, yellow is the 200 day moving average of the high yield index, and red is when the price of the high yield index moved below its 200 day moving average. Over the last 5 years there has been 6 clear occurrences where the 200 day is broken. After the moving average break, this has been met with a moderate drop in the S&P 500. Couple this with the recent breakdown in short term sector trends, we feel a hedge to your longs isn't a bad idea.
Sean D. Emory
TheMarketMeter.com
Disclosure: The author is long RSX.
Additional disclosure: ALL material on this site is provided for informational purposes only. This website should not be used for personal or professional investment decisions, nor is it an offer or solicitation of any kind to buy or sell any investment products. The Market Meter site may use charts, data, graphs, presentations, words, and other information from outside sources. These outside sources may or may not be correct, and should not be used to make any decisions. ALL information and anything on this site has no relationship with any financial company of any sorts and should be viewed as the sole opinion of Sean Emory.