(Disclaimer: I am long Yahoo)
In the second quarter earnings call, at about the 4:00 minute mark of the video seen here , Yahoo's Marissa Mayer focused attention on the fact that the total pageviews of the company's network have finally crossed over positively as compared to a year earlier.
See chart below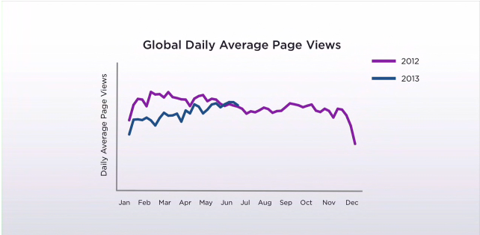 The cross over began in June, which was the end of the 2nd quarter. That means Yahoo can expect a full quarter of increased pageviews as compared to last year. This should bode well for an increase in revenues and demonstration that the company will continue to increase revenues qtr to qtr moving forward.
All of the efforts on attracting good people and improving products seems to have paid off over the last 12 months in reversing the trend of declining pageviews and should lead to growth.
There are many naysayers who continue to focus on the decline in revenue as a reason not to believe in Yahoo's turn around. However, what will they say when the company finally shows that revenues are growing again and the company has righted the ship?
We'll have to wait til October for the next report to see if the chart above turns into increasing revenue.
Disclosure: I am long YHOO.