Things Are Just Starting To WARM Up For HPEV, Inc.
Wall Street loves the color green, especially these days when it involves environmentally friendly green stock plays. Once ignored, green stocks are now attracting serious attention. The list is long and there are many promising green companies for investors to fight over, however one such company recently caught my eye: HPEV Inc. (symbol: WARM). What could be greener than saving energy, improving efficiency, and reducing emissions? That's exactly what HPEV accomplishes with their three lines of business: Thermal Dispersion, Mobile Electric Power, and Hybrid Conversion.
Thermal Dispersion Using Heat Pipes
HPEV's patented thermal dispersion heat pipe technology is their lead horse, the part of the business that really peaked my interest and, in my opinion, holds the greatest opportunity since it can be applied to many potential lines of business. Tim Hassett, CEO and co-founder and Mark Hodowanec, CTO and co-founder of HPEV Inc., developed the technology after successful careers at General Electric (NYSE:GE), Siemens Energy (SI) and Curtis-Wright (NYSE:CW).
Heat is an enemy of mechanical and electrical systems as it affects anything that moves or generates power. The impact heat has on performance is well documented from race cars to computer systems. Heat degrades device operation and can cause outright system failure. Remove heat and systems run more efficiently, reducing power consumption, lowering fuel and maintenance costs, reducing emissions as well as increasing product life.
So, what are heat pipes? Heat pipes are an effective means of moving heat from point A to point B without using pumps, fans, or other moving parts. As a passive solution, they're far less expensive than mechanical cooling systems and devices, and being maintenance-free provides reliability and cost savings. The Diagram below shows at a high level how heat pipes work.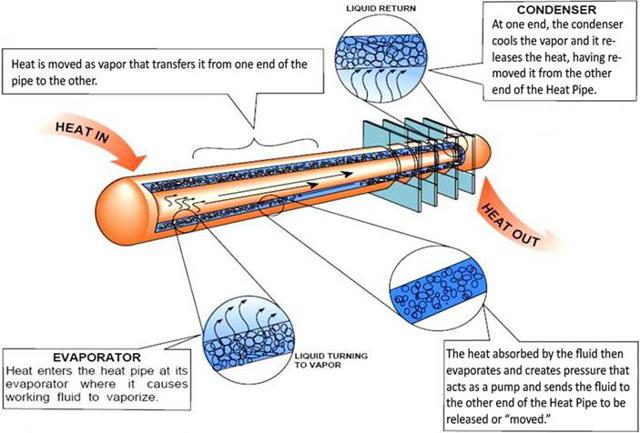 While heat pipes have been around for over 100 years, HPEV's patented heat pipe technology provides many industry firsts. No one has ever been able to effectively manufacture heat pipe solutions commercially in rotating equipment (motors, generators, bearings, brakes/calipers, etc.) for cooling before HPEV. HPEV's technology essentially replaces heat exchangers and other mechanical cooling systems with maintenance free "physics" based solutions. In addition, their heat pipes can be shaped to fit any existing design or mold. HPEV currently has several patents awarded, others pending approval, and still more in the application process that cover their design and engineering advantages over traditional heat pipe solutions in specific applications.
Simply put, HPEV has a solution for cooling devices that generate heat that's better than anything that is commercially available, except superconductivity which is cost prohibitive. Most importantly, their solutions are protected by "utility" patents which are more comprehensive than "product" patents and much easier to defend. As such, they stand to profit tremendously from their IP (intellectual property) using a license and royalty business model.
Less Heat -> Increased Output -> More Efficient -> Less Power Required
To see how this works, let's use an electric generator or motor as an example. The output of a generator or electric motor is limited by the heat it produces, something well understood by the power industry. Less heat means increased output. Increased output means better efficiency. Better efficiency means less power required to run the generator or motor. It's that simple. The term used in the industry is "power density" and HPEV's technology improves it by 25-40% depending on how the technology is implemented. The immediate increased output from motors and generators utilizing HPEV's technology will be the main driver for industry adoption. Due to this boost in power density afforded by their solution, electric motors and generators can be made substantially smaller with significant cost savings while producing the same or greater output.
During recent testing of products that are in the commercialization phase and ready for the market, HPEV's patented technology showed a significant increase in output due to power density improvements of 25-35%. "To put this in the simplest terms, this generator puts out significantly more power and requires less expensive materials to manufacture. This is truly a breakthrough in an industry that has seen little change since the 1950's," commented Theodore Banzhaf, HPEV's President.
Huge Markets with Huge Green Impact
While HPEV's heat pipe cooling technology can be applied to numerous industries, their current focus is on electric motors and generators, mobile generation and pumps. On motors and generators specifically, we are talking about large industrial infrastructure applications. That would be 20 horsepower or larger which represents more than half of the $100+ billion dollar motor/generator market. This gets more exciting when you realize that the vast majority of this market is controlled by just eight companies whose methods for cooling motors and generators have largely remained unchanged for the past 50 years. Each is looking for a competitive advantage, putting HPEV in the driver's seat for negotiating exclusive deals and making them a strong buyout candidate in my opinion. Green solutions for industrial applications have been hard to establish since they are typically expensive and not easy to implement. They usually require costly capital infusion and compromises, major design modifications, and significant implementation expenses that drive costs up. With no moving parts, no pumps or refrigeration units to clog or fail, HPEV's unique solution is less disruptive, less complicated, and cheaper to implement. The drop in maintenance costs alone would justify a manufacturer to license this technology. If you factor in the additional benefits of lower manufacturing costs, extended product life, and increased output for the end user, you can see the huge opportunities afforded by their solutions. With more than half of all electricity produced worldwide consumed by electric motors, the potential energy savings provided by HPEV's patented technology on a global scale is truly mind boggling. WARM could truly be the ultimate green play.
Submersible Pump Market
Another immediate market will be submersible pumps where HPEV's technology has an even greater advantage over present solutions. Continual maintenance is currently a huge issue for a large segment of this market: water and wastewater pumps. Since the majority of cooling solutions actually use the effluent (sewage fluid) to cool the motors, there is an obvious issue that not all sewage is fluid. This in turn causes routine blockage problems, requiring immediate unscheduled maintenance costs and down time. HPEV's heat pipe technology eliminates those costs, providing a huge incentive for end user adoption. The increased efficiency of this cooling solution means that the horsepower output of the motor driving the pump can be increased significantly and at lower manufacturing costs. These submersible pumps are used worldwide in numerous applications besides sewage. Global pump demand, fueled largely by water and wastewater infrastructure needs, is estimated to be $76 billion in 2016.
John Ivins, President of ESSCO Pumps and Controls supervised testing of the technology which is being integrated in to ESSCO's flagship line of submersible pumps. His recent comments:
"Honestly, I am amazed with the results! This is a significant innovation in the pump industry and the biggest improvement in pumps in more than 50 years. ESSCO is known in the industry for finding and implementing innovative solutions. With HPEV's technology, we now have a solution for a huge industry problem, solving one of its Achilles' heels. By removing heat in this way, we dramatically reduce maintenance costs and time loss while improving pump output and flow as well. It's a real game changer."
ESSCO's submersible pumps are driven by Nidec motors which after integrating HPEV's technology now deliver more power with sharply reduced operation and maintenance costs for end users.
Mobile Power Generation
HPEV's strategy has been to focus on commercial applications for large markets that have seen little or no cost out or efficiency improvements in the last 50 years. They are vulnerable to new, simpler, more efficient methods of removing heat. Mobile power generation is another such market vulnerable to a paradigm shift.
Construction of almost any kind requires a mobile source of power to run the various electrical tools, lighting, welding and even cherry pickers. Currently, contractors must tow portable generators behind work trucks for use at remote construction sites where power is a must or unavailable. These units are bulky, inefficient and clumsy to integrate into a work environment in the field, not to mention that they prevent the truck from towing any other needed equipment. HPEV's solution is to use the engine already in the truck to drive a mobile generation system providing power whenever and wherever needed. Plug in power becomes available from any truck equipped with HPEV's conversion kit priced significantly below a standalone mobile generator that requires towing. This power is equivalent to the power output of the tow behind generators and at less than 20% of the weight of the tow behind.
HPEV's Mobil Generation (NYSE:MG) system is energy agnostic and therefore works with any type of vehicle (Diesel, CNG, LNG, Gas, Fuel Cell) and it doesn't affect truck warranties or require government approval or certification. The MG system transforms any Class 2-6 truck into a mobile generator. A patent-pending gearing system makes this all possible. It is the "secret sauce" that compliments the heat reduction technology. The system uses the truck's engine, diesel or otherwise, to power an on-board generator that delivers up to 250 kW of electric power (enough to power a typical US home for more than 8 days), eliminating the need to tow a generator to a work site. The system is even designed to plug into the power grid to power a neighborhood during outages. Mobile generators weigh approximately 4,000-7,000 pounds. HPEV's auxiliary power package weighs less than 1,000 pounds and costs much less than 1/2 the price to manufacture.
The mobile power generation market is huge and the benefits offered by HPEV's clever solution should ensure wide range adoption of the technology, providing another solid source of revenue growth. With this solution you always have a source of power wherever your truck is, a huge advantage in the field or where electricity availability is an issue. In emergency situations like Hurricane Sandy, where power was out for days and in some places weeks, imagine the advantage of simply dispatching a fleet of trucks equipped with HPEV's MG system to provide power to vital businesses and emergency shelters. Businesses that already had trucks modified with MG could make use of the MG system to provide power in emergency situations, such as supermarkets to avoid perishable foods from spoiling. Finding ways to make use of existing systems to provide a unique, alternative solutions to real problems is really the pinnacle of thinking green, and that's exactly what HPEV's MG system does.
Hybrid Conversion
The word "hybrid" is pretty much synonymous with green technology these days. HPEV's entry in this huge market is their Hybrid conversion technology. This is a natural spinoff from the mobile generation product and shares many of the same components. The Hybrid conversion system operates an electric motor in parallel with the trucks normal internal combustion motor, allowing the electric motor to act as a load assist controllable by the driver. For trucks Class 3 and higher, the system performs the equivalent work of 4.97 to 9.84 gallons per charge. That can translate into a savings of 75% of normal fuel costs, extremely appealing to businesses running fleets of trucks and looking to lower expenses.
Five components are installed during the conversion to Hybrid. A proprietary, patent-pending gear system is added to enable the rear axle to accept power directly from an electric motor. An electric motor containing HPEV's patented thermal dispersion technology is attached to the frame and connected to the gear box. The battery box is bolted on and filled with lead acid batteries to power the electric motor. The estimated time for the conversion is roughly 40 hours for trucks and other commercial vehicles.
Unlike traditional hybrids, the truck's conventional motor is not used to power the electric motor, but instead receives an assist from the electric motor. The driver can determine how much or little assist is delivered. Electric motors are more efficient when accelerating vehicles, by handling acceleration and de-acceleration, the electric motor reduces the workload on the engine. During freeway driving the electric motor can provide some of the power needed, increasing fuel mileage significantly.
Because the engine and the motor operate at the same time, if the electrical system fails, the vehicle can still use the engine to run. If the engine fails, the vehicle can still be driven using only the electric motor. No other hybrid offers this capability.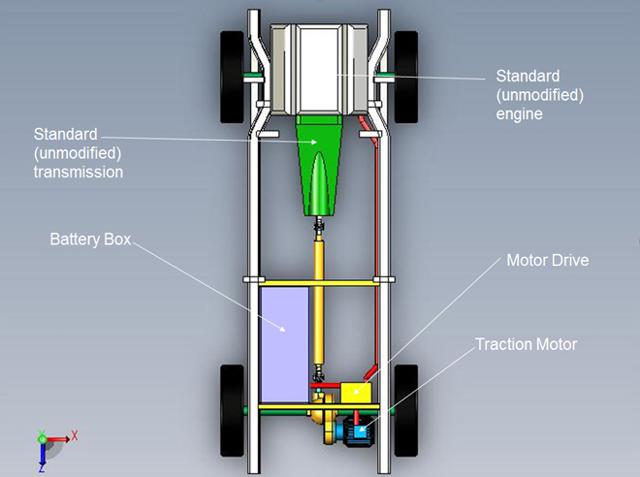 HPEV's hybrid conversion utilizes lead acid batteries arranged in a modular design making replacement simple and inexpensive. This contrasts with alternatives such as lithium ion batteries which are significantly more expensive and suffer from environmental issues when they eventually need to be disposed.
HPEV has combined their mobile generator, thermal dispersion, and hybrid electric assist technologies together in one vehicle they call the Ultimate Work Truck (NYSEARCA:UWT), which will be coming to market soon. Personally, I would have named it the "Ultimate Green Truck".
Business Model
I think the compelling argument of the HPEV story is their business model. HPEV is not a manufacturing company. They make nothing. They teach manufacturers how to use their technology. At their core they are an IP (intellectual property) company with five patents awarded, more than ten pending, and another fifteen in the application process. HPEV engineers look to leverage their patents via innovative products and solutions in large markets, many of them green related.
The main driver of revenues will come from upfront license fees and royalties from companies integrating HPEV's patented thermal dispersion technology into existing product lines. HPEV will garner both a license fee and a percentage of the sales price for products that employ their technology. When you consider the size of the electric motor, generator, and pump industries that their technology addresses, you can see how revenues could explode in a very short amount of time. Their patents also make them a buyout candidate for big players in the space such as General Electric (GE), Siemens (SI), Emerson (NYSE:EMR), Regal Beloit (NYSE:RBC) and Nidec (NJ).
HPEV announced revenues in 4Q13 as their partner, ESSCO Pumps and Controls, started to take orders for their high-end submersible pumps integrating HPEV's thermal dispersion technology. In December 2013, they announced the completion of independent testing for a "large", "yet to be named customer" for competitive reasons, that confirmed a 25%-35% improvement in power density for the generator tested. These are huge steps and further validation of their technology and business model.
For deliverable products like their Mobile Power Generators and Ultimate Work Trucks, HPEV has established manufacturing partnerships with some high end integrators including Inverom, the company that designed the human interface electronics for Tesla, Lamborghini and Ferrari. Inverom specializes in vehicle user interfaces, controls, and battery management.
The company has raised more than $3 million in the past nine months via private financings and can tap up to $10M at their discretion via a stock purchase deal they recently announced. With revenues expected to accelerate in 2Q14, there doesn't appear to be a need to do any additional financings in the near future.
Strong Management Team
HPEV s management team is well experienced with a diverse set of skills that serve the Company well both technically and financially. They are led by Chairman, CEO, and Co-Founder, Timothy Hassett. Mr. Hassett is a mechanical engineer and physicist who is co-inventor of HPEV's patented thermal dispersion heat pipe technology. He has a diverse background in the electric motor business with a proven track record of success. As a General Manager in the Industrial Systems Division of General Electric (GE), he grew the business 30% in two years. He was then chosen to lead a turnaround at GE's Industrial Motors unit which he successfully accomplished by reducing costs through joint ventures, establishing global strategic alliances, and developing new products that improved top line growth and margins. Subsequent positions as President of Hawk Motors, a division of Hawk Corporation, and President of LEMO US, a division of a Swiss based electronics connector company, further solidifying his leadership, business, and technical credentials. He holds 14% of current outstanding shares.
Theodore Banzhaf serves as HPEV's President. Mr. Banzhaf is well experienced in the capital markets, having worked in capital markets for several Wall Street firms including Raymond James and C.E. Unterberg Towbin. He served as President and CEO of SpataLight Technologies (Nasdaq: HDTV) from 2003 through 2006, where he drove SpatiaLight's market capitalization more than tenfold from $38M to more than $450M and had its shares added to the Russell 2000 and ranked as a top 5% performer on Nasdaq. Interestingly, Mr. Banzhaf's interests are clearly aligned with the shareholders. His contract pays him $1 per month and according to a proxy statement that was recently filed with the SEC, Mr. Banzhaf's option compensation package starts with strike prices above $2 per share and ranges all the way to $10 per share. Talk about an incentive to drive shareholder valuation and the confidence to do so by accepting the terms of that deal. Mr. Banzhaf's option package represents approximately 10% of the Company's shares.
Quentin Ponder is Vice-Chairman and CFO. Mr. Ponder earned his PhD from Columbia University's business school and has focused his entire career on electric motor and electronic businesses. He has more than 50 years of experience and is noted in the book "World Class Manufacturing: The Next Decade" as one of the 5 best executives for manufacturing improvement pathways in the modern industrial era. He coined the term "Flex Flow Manufacturing" based on his revolutionary manufacturing management techniques. Notable positions he held include a senior position in GE's Motor Division, President of Franklin Electric, President of Baldor Electric, and President of Lincoln Electric. He owns 4% of current outstanding shares.
Mark Hodowanec is Co-Founder of the company and was recently named Chief Technology Officer where he'll focus on driving HPEV's technology strategy. This work includes further developing the company's burgeoning patent portfolio which consists of five issued U.S. utility patents and more than 20 global Patent Cooperation Treaty (PCT) patents that are either pending or in the application process. Mark has served as lead engineer at Curtiss-Wright, Director of Operations at WaveCrest Labs, Engineering Manager at Siemens Energy and Automation, and led new product development at Reliance Electric. He holds 15% of current outstanding shares.
HPEV recently formed a Strategic Advisory Board that it plans add to in the coming months to assist the executive team in driving the business forward. Dick Schul, a 43 year motor/generator veteran and industry insider, is board leader. Mr. Schul recently retired for the second time from Emerson Electric (EMR) as Group Vice President of Emerson Climate Technologies. He worked 32 years at Emerson Electric and served as the President of Motors and Generators prior to his first retirement. His experience and network within the industry should serve the company well. Andrew Kyzyk was added to the Advisory Board to offer insights and strategic direction on capital markets and global opportunities. Mr. Kyzyk currently serves as Executive Director of OTCX International of OTC Markets Group and has held executive and management level positions at Goldman Sachs, the New York Stock Exchange, and Milbank Tweed. His experience will be useful as the company plans to uplist from OTCQB to increase shareholder visibility in 2014.
The scope and experience of the management team and the Board of Advisors is impressive. They offer unique industry insight, are well connected to HPEV's target customers, are experienced running large publicly traded growth companies, and have an understanding of the capital markets with a focus on increasing shareholder value.
Financial Situation / Valuation
HPEV has successfully raised more than $3M over the past nine months to fund key business activities including the commercializing of their technology in electric motors and generators, in the pump industry and in mobile power generation. The work has paid off with agreements in place with strategic partners and revenues realized in 4Q2013.
Further, HPEV has sent a strong message to the street with a recent $10M stock purchase deal with Lincoln Park Capital. For an OTCBB listed stock to pull off such a deal is quite an accomplishment. It acts to ensure the street that their business is on firm ground and additional dilutive financings will not be happening anytime soon as they now have $10M at their fingertips and completely at the company's option should they need more capital.
If you do some quick math and assume small a 5% market share in the three industries that HPEV is currently pursuing, and with the wide open growth potential into other large markets, it is easy to see this stock much higher in the coming months. The license and royalty business model leveraging their IP has extremely high operating margins, which means most of the free cash flow will drop directly to the bottom line. As the company's technology takes hold, every competitor will seemingly need the technology which should provide very nice growth for a very long time.
Despite a recent surge in HPEV's stock price coupled with record volume, I believe this company is currently undervalued and more deserving of a $300-350M market cap based on their IP portfolio alone. With approximately 70M fully diluted shares outstanding, my conservative price target is $4 to $5.
Conclusion
HPEV stands to benefit greatly from their patented thermal dispersion technology and innovative solutions. The potential impact for energy savings on a global scale, along with their Mobile Generation and Ultimate Work Truck solutions, make them the ultimate green play. They are already working with major players in huge markets, and are actively researching other current and potential applications for their patented technology. Look for partnerships and licensing deals to really "heat" up in 2014, resulting in significant revenue growth and stock returns over the next 12-24 months.
Disclosure: I am long WARM. I wrote this article myself, and it expresses my own opinions. I am not receiving compensation for it. I have no business relationship with any company whose stock is mentioned in this article.