ACI has been in a downward trend since May, 2011. There were several attempts to rally but none succeeded.
Finally, ACI (ACI) gave a clear buy signal on Friday September 14, 2012 (See chart below):
Closed ($7.91) above the 3 month resistance ($7.78) on strong volume
Also closed decisively above 13-day and 50-day moving averages (blue and red lines, respectively)
The backdrop is that the market has been in an upward trend since mid June, 2012. During the period many stocks have logged significant gains, yet ACI traded in a bottom range until today when it resolved to the upside.
The timing is coincident with the announcement of QE3 by the Fed, and the recent weakness in US dollars, and the strong breakout of gold and silver.
It is also interesting to note that, technically speaking, the 3 months bottom pattern looks like a reversed head-and-shoulder pattern.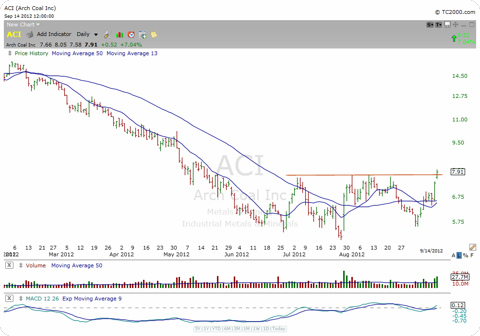 Disclosure: I am long ACI. I wrote this article myself, and it expresses my own opinions. I am not receiving compensation for it (other than from Seeking Alpha). I have no business relationship with any company whose stock is mentioned in this article.