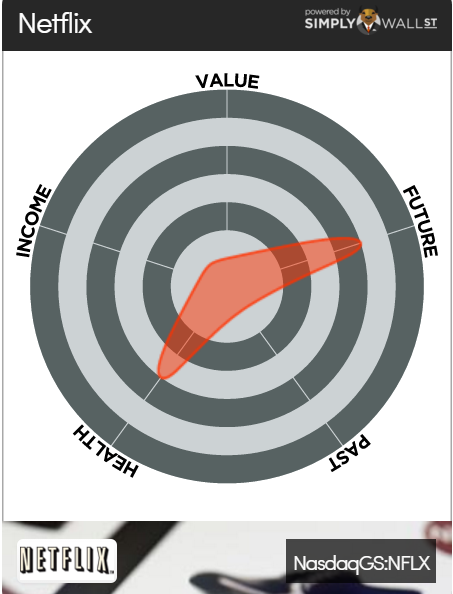 Source: Simplywall.st
California-headquartered Netflix Inc (NASDAQ: NFLX) is a market leader in the video streaming services industry. The company began operating as a DVD-by-mail membership service in the US, now it serves over 69 million customers on its internet-based TV shows and movies delivery platform in more than 60 countries.
International expansion
In the wake of stagnating domestic subscribers growth, NFLX announced in early-2015 to provide its services in close to 200 countries by the end of 2016. Of late, the company launched its services in Australia and Japan along with several European countries including Spain, Italy, and Portugal.
Recently, the company announced expansion into 130 countries at the Consumer Electronics Show in Las Vegas; major names include India, Russia, and Nigeria. The news resulted in NFLX shares closing almost 10% higher during the following trading session.
The announcement came on the back of strong response from international markets; international subscriber base grew by 2.74 million during Q3 2015 compared to 0.88 million increase in domestic users.
Piracy concerns
While the future outlook appears strong for NFLX as it expands in cinema-crazy countries such as India and Nigeria with two of the world's largest film industries, there are concerns related to piracy. Apart from copyright infringement and piracy in these countries, NFLX is yet to devise a strategy to enter China, which can be a game changer for the company.
In India, quite a few state governments have taken strict action recently to curb piracy, while central governments in Nigeria and Russia also have taken several initiatives to control piracy in the entertainment industry. These developments are a positive sign for the video-streaming services such as NFLX.
And other concerns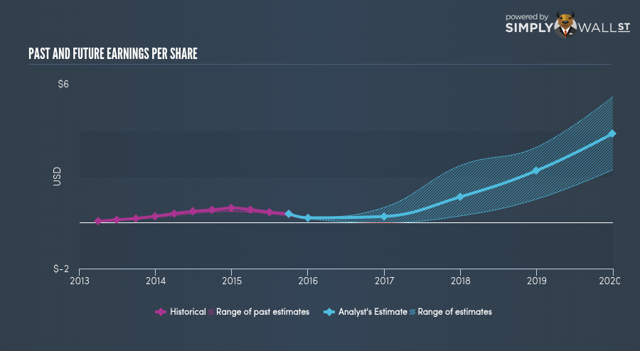 Source: Simplywall.st
The company has been experiencing down trending earnings per share over last few quarters primarily on account of a substantial cost related to developing original content and international expansion. Earlier this month, Baird Equity Research downgraded NFLX to neutral citing "international execution, content costs, and rising competition" as "key risks" to NFLX profitability.
Despite cost concerns, NFLX strategy appears justified as its TV shows such as House of Cards, Daredevil, Orange is the New Black, and Narcos have received a positive response from viewers and critics alike. While international expansion puts significant pressure on company's profitability, consistent growth in subscriber base indicates sound execution.
Late last year, the company raised its basic subscription price from $8.99 to $9.99 on account of rising content costs. However, developing original content is costly, it puts the company in front of competing generic license based on-demand video services while enhancing its pricing power as it gains customer loyalty.
Based on its expansion and content creation strategy, there are more positives than negatives when looking at future growth for the company. Thus, analysts' expectations of three-year earnings growth of over 400% appear achievable.