The criteria
The idea was to find out companies in good financial shape which are expected grow substantially in next three years. Companies which didn't meet at least four out of six criteria in areas of health and growth were filtered out.
Fiancial health checks:
Able to meet its short term commitments with its holdings of cash and other short term assets
Long term commitments are covered by its cash and other short term assets
The level of debt compared to networth; 40% or below was considered acceptable
Whether the level of debt compared to net worth has increased over past 5 years
Operating cash flow has to be more than 20% of total debt
It's interest income versus interest expense
Growth potential checks:
Earnings are expected to increase next year
Earnings are expected to increase in next three years
Revenues are expected to increase by 50% in two years
Cash flow is expected to increase by 50% in two years
Profit is expected to increase by 50% in two years
ROE in three years is expected to be over 20%
Here are three small-cap biotech companies from the list and why should you keep an eye on them: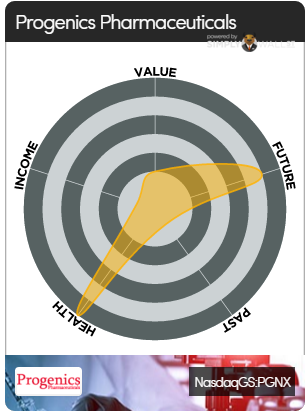 Progenics Pharmaceuticals (NASDAQ: PGNX) is involved in development of medicines to "improve the lives of prostate cancer patients". As per American Cancer Society, it's second most common cancer among men after skin cancer. Currently, the company has several products in pipeline at late-stage development. For instance, PGNX initiated Phase 3 study of PSMA Targeted Imaging Agent 1404 in January 2016. The purpose of 1404 is to improve detection and facilitate targeted treatment for cancer. Other potential breakthrough candidate, Azendra, to treat neuroendocrine tumors - pheochromocytomas and paragangliomas, was enrolled in Phase 2b clinical trial in December 2015. The company's first commercialized product RELISTOR, for treating opioid-induced constipation, is licensed to Valeant Pharmaceuticals Ltd. (NYSE: VRX).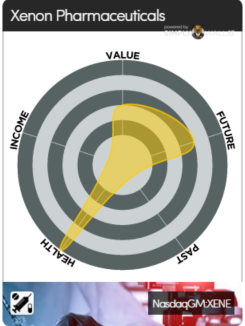 The clinical-stage biopharmaceutical company is focused on orphan indications, in simple terms, rare medical conditions. XENE has licensed Glybera, for treatment of orphan disorder lipoprotein lipase deficiency, to uniQure Biopharma (NASDAQ: QURE). The company announced initiation of Phase 2 clinical trial of XEN801, for treatment of moderate to severe Acne. Apart from several products in preclinical stage, Xenon pharmaceuticals (NASDAQ:XENE) is conducting Phase 1 trials for two products to treat pain with Genetech - a Roche Group company.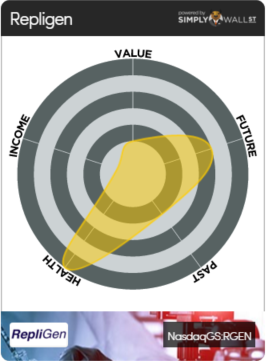 Repligen (NASDAQ: RGEN) is a profit making high-value consumable products supplier to life sciences and biopharmaceutical company across the globe. Prior to reporting in-line EPS for third quarter, the company beat past two earnings estimate. Earnings growth in next three years is estimated to be over 170% and it's a debt free company.
Source: Simplywall.st
Disclosure: I/we have no positions in any stocks mentioned, and no plans to initiate any positions within the next 72 hours.